'Beloved' Zoo Dog Who Helped Raise Cheetahs, Warthogs, Foxes, and Other Animals Euthanized
Coby, Columbus Zoo and Aquarium's cheetah ambassador dog, has passed away, the zoo announced on Thursday.
Staff at the zoo made the decision to euthanize the dog on December 30, 2021, after his health significantly declined, the zoo said in a Facebook post.
"It is with a heavy heart that we announce the passing of beloved cheetah ambassador dog, Coby," Columbus Zoo and Aquarium, Ohio, wrote. "Coby had chronic arthritis of his neck and secondary spinal cord compression. His care was managed with treatment in conjunction with consultations from an Ohio State University (OSU) veterinary orthopedic surgeon. Unfortunately, Coby's neck lesions destabilized over the past couple of weeks, resulting in severe neurological signs."
The zoo said that after an MRI scan at OSU, the prognosis for corrective surgery was poor, and humane euthanasia was considered to be the action that would be in Coby's best interest as there was only a small chance that he would ever be able to walk again normally and pain-free.
Coby was born in June 2013 and first arrived at the Columbus Zoo and Aquarium as a puppy. One of his first roles was helping to raise the zoo's cheetahs: Bibi and Zemba.
The zoo said he was also instrumental in mentoring fellow dogs Cash and Cullen, with whom he spent hours playing and napping. Coby was also key in helping several other species at the zoo to socialize.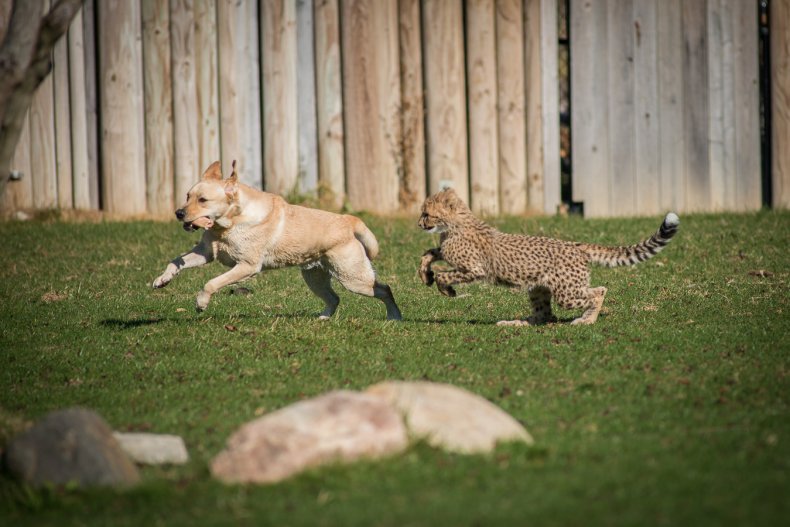 Columbus Zoo and Aquarium said: "His playful and calm demeanor made him one of the best baby-raising helpers in Animal Programs, where he helped socialize otters, warthogs, foxes, and many others."
In addition to being a nanny to newly born animals, Coby was the "go-to canine companion" for animals that had recently received surgery. The dog was also well regarded for his ability to connect with humans, enjoying greeting visitors at the zoo and on the road as part of Columbus Zoo's community outreach program.
The zoo concluded: "Coby was a pillar of our Animal Programs department and a treasured member of our Zoo family.
"Though we are devastated, we are confident he has found a sunny spot across the rainbow bridge, napping happily and keeping an eye on his loved ones."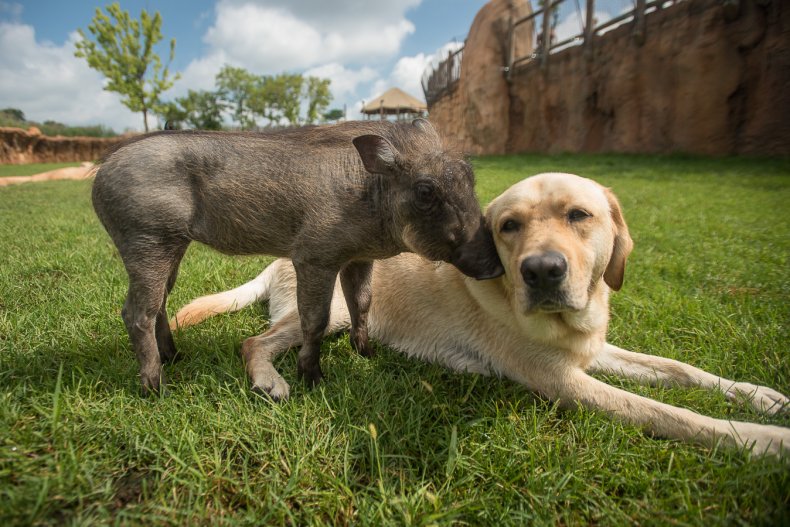 The zoo also encouraged visitors who had seen Coby to share their memories on the Facebook thread. One visitor wrote: "So sad to see this. We always went to see him as we had a dog that looked like him. She passed for similar reasons about a year ago. My sympathies to all who enjoyed him."
Another commented: "I actually remember seeing him in action. While I lived in Columbus for quite a while, I visited the zoo, and remember inquiring of such a kind and patient animal with the cheetahs. Here it was this guy. What a sweet soul!"
Other Facebook commenters simply offered their condolences to the staff at the zoo and particularly those who worked closely with Coby.