Zooey Deschanel Responds To #MeToo, Talks End of 'New Girl' and More: Exclusive
We may never learn the rules to True American, but the final season of Zooey Deschanel's hit Fox series New Girl promises to answer some fan questions, like what happens between Deschanel​'s character Jessica Day and her boyfriend, Nick Miller (Jake Johnson).
Deschanel was already famous before she landed a role on the Fox series, starring in blockbuster movies like (500) Days of Summer, Elf and The Happening. She sings for the band She & Him, created the lifestyle website HelloGiggles, and works on The Farm Project, an initiative to reconnect people with food.
Deschanel became an entertainment pioneer when she made the transition from movies to television in 2011 when it wasn't considered the coolest move. It worked out for the 38-year-old actor, who became known for her quirky personality and blunt bangs through her portrayal of Jess, a socially awkward yet lovable character.
New Girl's seventh and final season arrives Tuesday, at a time where women are making strides in television for their portrayal of strong characters and speaking out on issues related to gender equality, like with the #MeToo and Time's Up movements. Though Deschanel's Jess received criticism for being too silly, the character became an unexpected feminist icon for some. After she says goodbye to Jess in early May, Deschanel is slated to sing in Beauty and the Beast in Concert as Belle—a fictional character that received a feminist makeover in the Emma Watson-led live-action reboot last year.
Newsweek spoke to Deschanel about her "adorkable" New Girl character, Beauty and the Beast and her thoughts on today's television industry.
How are you feeling about the end of New Girl coming up?
I'm excited for everyone to see it!
New Girl could've easily finished after Season 6. Considering how the finale concluded, would you have been satisfied with the show ending then?
I think from a creative perspective, yeah! It was set up to be the possible ending. At the same time, it would've been sad to not get a chance to say goodbye to the show...knowing that it was our last season. I'm happy that we're about to have that.
There are only eight episodes. How does the season wrap things up in a way that will satisfy fans?
This final season is really a lot about Nick and Jess' relationship—I think that's kind of a fan favorite and something fun to watch. They're still, kind of, stuck in their little loop. It's fun to watch them work toward, hopefully, resolving the issues that were holding them back.
Agreed—so, will we finally get the rules to True American?
No—you never get them!
Darn. It's so hard to play!
It's not a game, that's why. It's intentionally opaque.
You've said New Girl was created to help women have a comedic voice on TV. Has that happened? Are women being taken more seriously?
Television's totally changed since New Girl started, I know that much. When I decided to do New Girl, these people were like, "Oh, you're doing television?" It was kind of looked down upon to do television if you were a movie actor. My thought was it's an opportunity to make funny content, and it's not really about the length. There are challenges to making movies just as there are challenges to making a television show. But it's not as if one medium is better than the other. It's just different. This is the golden age of television now, and there are so many amazing female characters on television. There were a lot fewer when we started. I can't say that has anything to do with us.
Well, maybe we can just say that New Girl helped to pave the way.
At least, so to say. I was present.
What do you think about the #MeToo and Time's Up movements that have been coming up in Hollywood?
I think it already has [impacted television]. Hopefully, going forward, people will be really thoughtful about their interactions and treat everybody with respect.
We are definitely seeing some changes, like at the Golden Globes' red carpet and the Women's March in January. A lot of celebrities are getting involved, including yourself.
I think it just takes people speaking up to make those changes. Making entertainment, making movies and making television is a vulnerable thing for a lot of people. You want a place where people feel really, really comfortable. Obviously, those things are the absolute opposite. Everyone deserves to have respect. Hopefully, we will get that.
You've essentially created the term "adorkable," is that true?
I didn't coin it—let's just say that. I had nothing to do with it!
You're, kind of, part of the "adorkable" trend! Many people tended to associate you with that.
It was next to my face. But it wasn't my idea! I think it was a very clever marketing campaign for our first season. Now I don't think it's representative of the series as a whole. [But] I think it was clever and they did a good job.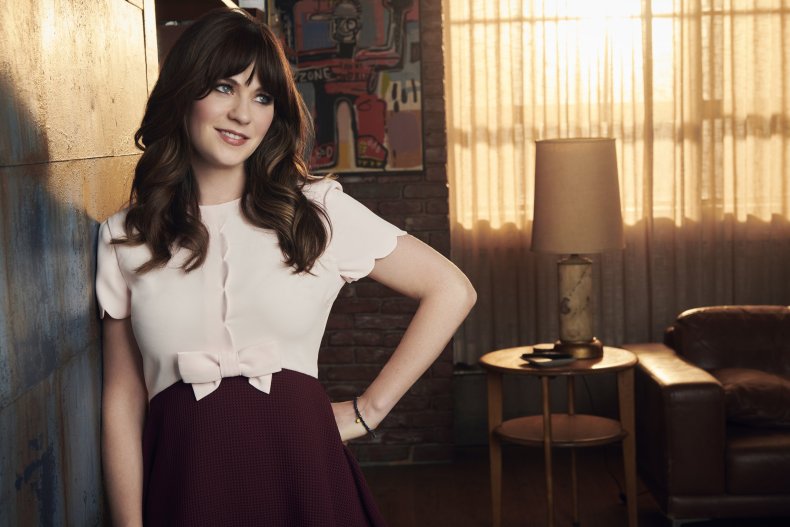 After New Girl's final episode airs in early May, fans will be able to see you sing as Belle in Beauty and the Beast in Concert.
I'm just singing [as Belle]. They're showing the animated movie [in the background], and it's a concert basically.
Obviously, we've seen you sing with She & Him and on New Girl, casually. Are you doing any kind of vocal training to prepare for this?
I have been a singer for my whole life, so I'm not doing anything different. But musical theater is my background.
When watching Beauty and the Beast as a child, did you ever think to yourself that you would be playing Belle someday?
No, not really!
Did you have a favorite song from the movie growing up?
I loved the song "Belle." That's a great song—but there are a lot of great songs, a really nice collection of songs.
After Beauty and the Beast, would you ever consider doing another Disney musical or explore roles on Broadway?
It's possible! I don't know what I'm doing next [acting wise]. I have two kids, and I'm hanging out with them a lot. I need a little bit of time to figure that out because it's been a long run with New Girl.
Oh absolutely. And are you going to miss the cast? You've been working with them seven years at this point.
It's a great cast, and I've had such a wonderful rapport with them. I'll really miss everybody.