Mark Zuckerberg Tells Fox News That 'Banning Political Ads Favors Incumbents' and 'Whoever the Media Chooses To Cover'
As people are calling on Facebook to do more to stop the spread of misinformation ahead of the 2020 election, CEO Mark Zuckerberg doubled down on his refusal to "police" the company's broad interpretation of political speech.
In an exclusive interview with Fox News Friday, anchor Dana Perino asked Zuckerberg whether his neutrality on censorship ends up helping bad actors.
"I don't think so," Zuckerberg responded, adding that only a small amount of his business is based on political ads. "If you're a challenger political candidate or if you're running an advocacy group and the media doesn't cover what you're talking about, ads can be a way to inject your message," he continued.
"Banning political ads favors incumbents and favors whoever the media chooses to cover," Zuckerberg said.
It's been a busy few days for the 35-year-old billionaire. Zuckerberg came out against censoring "newsworthy" content such as political ads and posts by politicians this week⁠—even in cases where they break the company's own community standards. Just a few weeks earlier, he threatened to "go to the mat" to fight Massachusettes Senator Elizabeth Warren's proposed plan to break up the giant company if she's elected president.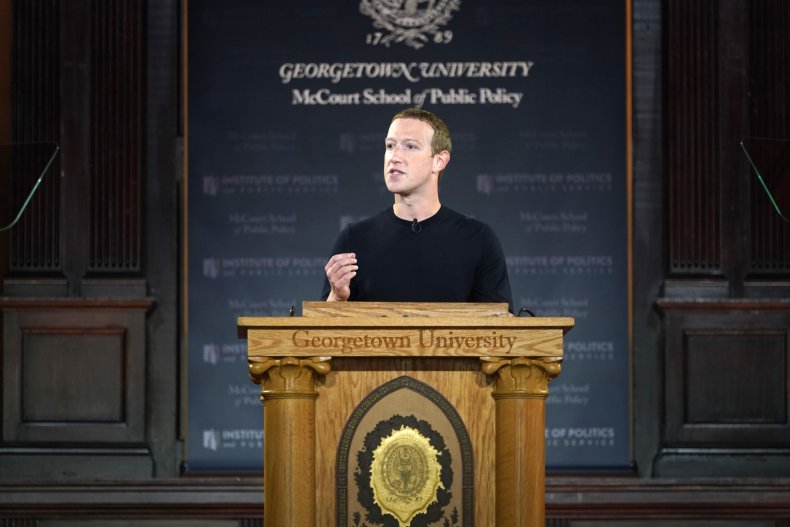 At the end of the day, Zuckerberg doesn't think technology companies should decide what's true and untrue against a partisan backdrop where people from opposing sides of the political aisle label things they disagree with as "dangerous."
But at the heart of the debate is the fact his company has widespread influence over political discourse and news consumption, a fact that was demonstrated by Special Counsel Robert Mueller's investigation into Russia's interference in the 2016 presidential election. As detailed in the investigation's report, Russian companies with ties to the Kremlin bought Facebook ads and created pages with content designed to sway voters toward Trump.
Zuckerberg told Fox News that Facebook's security budget now eclipses its total revenue in 2012, allowing the company to monitor accounts that don't act like people. But further investigation by the House Intelligence Committee found ample evidence of social media campaigns and accounts created by Russian "troll farm" The Internet Research Agency as recently as 2017.
Despite President Donald Trump's insistence that there was no interference in 2016, members of his own party see cause for concern. Just last week, the GOP-led Senate Intelligence Committee asked for sweeping action by Congress to prevent future interference.
"Russia is waging an information warfare campaign against the U.S. that didn't start and didn't end with the 2016 election," Senator Richard Burr, the committee's chairman, said in a statement. "Their goal is broader: to sow societal discord and erode public confidence in the machinery of government."
Warren shares their concerns, pointing out it's easy for Facebook to treat "political speech" differently from other false posts when they make money from politicians' advertising. She also warned Thursday that Facebook is "actively helping Trump spread lies and misinformation."
"Facebook already helped elect Donald Trump once. They might do it again—and profit off of it," she continued.
An hour before Perino's interview aired, Fox News debated the merits of Facebook censorship. Melissa Francis, a co-host of Outnumbered, seemed to think the concept was funny, laughing as she said removing dishonest Facebook ads and the like would leave little content left on the site.
"There is so much opportunity for joking in there, I don't even know where to start. If you removed all political ads that had untruth in them, there would be none left. And who decides what truth is?" Francis said.
"So much of our political discourse, especially now, is subjective," responded Lisa Kennedy Montgomery, a host on Fox Business. "That means the truthiness [sic] changes depending on who is consuming it. And by the way, if you are getting all of your political news from Facebook, you're doing it wrong."
Fox News contributor Jessica Tarlov disagreed, pointing to cases in which the viewer knows the information to be objectively false or fabricated.
"To the point about what is truth, there are some things that we know are patently false," said Tarlov. "And the conversation, for instance, around the doctored video of Nancy Pelosi to make her sound like she was drunk and slurring and couldn't hold together a coherent sentence⁠—that's not real."
Trump hasn't commented at length on the Facebook debate, instead turning his attention to "Crazy" House Speaker Nancy Pelosi, "Shifty" Rep. Adam Schiff and other "angry" Democrats during his Keep America Great campaign rally Thursday night in Dallas, Texas, as impeachment investigations continue.