1/6 Panel Decision on Criminal Contempt Charges for Mark Meadows Likely This Week: Schiff
California Democratic Congressman Adam Schiff said that the House select committee investigating the January 6 Capitol riot will "probably" reach a decision this week about referring former White House Chief of Staff Mark Meadows for criminal contempt charges--after the latter defied a subpoena by not appearing before the committee earlier this month.
"I think we will probably make a decision this week on our course of conduct with that particular witness [Mark Meadows] and maybe others," Schiff said during a TV appearance on CNN's State of The Union on Sunday.
"We are moving with alacrity with anyone who obstructs the committee, and that was certainly the case with Mr. Bannon, and it will be the case with Mr. Meadows and Mr. Clark or any others," added Schiff, who is serving on the January 6 committee.
Trump's former advisor, Steve Bannon, was indicted on November 12 for refusing to comply with a congressional subpoena after he refused to appear for a deposition concerning the insurrection. He was also indicted for refusing to produce documents for the committee.
Bannon and Meadows were among the ex-Trump officials called by the committee to testify along with former Deputy Chief of Staff Dan Scavino Jr. and former Pentagon Chief of Staff Kash Patel.
Schiff previously criticized former Trump officials, including Meadows and Bannon, for rejecting subpoenas and acting as if "they're above the law."
"Bannon did what he did because for four years, that's what would work. They could hold Republican Party conventions on the White House grounds, they could fire inspector generals, they could retaliate against whistleblowers," Schiff said earlier this month during an appearance on NBC News' Meet the Press.
The California Democrat also said on Sunday that the committee plans to hold public hearings "soon" to make sure that Americans are learning information in real-time as the investigation continues.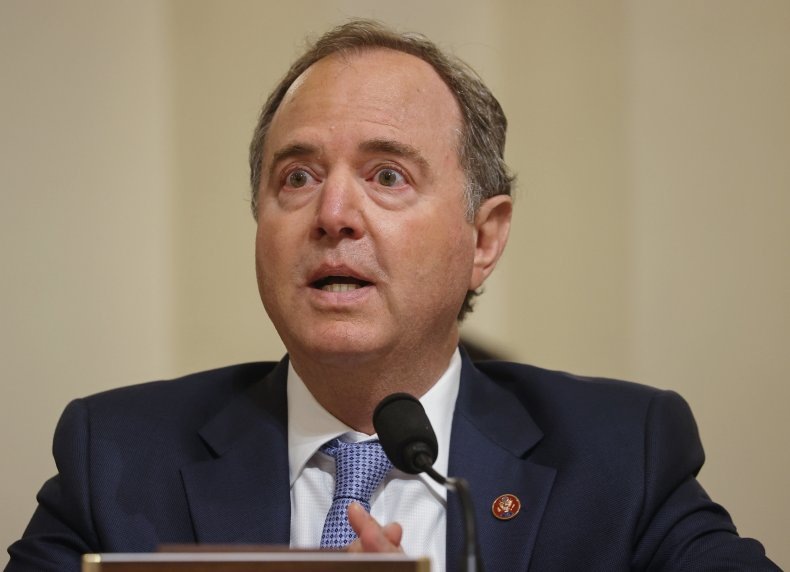 The January 6 committee is currently looking into the full role of former president Donald Trump on the day of the Capitol attack, according to the congressman.
Schiff said that some of the questions the committee is trying to answer revolve around whether the former president knew in advance about plans of violence on January 6 and how it was funded. The committee is also investigating whether the attack was "essentially the backup plan for the failed litigation around the country" after Trump lost the 2020 presidential election.
"We are now trying to expose the full facts of the former president's misconduct as well as those around him," Schiff explained. "It is certainly possible that what we reveal in our investigation will inform the Justice Department of other facts that they may not be aware of yet."
Newsweek reached out to Meadows' attorney for comment.