Democratic Rep. Adam Schiff, who serves on the House select committee investigating the January 6 Capitol riot, said on Sunday that officials who worked for former President Donald Trump "seem to feel that they're above the law" when they reject subpoenas.
"The Republican Party at the top levels, that is Donald Trump, and those around him, seem to feel that they're above the law and there's something admirable about thumbing your nose at the institutions of our government," he said during his appearance on NBC News' Meet the Press.
Schiff was responding to a question about whether he is concerned that Trump's former adviser Steve Bannon is being looked at as a "martyr" in the MAGA world after Bannon was indicted on Friday for refusing to comply with a congressional subpoena related to the Capitol assault.
"Bannon did what he did because for four years, that's what would work. They could hold Republican Party conventions on the White House grounds, they could fire inspector generals, they could retaliate against whistleblowers," Schiff added. "It was essentially a lawless presidency, and they were proud of it."
Schiff had previously made similar comments in October when he said he expected the Justice Department to prosecute Bannon.
"The last four years have given people like Steve Bannon the impression they're above the law," Schiff said during an interview for C-SPAN's Book TV. "But they're going to find out otherwise."
During his Sunday interview, Schiff also said that the committee will "move quickly" to refer Mark Meadows for criminal contempt after the former White House chief of staff also defied a subpoena by not appearing before the committee on Friday.
"When ultimately witnesses decide as Meadows has, that they're not even going to bother showing up that they have that much contempt for the law, then it pretty much forces our hand and we'll move quickly," he said.
However, the California Democrat also confirmed that the committee wants to present a strong case to the Justice Department and that means it would "bend over backwards" to reach any potential agreement with witnesses who are willing to cooperate in the probe.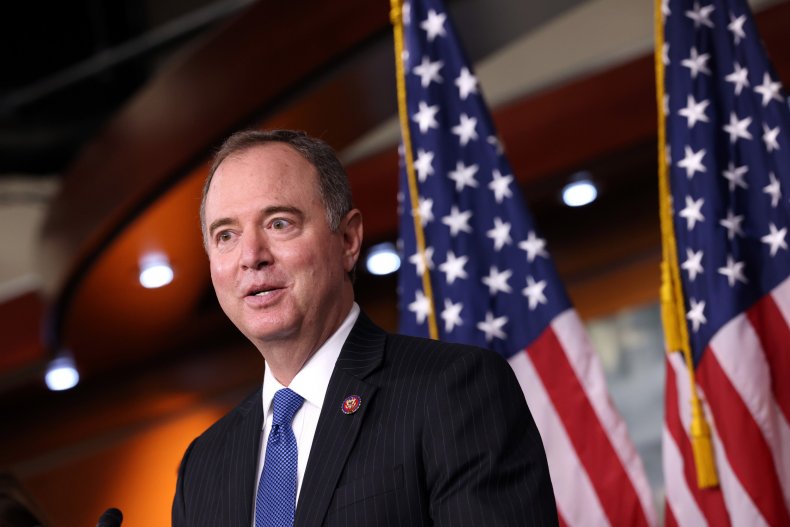 Schiff is not the only one who suggested that Trump officials act as if they were immune from punishment. On Saturday, former White House Press Secretary Stephanie Grisham echoed Schiff's remarks, saying that Trump senior staffers would consider breaking the law as a "badge of honor."
"Bannon absolutely I think is going to wear this [indictment] as a badge of honor and martyr himself almost," she said during an interview with CNN host Jim Acosta on Saturday. "That was the mentality in the White House when I was there. Anything we did like that was a badge of honor."
Ahead of being indicted, Bannon spoke about the 2020 presidential election and predicted a "constitutional crisis."
"We're gonna get to the bottom of three November [the last presidential election] and we're going to decertify the [2020] electors, OK? And you're going to have a constitutional crisis. But you know what? We're a big and tough country, and we can handle that. We'll be able to handle that. We'll get through that," he said.
Newsweek contacted Schiff for further comments.