Steve Bannon Predicts Constitutional Crisis as He's Indicted: 'Suck on This'
Steve Bannon doubled down on conspiracy theories about the 2020 election, predicting a "constitutional crisis" as he was indicted on Friday for refusing to comply with a congressional subpoena.
The House of Representatives sent a criminal referral against Bannon to the Justice Department in late October after he refused to appear to testify before the House select committee investigating the January 6 attack against the U.S. Capitol.
Bannon previously served as a senior counselor to former President Donald Trump and has been key to promoting false claims that the 2020 election was "stolen" in favor of President Joe Biden.
Just ahead of his Friday indictment for contempt of Congress—which was approved by a grand jury—Bannon continued to spout unsubstantiated allegations about the last presidential election on his War Room podcast. He argued that the results would still be undone.
"And we're gonna get to the bottom of three November [the last presidential election] and we're going to decertify the [2020] electors, OK? And you're going to have a constitutional crisis. But you know what? We're a big and tough country, and we can handle that. We'll be able to handle that. We'll get through that," the Trump ally said.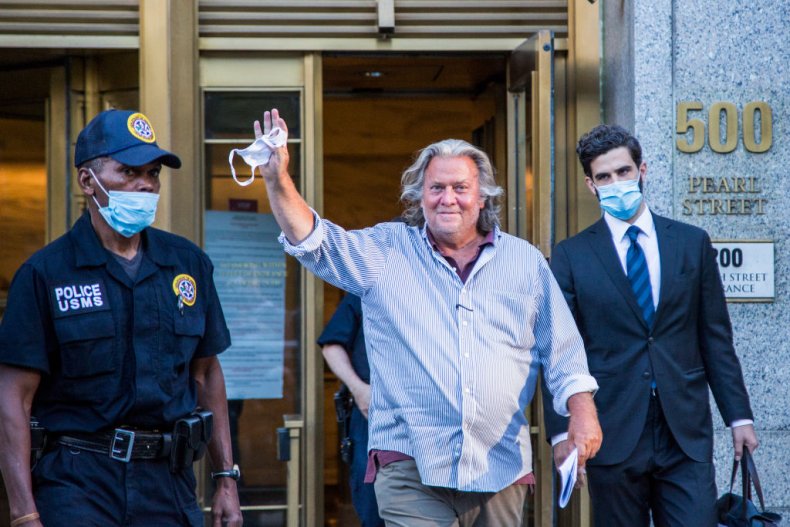 Earlier in the segment, Bannon predicted that pro-Trump Republicans would take over the country.
"We're taking action and that action is we're taking over school boards, we're taking over the Republican Party through the precinct committee strategy. We're taking over all the elections," he said.
"Suck on this," Bannon continued. "Ninety-five percent of the billets in Virginia were occupied of election officials and poll watchers, and that is a principal reason that we secured the election of Youngkin, OK?"
GOP Governor-elect Glenn Youngkin defeated Democratic former Governor Terry McAuliffe in an upset victory on November 2.
Through his attorney, Bannon refused to comply with the House select committee's subpoena citing Trump's claims of executive privilege.
"Until such time as you reach an agreement with President Trump or receive a court ruling as to the extent, scope and applications of the executive privilege, in order to preserve the claim of executive and other privileges, Mr. Bannon will not be producing documents or testifying," Robert Costello, Bannon's attorney, wrote in a letter to the January 6 committee in October.
The House select committee then voted unanimously to issue a criminal referral again Bannon. A full House vote to approve the criminal referral passed 229-202, with nine GOP lawmakers voting in favor with their Democratic colleagues. After that, the referral was sent to the Justice Department which convened a grand jury to determine whether the Trump ally should be indicted.
With the grand jury's Friday decision, Bannon is reportedly planning to surrender himself to authorities on Monday, per CNN.
Bannon, like Trump and many of the former president's allies, continues to claim that the 2020 election was "rigged" or "stolen." The extraordinary allegations have not been substantiated, and more than 60 election challenge lawsuits filed by Trump and his supporters have failed in state and federal courts. Multiple audits and recounts across the country have consistently reaffirmed Biden's win.
Trump's groundless claims of widespread voter fraud animated his supporters to carry out the January 6 attack against the Capitol. The House select committee believes Bannon can provide key information and insights into what happened on that day.
Newsweek reached out to Bannon's lawyer for comment but did not immediately receive a response.