Democrats Pleased as GOP Blasts Steve Bannon's Indictment: 'Welcome Back to the Rule of Law'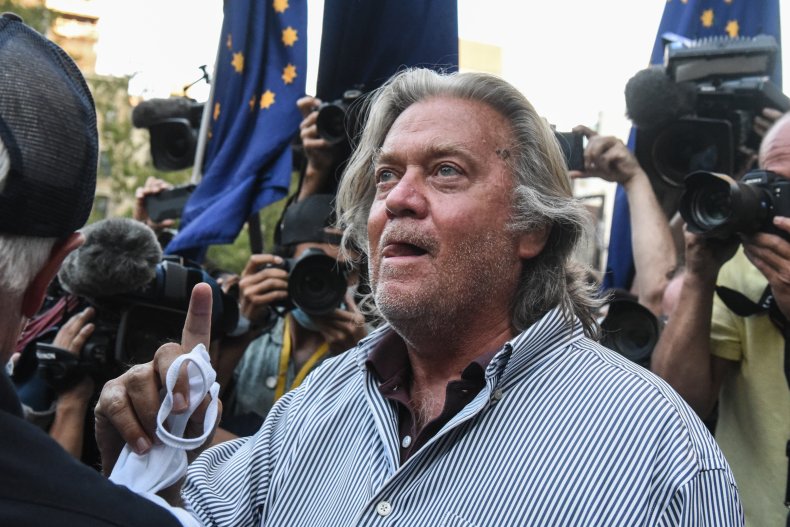 Politicians and pundits reacted to an arrest warrant being issued for Steve Bannon, ex-adviser to former President Donald Trump, after he was indicted for criminal contempt of Congress on Friday.
The Department of Justice (DOJ) announced that Bannon had been charged with two counts of contempt for refusing to comply with a subpoena from the House Select Committee to Investigate the January 6 Attack on the Capitol. Each count—for refusing to be deposed and for refusing to provide documents—carries a maximum penalty of up to one year in jail and a $1,000 fine.
Bannon said he was refusing to comply with the committee's subpoena on the advice of Trump, who unsuccessfully attempted to block the committee's subpoenas by claiming executive privilege. Prominent political figures quickly offered their comments on the indictment in social media posts on Friday, with reactions differing significantly depending on political affiliation.
"The Grand Jury indictment of Steve Bannon shows that even the insurrectionist allies of Donald Trump are not above the law and the American justice system is back in business," Representative Jamie Raskin (D-Md.) tweeted. "Violate Congressional subpoenas and court orders at your own risk."
"Reminder: Subpoenas are not optional — even for Steve Bannon," tweeted Representative Mary Gay Scanlon (D-Penn.).
"No one should be above the law," Representative Ted Lieu (D-Calif.) tweeted. "Not the former President, not his staff, not Members of Congress and not Steve Bannon."
"Welcome back to the rule of law," Representative Eric Swalwell (D-Calif.) tweeted while sharing a link to an article on the Bannon indictment.
"Steve Bannon's indictment should send a clear message to anyone who thinks they can ignore the Select Committee or try to stonewall our investigation: no one is above the law," Representative Bennie Thompson (D-Miss.) and Representative Liz Cheney (R-Wyo.), the chair and vice-chair of the committee, said in a joint statement.
"Steve Bannon did nothing wrong," tweeted Representative Matt Gaetz (R-Fla.).
"They are going after Steve Bannon bc he is so effective in guiding Americans through the enormous amount of lies the media and the Dems force down the People's throats everyday," Representative Marjorie Taylor Greene (R-Ga.) tweeted. "War Room is one of the most watched shows by Trump supporters. #SteveBannon is innocent."
"Steve Bannon is an American Patriot," Trump 2020 campaign adviser Boris Epshteyn tweeted.
"Joe Biden has evicerated Executive Privilege," tweeted Representative Jim Jordan (R-Ohio). "There are a lot of Republicans eager to hear testimony from Ron Klain and Jake Sullivan when we take back the House."
"Steve Bannon's indictment today is ridiculous," Ali Alexander, the "Stop the Steal" organizer who has also been issued a subpoena by the committee, wrote on messaging app Telegram. "For the DOJ to undo decades of norms and present this to a grand jury for charges and an arrest is absolutely chilling democracy."
"This January 6 commission is criminal in nature," Jim Watkins, the owner of the QAnon-linked image board 8kun, wrote on Telegram. "I can't imagine a judge going further with this. It is going to be a show for sure. Now Bennie Thompson the clown in charge of the January 6 commission is discussing calling President Trump. How much further should these communists be allowed to have positions of power in our House of Representatives?"
The indictment and arrest warrant came three weeks after the House voted to hold Bannon in contempt and refer him to the DOJ to pursue criminal charges. Before the charges were filed, speculation had swirled over whether the Biden administration would pursue the charges.
Pressure for the DOJ to charge Bannon ramped up earlier this week after a federal judge found that Trump could not prevent the National Archives from complying with a subpoena from the committee on the basis of executive privilege. The judge noted that executive privilege did not continue "in perpetuity" for ex-presidents.
"We would show the American people by word and deed that the Department adheres to the rule of law, follows the facts and the law, and pursues equal justice under the law," Attorney General Merrick Garland said in a statement after Bannon was charged. "Today's charges reflect the Department's steadfast commitment to these principles."
Newsweek reached out to Bannon's attorney for comment.
Update (11/12, 7:56 p.m.): This article has been updated to include a tweet from Representative Marjorie Taylor Greene.