Steve Bannon 'Absolutely' Sees Contempt Indictment as 'Badge of Honor': Stephanie Grisham
Stephanie Grisham, Donald Trump's former White House press secretary, said on Saturday that former Trump advisor Steve Bannon considers it a "badge of honor" to be indicted for contempt of Congress in the Capitol riot investigation.
During an appearance with CNN's Jim Acosta, Grisham spoke about the senior White House staffers who were subpoenaed by the select House committee for the January 6 riot investigation, including Bannon, who was indicted on Friday.
"Bannon absolutely I think is going to wear this as a badge of honor and martyr himself almost," she said. "That was the mentality in the White House when I was there. Anything we did like that was a badge of honor."
Ahead of being indicted for refusing to comply with a congressional subpoena, Bannon spoke about the 2020 presidential election and predicted a "constitutional crisis."
"We're gonna get to the bottom of three November [the last presidential election] and we're going to decertify the [2020] electors, OK? And you're going to have a constitutional crisis. But you know what? We're a big and tough country, and we can handle that. We'll be able to handle that. We'll get through that," he said.
Grisham on Saturday recalled that Bannon was "very good" at telling Trump what he wanted to hear.
Grisham added,"I recall in the White House when we would get Hatch Act violations, that was a badge of honor. It was a joke in the White House. The president used to say to us, 'You know who's in charge of the Hatch Act? It's me, go ahead, say whatever you want to say.'"
She also suggested that former White House chief of staff Mark Meadows is similarly proud of defying a subpoena. He didn't appear before the committee on Friday.
"That core group [former Trump officials], they're going to wear it as a badge of honor," she said. "Meadows especially, it's very clear that he wants to stay on Trump's good side."
Grisham said Trump will attempt to benefit from what's happening to Bannon, Meadows and the other former officials who were subpoenaed: "The [former] president is going to say we're going to fund-raise off of this, don't worry, patriots are going to step up. This is going to make everybody excited for 2022 [election] and then the select committee will go away."
"The former president was very good at calming you down and telling you everything's gonna be okay, you just gotta fight, fight, fight," Grisham added.
Grisham, who resigned from her position on the day of the Capitol riot on January 6, previously spoke about Trump's potential plans that she said would benefit him if he's re-elected as president.
In October, she said during an interview with Meet The Press that Trump would focus on "revenge, retribution and how he can benefit himself."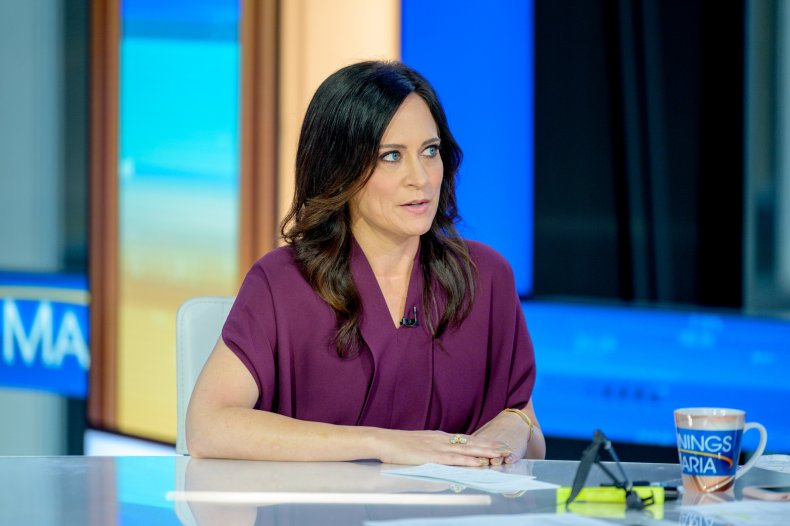 "I think it will be a very terrifying time. He's on a revenge tour right now with the people who voted to impeach him," Grisham added. "I believe if he is elected again, it will be a really scary time."
The former press secretary was criticized for not resigning sooner from the Trump administration, but argued that she tried to leave numerous times during the last six months leading up to January 6; however, former first lady Melania Trump would persuade her not to quit.
Grisham said that she regretted being "part of something unusually evil" that long.
On Saturday, Grisham wrote on Twitter: "Choose not to forgive me, but at least listen to my insights so we can never repeat this mistake again."