'1883' Finale Recap: The Dutton's 'Yellowstone' Origins Revealed After Tragic Ending
1883 has come to an end on Paramount+ and so has the pioneers' journey along the Oregon trail.
Episode 10, "This Is Not Your Heaven," surely has viewers reaching for the tissues as our characters parted ways for the final time. As we knew from the events of Episode 9, Elsa (Isabel May) is likely to die, but the Duttons do find brief hope for her survival during the finale.
While 1883 has always been a Dutton family origin story, Taylor Sheridan's prequel series really connected the dots in the final episode, showing how Montana came to be home for the family in Yellowstone.
Episode 10 was a marginally longer episode than the previous nine, so here's the Season 1 finale recap for 1883.
Saying Goodbye to 1883
The mood is somber amongst the pioneers as the finale of 1883 begins. Elsa is still proudly riding up front but, as we know from the conversation between James (Tim McGraw) and Margaret (Faith Hill) in Episode 9, her days are numbered.
They approach a nearby fort where an ex-soldier surgeon informs them that he can't perform the operation required and they should seek a bigger nearby fort. It's a blow for the travelers as they also desperately need medical assistance for Josef (Marc Rissmann), whose snake bite is getting worse, and his wife Risa (Anna Fiamora) who suffered a serious neck injury after falling off of a horse.
James and Shea (Sam Elliott) discuss their next move. Unfortunately they can't stay in the fort as it's owned by the "deputies" that they killed in Episode 9. Instead they agree to head north before then moving on to Oregon in the spring.
James pulls Margaret for a tough conversation and once again tells her that Elsa's days are numbered as she suffers from the arrow wound. James tells her that they'll head to Montana, and wherever Elsa dies, that's where they'll stay. Margaret assures him that she'll visit their daughter every day until she dies too.
Shea announces the new plan to the remaining group, but many of them aren't on board and stay at the fort, telling them they'll follow their tracks. Josef, despite his severe injury, wants to push on with them. As the wagon containing a passed out Elsa travels into the distance, cowboys Wade (James Landry) and Colt (Noah le Gros) follow on behind to say their goodbyes after she wakes. Their affection for each other is clear and despite being close to death's door, Elsa waves them off with a witty remark that has them grinning before riding off.
During a stop on the trail, James and Shea bond by the fire and Shea tells the story of how his wife saved his life during the war by tricking him into thinking she'd left him, but in reality she was just dragging him away from a forthcoming battle.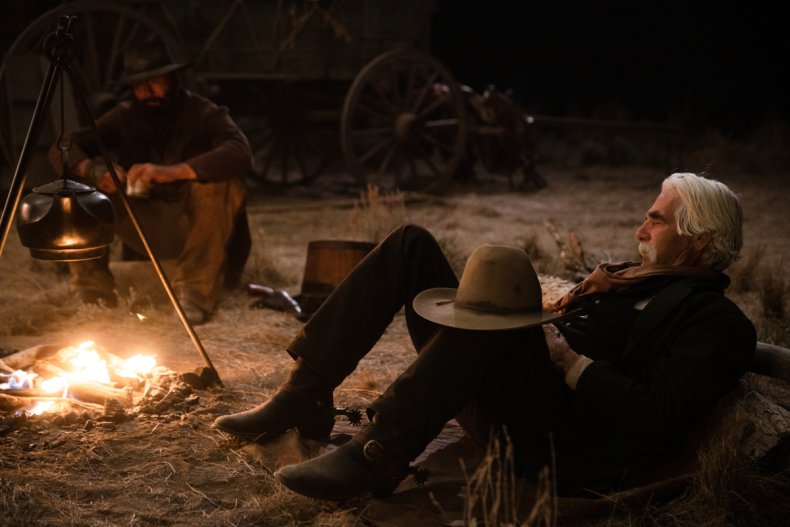 Thomas (LaMonica Garrett) takes a look at Josef's worsening leg. It's swollen, discolored and full of marks that shouldn't be there—it's pretty obvious the leg will have to go, and Josef agrees.
The key players in the camp prepare to perform the makeshift surgery on him by getting him blind drunk and sterilizing their equipment. Everyone holds him down and, impressively, Thomas manages to saw the leg off in two sharp hacks.
Elsa, who it turns out has been asleep for three days of travel, comes out of the wagon looking slightly perkier after the deed is done. Seeing Josef and his now severed leg, she quips: "Sure glad I didn't get shot in the leg."
While our named characters push north, we see that the immigrants from the group who had stayed behind are shot, raped and killed by bandits. As Elsa puts it in her voiceover, tragedy is contagious, and unfortunately there is still more to come within Episode 10.
As they travel on, the terrain starts to get noticeably different. Barren plains have been replaced with grassy lands and forests. As Elsa and the remaining wagon see a trio of Native Americans riding slowly in their direction, Elsa understandably starts to gallop away but she collapses and falls off her horse.
Shea approaches the Native Americans, now standing above Elsa. Spotted Eagle, a kind older man played by Oscar-nominee Graham Greene, informs him they have a doctor who could help her. They dip a shaking Elsa into a cold stream before taking her into a sweat lodge. For a while there is hope, but the elder informs James that the Lakota people's arrows are dipped in manure and designed to be fatal.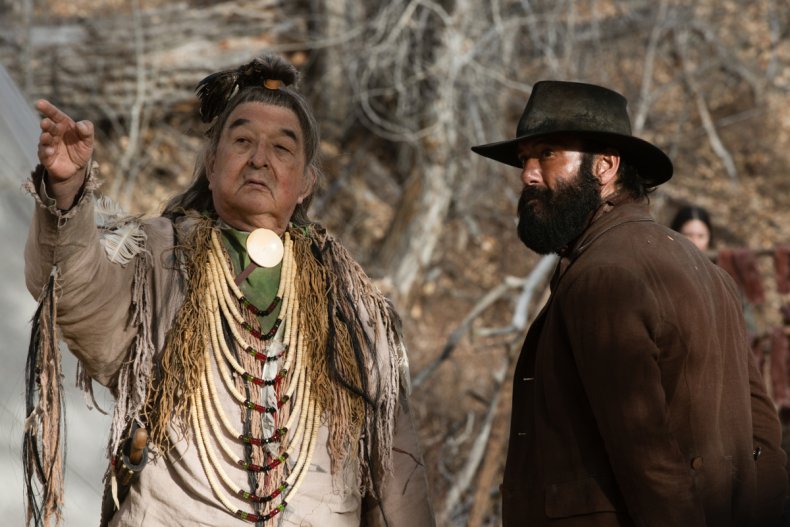 Elsa realizes for the first time that she is going to die and breaks down. Through heartfelt sobs, she makes her father promise that she can choose where she's buried. He solemnly agrees.
By the campfire again, Thomas and Noemi discuss what life will be like together when they finally reach their destination. Meanwhile, Josef awakes, still reeling from his leg amputation, to find his wife dead next to him. It's unclear what the cause of death is, but it stemmed from the neck injury she sustained at the same moment Josef was bitten by a snake.
Shea and James once again have a heart to heart which proves revealing for viewers. At 75-years-old, Shea tells James that in the six months he's known Elsa, he can tell she has lived, smiled and loved more in her short time than he has.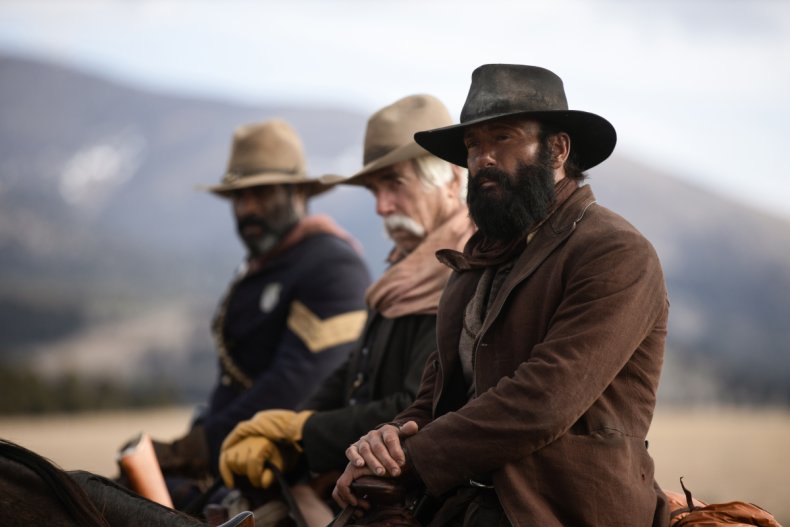 James then realizes that in order to get Elsa to Montana in time, so that she can choose her final resting place, he must take her ahead of Margaret, who will stay behind with John and the wagon. James and Elsa share a horse and she shares tear-jerking goodbyes with her mother, and then with Shea, who she says she'll meet on the beach one day.
Once James and Elsa have traveled for a few days, they come upon a plot of land which seems to be the exact location of the modern day Yellowstone Ranch. They move on some more and Elsa announces that this is the spot.
She chooses a nearby tree, and father and daughter sit against it for hours. As they rest they talk until they both fall asleep.
Eventually, James hears Elsa talking, and she softly says, "I'm not scared. I'm not scared dad," and in that moment, she dies in the arms of her father on the Yellowstone Ranch in Montana.
One Year Later
We don't see the future of the Duttons, but we do see how the other surviving members of the pioneers are getting on.
Josef, learning to live life with just one leg, seems to have found himself a plot of land and he sets about building something for himself. Thomas, Noemi and her children have done the same, finding a spot in a field not far from a stream, just like he'd promised.
It also seems as if Shea has made it to the beach in Oregon, just as he'd mentioned to Elsa he wanted to do in Episode 6. As we know, he believes his wife can experience the ocean too through his eyes and he says: "Just look at that Helen."
The camera moves away and from a distance we see Shea shoot himself just as he'd threatened to do from the first episode of 1883.
We don't see what happens to the Duttons. As we know through flashback scenes in Yellowstone they settle in Montana and have another child. We may see more of James, Margaret, John Sr. and their new child Spencer Dutton in a future season of 1883 which has been confirmed by Paramount.
The final shot of the series sees Elsa riding off across the open plains with her Comanche husband Sam (Martin Sensmeier). Her voiceover concludes: "I know death now. I've seen it. It had no fangs, it smiled at me. And it was beautiful."
All ten episodes of 1883 are available to watch on Paramount+ now.