'1883' Episode 7 Preview: Unexpected Friendships Emerge in 'Yellow Lightning Hair'
Yellowstone prequel series 1883 returns to Paramount+ as it starts to wind down its first season with Episode 7.
At the end of Episode 6 we saw Elsa (Isabel May) slowly recovering from her heartbreak, Thomas (LaMonica Garrett) gave in to his feelings, while the rest of the camp prepared for another river crossing. We also got a cameo from Rita Wilson who followed in her husband Tom Hanks' footsteps by appearing in Taylor Sheridan's universe.
Season 1 of 1883 will have 10 episodes in total, with the remaining four airing weekly until the finale.
So since it's time to savor each episode of 1883 before the end of the season, here's everything we know about 1883 Episode 7 on Paramount+.
New Additions to 1883
Early intel released by Paramount+ suggests Elsa Dutton is set to make a new but unlikely friend in Episode 7, which is titled "Yellow Lightning Hair."
Early preview images for Episode 7 show us exactly who that friend is. Native American actor Martin Sensmeier is joining the cast as Sam, and is pictured sitting next to Elsa.
Interestingly, this will be the second role Sensmeier plays within Sheridan's Yellowstone universe. During Season 2 of Yellowstone, Sensmeier played the role of Martin, Monica Dutton's physical therapist.
Sam's introduction into the story implies that the traveling group finally reach the parts of the country where Native Americans still live.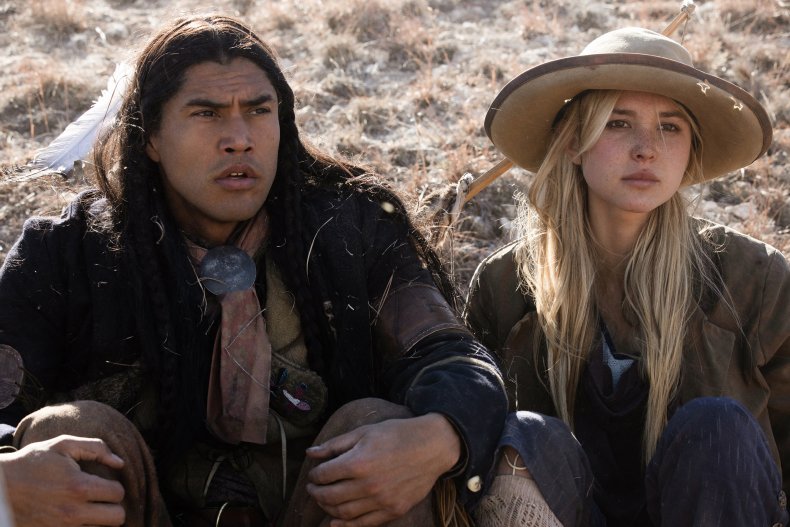 At the end of Season 6, the group faces another treacherous crossing, this time through the Red River, which takes them out of Texas for the first time and into Oklahoma.
More clues about the episode dropped by Paramount imply that the "group faces a harrowing challenge from mother nature." This could well be the upcoming river crossing, or it could be a different challenge presented by the harsh terrain and weather in the Old West.
The numbers are starting to dwindle among the travelers in 1883, and Episode 5 even confirmed at that point that 36 people had already died on the journey. Apparently "the camp searches for one of their own" in Episode 7, according to Paramount. This could be one of the few remaining nameless characters within the group, but it's more likely to be one of the members who we've come to know and love.
Episode 6 also introduced two new characters to the series. We met Cookie, played by James Jordan, who also previously had a role in Yellowstone. Colton (Noah Le Gros) has joined the group as a new herder too, replacing Ennis (Eric Nelsen) in the group and even within the title sequence.
When Is 1883 Episode 7 Out?
Unlike previous weeks, 1883 and Paramount+ won't take an unexpected break.
Episode 7, "Yellow Lightning Hair" will be available to watch exclusively on Paramount+ on Sunday, February 6, 2022.