How to Watch 'Yellowstone' Spinoff Show '1883' Online
The Dutton family history is explored and explained in the new Yellowstone spinoff show 1883.
The show, which stars the likes of Tim McGraw, Faith Hill, Sam Elliot and plenty of big name cameos, arrives on streaming services this weekend and expands Taylor Sheridan's Yellowstone universe. It comes ahead of the launch of another spinoff, 6666 which is a Texas-based show already in development.
1883 is a prequel series to Yellowstone and reveals how the Duttons went from Texas to Montana and came to settle and own the land we see them live on in the modern day.
Unlike Yellowstone, 1883 is only available to watch online. Here's how you can watch the first two episodes of 1883 this weekend.
How to watch 1883 online
After a long wait, new Western period drama 1883 starts on Paramount+ on Sunday December 19, 2021. The first two episodes of the new season will both drop at the same time. Episode 1 is self-titled "1883" and Episode 2 is called "Behind Us, a Cliff."
Unlike Yellowstone, which airs exclusively on television with Paramount Network, 1883 will be exclusively available online. The episodes are expected to drop on the streaming service from 00:00 a.m. PT and 3:00 a.m. ET.
If you're not already signed up to Paramount+, you can get a seven-day free trial.
After this a Paramount+ subscription costs $4.99 a month or you can get a Premium plan (ad-free) for $9.99 a month. You can also save yourself some time and money with a discount by getting an annual package for $49.99 or a Premium plan for $99.99.
What is 1883 about?
The new show is a first for Yellowstone creator Sheridan, who is expanding his franchise with a number of new spinoffs.
1883 begins in Texas and follows a group of settlers, the Duttons included, as they travel north until they eventually they find the land which eventually become the Yellowstone ranch in Montana. They must contend with the unforgiving terrain and the people they meet along the way.
In an early episode of Yellowstone in Season 4, a flashback scene showed Tim McGraw as James Dutton in 1893 in which he seems to have already settled on the Yellowstone land, and is at odds with some local Native Americans.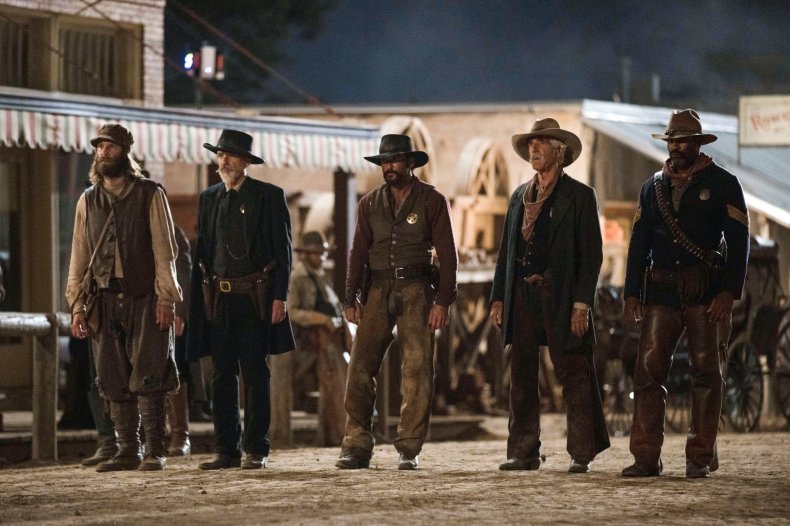 Who stars in 1883?
Country music singer and actor McGraw leads the cast as James Dutton alongside Sam Elliot who plays the tough-as-nails cowboy Shea Brennan.
McGraw's real life wife and fellow musician Faith Hill plays his onscreen wife Margaret Dutton. Young actress Isabel May plays their youngest daughter Elsa Dutton while LaMonica Garrett plays Thomas, a Pinkerton agent helping Shea guide the group from Texas to Montana.
There's plenty more characters found among the group of travellers looking to settle in Montana as well as some big name guest stars.
Billy Bob Thornton plays the mean Marshal Jim Courtright in Fort Worth, Texas. This character is based off of a real life sheriff who died in a shootout in 1887.
Tom Hanks also makes a surprise cameo in Episode 2 as another character who existed in real life. He plays General George Meade, a Civil War Union general who is known for defeating Confederate General Robert E. Lee at the Battle of Gettysburg.
To watch the episode and find out how each of the characters fit in to the Yellowstone universe, watch 1883 which starts exclusively on Paramount+ on Sunday December 19, 2021.
Newsweek has affiliate partnerships. If you make a purchase using our links, we may earn a share of the sale.