$2 Billion Allocated to Help Families Pay for COVID-Related Funerals, Democrats Announce
Americans that met unexpected funeral expenses in 2020 could receive some reimbursement from a $2 billion fund operated by the Federal Emergency Management Agency (FEMA), said Senate Majority Leader Chuck Schumer and New York Democratic Representative Alexandria Ocasio-Cortez on Monday.
More than 3 million people died in 2020 from complications of COVID-19, according to information from the Centers for Disease Control and Prevention (CDC). As of Monday, 464,768 Americans have died from COVID-19, according to Johns Hopkins University. In addition, coronavirus safety protocols caused the closure of many businesses deemed non-essential, throwing many Americans out of work.
Schumer and Ocasio-Cortez announced the establishment of the funeral relief fund at an event in Queens, New York.
"If you are a family who couldn't afford or had to just stretch, went without rent or went without food or anything else so you might give your loved one a decent funeral and burial, you can get reimbursed for up to $7,000 from FEMA," Schumer said Monday at a news conference.
Schumer said that because of the pandemic, many families "don't have money for a proper funeral and a proper burial. And that is just awful and inhumane."
Ocasio-Cortez said that funeral facilities were "overrun" with COVID-related fatalities and that "families also are having to deal with having to pay for the storage of the bodies of their own loved ones. This is wrong."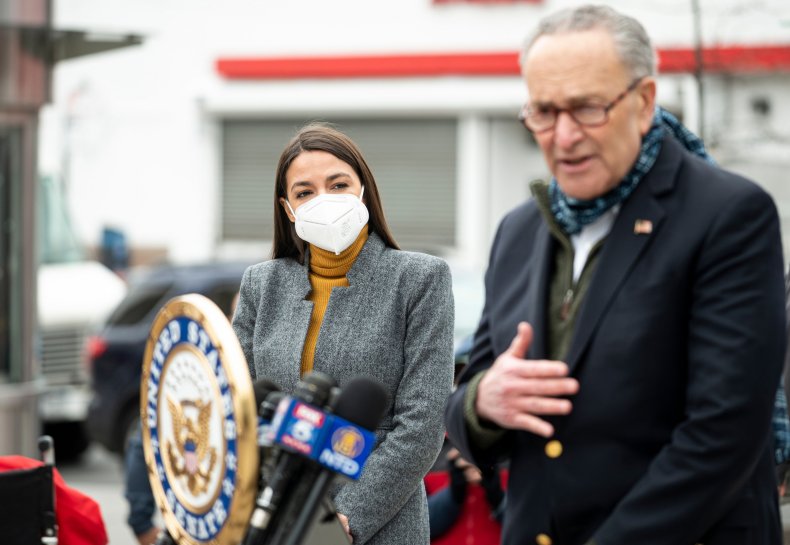 In a statement sent to Newsweek Monday, FEMA said the fund would cover COVID-related funeral expenses incurred in the year 2020, but does not include expenses for funeral services in 2021.
"We are working to streamline the delivery of this program to make it easier for people who lost loved ones to apply for and receive assistance," a FEMA spokesperson told Newsweek. "It's taking some time to develop the right process and tools to make this program easy, efficient and effective for everyone."
Money for the fund was included in a COVID-19 economic stimulus plan passed in December 2020. FEMA is expected to announce later in 2021 when nationwide applications for the fund will be accepted. In a Monday tweet, Ocasio-Cortez encouraged people who anticipated applying for funding to begin "collecting docs now. FEMA will need expense documentation (receipts/invoices), death certificate, & docs for caller ID."
Undocumented immigrants will also be permitted to apply for money from the fund. Ocasio-Cortez said the current Democrat majority in government and the White House should encourage immigrant families to "not have fear and to not allow that fear to further marginalize our community."
The high call for funeral services during the coronavirus pandemic led to some bodies being stored in refrigeration units for extended periods of time before arrangements could be made.
December guidance from the CDC suggested making changes to standard funeral traditions including reducing the number of individuals at services, incorporating virtual services that could be viewed online or holding a graveside service only.