2 California Churches Identified as Potential Coronavirus Hot Spots After Holding Mother's Day Services
As states around the country begin allowing places of worship to resume meeting in person, patrons at two churches in California are being closely monitored by health officials after the churches' Mother's Day services were identified as potential springboards for COVID-19 outbreaks.
Both services were held in spite of state and federal guidelines urging Americans to avoid gathering in crowds of 10 or more. Though many states still advise citizens to avoid mass gatherings, President Donald Trump last week announced the Centers for Disease Control and Prevention was adding places of worship to its list of essential services and said he would "override" governors who did not allow in-person services to resume.
In Northern California, a third of the 21 cases confirmed in Mendocino County have been connected to a Mother's Day service held at Assembly of God Church in Redwood Valley, Mendocino County Public Health officials said Sunday. Two other COVID-19 patients who live outside the county were also in attendance at the service, health officials said.
Close by, the Palermo Bible Family Church in Butte County held a Mother's Day service with 160 attendees. One person who went to the service tested positive for COVID-19 the next day, Butte County Public Health officials said. In response to the unapproved gathering, health officials issued a warning on May 15 about the risks of ignoring social distancing guidelines.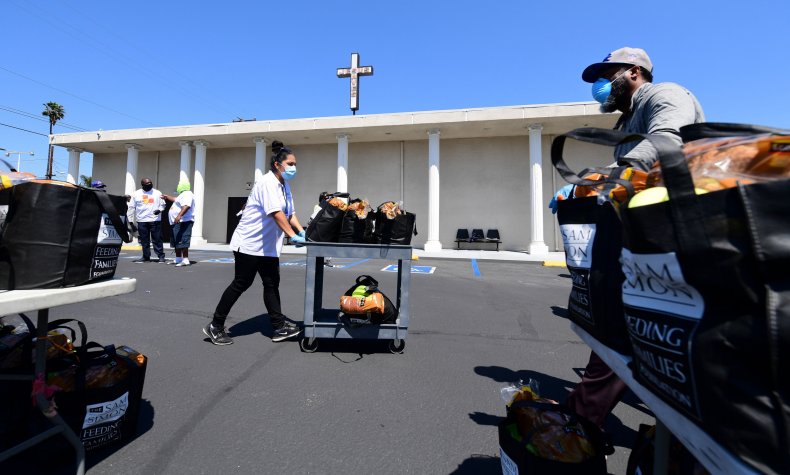 "At this time, organizations that hold in-person services or gatherings are putting the health and safety of their congregations, the general public and our local ability to open up at great risk," Director of Butte County Public Health Danette York said in a news release. "We implore everyone to follow the State order and our reopening plan to help combat the potential spread of COVID-19."
On May 22, Butte County health officials said in a news release the county was experiencing a sudden rise in new cases, though only one more patient had been in attendance at the Mother's Day service. A spokesperson for Butte County Public Health told Newsweek no additional cases had been connected to the service but said the investigation was still in progress.
The debate over in-person church services has been ongoing since the pandemic caused governors around the country to shut down local economies and impose restrictions on gatherings. In California, a lawsuit filed against Governor Gavin Newsom by a church in San Diego County over the right to worship in person may be on its way to the Supreme Court. Governors in Michigan, Illinois and Oregon face similar lawsuits from church leaders in their states.
After Trump's declaration last week that places of worship must be allowed to reopen, the California Department of Public Health said Monday that counties throughout the state could begin allowing in-person services and funerals to resume with modifications in place. In addition to limiting attendance to 25 percent capacity or up to 100 people, depending on which is lower, state health officials said all places of worship must create a COVID-19 prevention and response plan to limit patrons' exposure to the virus and to heighten sanitation efforts. All religious services were still encouraged to take place online whenever possible, the department said in a Monday news release.