2 Men Facing Federal Charges For Allegedly Obstructing Police During Daniel Prude Protests
Two men are facing federal charges for allegedly obstructing law enforcement officers during a protest in Rochester, New York, over the weekend, where demonstrations against police abuse have taken place since details about Daniel Prude's death were made public.
U.S. Attorney James Kennedy announced the charges at a press conference Wednesday afternoon. Adam Green and Dallas Williams Smothers, both 20 years old, are charged with obstructing and impeding police officers during civil disorder. The charges carry potential prison sentences up to five years or fines up to $250,000. The men were arrested on Saturday night, as 1,500 protesters gathered in downtown Rochester and allegedly tossed rocks, bottles, fireworks and other objects toward police officers, the U.S. Attorney said.
Green was taken into custody after he allegedly struck an officer with a object, which Kennedy described as a makeshift shield, and later resisted arrest. Willams Smothers allegedly threw a lit firework that detonated near police officers before fleeing the area. Kennedy said police found two additional fireworks in his possession when they located and then arrested him.
Green was initially charged with second degree assault against an officer and unlawful assembly, and Williams Smothers with criminal possession of a weapon and second-degree rioting, according to local reports. The two men were among nine people reportedly arrested during protests in Rochester on Saturday night. The remaining seven were charged with unlawful assembly.
Kennedy said his office supports peaceful assembly but "will continue to investigate acts of violence at protests." He criticized demonstrators for "contempt" against local law enforcement officers, one day after Rochester Police Chief La'Ron Singletary and the rest of the department's command staff resigned. Their resignations followed New York Attorney General Letitia James' announcement confirming a grand jury's involvement in her office's ongoing investigation into Prude's death.
Prude, a 41-year-old Black man, died on March 23 after Rochester police placed a spit bag over his head and pressed his face into the ground for two minutes during an arrest. He passed away from "complications of asphyxia in the setting of physical restraint," according to a medical examiner's report.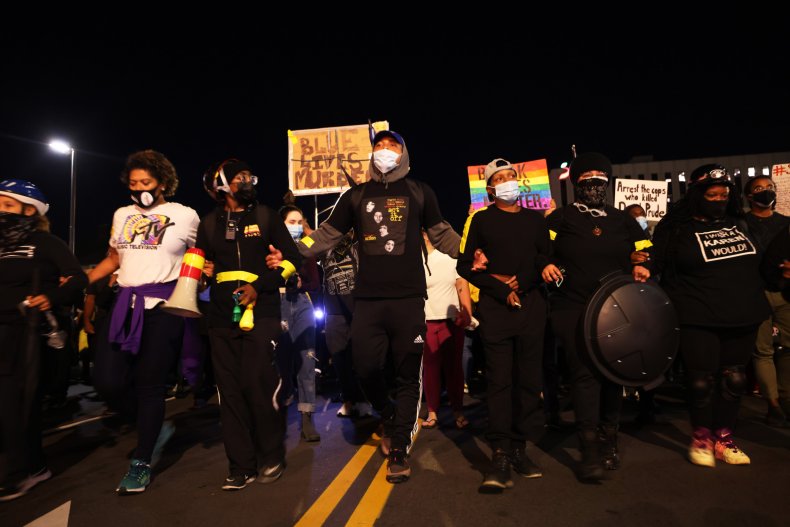 Body camera footage released last week sparked widespread outrage as demonstrators across the country continue to protest against police violence and systemic racism. Singletary and others from the Rochester Police Department are facing public backlash for their alleged roles in covering up details about Prude's death, and relaying false information to local government officials, prior to the body camera footage's release.
Newsweek reached out to the Rochester Police Department for additional comments but did not receive a reply in time for publication.