Rochester Protester Arrested, Charged With Assault After Allegedly Shining Laser In Eyes of Police Officers
Following two days without any arrests amid ongoing protests in Rochester, New York, police detained a demonstrator on Tuesday evening after he allegedly injured an officer and resisted arrest.
Rochester police detained 32-year-old Kyle Bradley Davis, charging him with two felonies—second-degree assault on a police officer and attempted assault on a police officer, local newspaper the Democrat & Chronicle reported. The protester was additionally charged with a misdemeanor for allegedly resisting arrest.
Police accused Davis of repeatedly shining a laser into the eyes of seven officers amid protests in front of the Public Safety Building on Tuesday evening. He was reportedly ordered multiple times to stop shining the laser before officers attempted to arrest him. One officer was injured in the resulting scuffle, according to police. That officer suffered a cut and possibly an eye injury and was expected to remain in the hospital until Wednesday evening.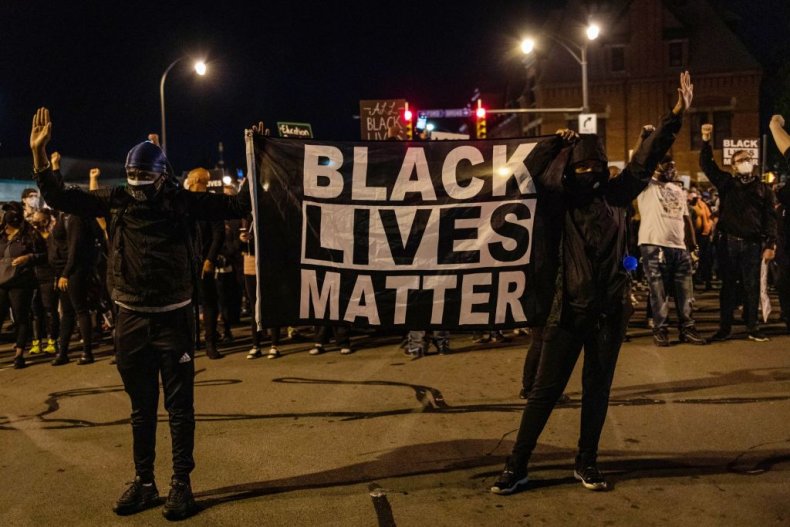 Newsweek reached out to the Rochester Police Department for further comment, but it did not respond by the time of publication.
Demonstrations have been ongoing in Rochester as an investigation into the death of Daniel Prude, a Black man, continues. Protests continued Tuesday evening following an announcement from Rochester Police Chief La'Ron Singletary and other top command staff that they would retire in the wake of Prude's death.
Family members have referred to Prude's death as a "lynching" and accused police of a cover-up. Although body camera video of Prude's arrest was first released last week, the 41-year-old was detained back in March. He died days later in the hospital due to "complications of asphyxia in the setting of physical restraint," according to the medical examiner's report. Seven officers involved in Prude's arrest were suspended after the video was made public.
"We are doubling the availability of mental health professionals. We will take our family crisis intervention team out of the police department and move it and its funding to the department of youth and recreation services," Rochester Mayor Lovely Warren promised in Tuesday remarks. Prude's family had called the police in March after he fled their home naked amid what they believed to be a mental health emergency.
The protests surrounding Prude's death come as Black Lives Matter and anti-racism demonstrations persist in cities across the country. Protesters have been calling for an end to systemic racism in the U.S. justice system and an end to alleged police abuses, with the death of George Floyd in Minneapolis, Minnesota on May 25 serving as the catalyst for the ongoing movement. Floyd, an unarmed black man, died after an officer was filmed kneeling on his neck for nearly nine minutes as he repeatedly complained that he could not breathe.