$2 Trillion in New Stimulus Would Go Toward Creating Manufacturing Jobs, White House Trade Adviser Says
President Donald Trump would like to see manufacturing jobs prioritized in a new $2 trillion coronavirus relief package, White House trade adviser Peter Navarro said Saturday, adding that Congress would ideally pass the legislation before the August recess begins.
Navarro, whom Trump chose as the policy coordinator of the Defense Production Act, which was invoked to help the country navigate the pandemic, discussed the White House's goals for a future economic relief package during an interview with CNN. As tensions between the U.S. and China continued to escalate in recent months, Navarro has frequently advocated bringing more of the U.S. supply chain onto its home turf.
According to the trade adviser, manufacturing jobs will be key to reviving the U.S. economy as restrictions put in place because of the pandemic ease.
"Put simply, we need to create more manufacturing jobs," he told CNN. "Manufacturing jobs not only provide good wages but also create more jobs both up- and downstream through multiplier effects."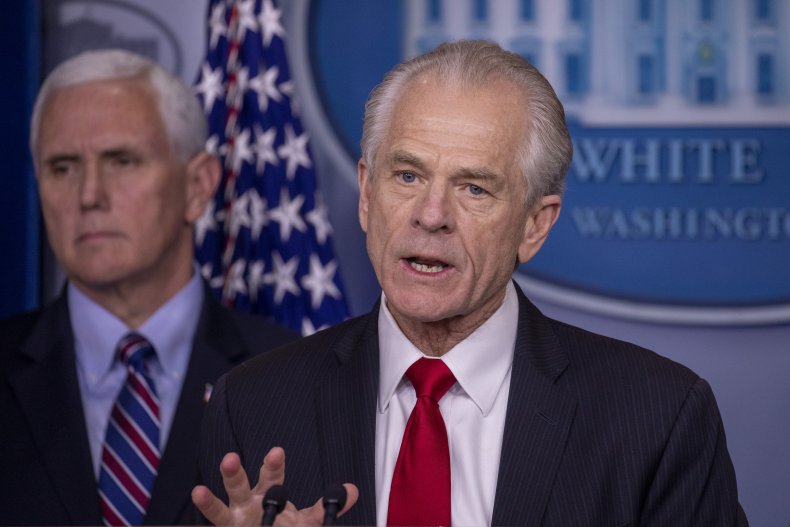 The debate over whether a second package will be needed has been ongoing since the first pandemic-inspired legislation was signed into law in late March. At the time, the $2 trillion Coronavirus Aid, Relief and Economic Security (CARES) Act was the largest relief package passed in American history.
Rising unemployment rates through April and May convinced many congressional leaders a second package would be necessary. But while legislators in the House of Representatives and the Senate came together quickly to pass the CARES Act, the approach toward the next bill has not been as easy. While the Democratic-controlled House passed a $3 trillion bill under Speaker Nancy Pelosi's leadership in mid-May, its price tag has been widely criticized by Senate Majority Leader Mitch McConnell, who called it a "left-wing wish list," and by other Republican advisers and legislators.
It remains an open question whether Americans will receive another round of the payments known as stimulus checks. But Republicans have said it's less likely the unemployment benefit expansion included in the CARES Act will carry on past its current late-July expiration date. The focus should be on getting Americans back to work, White House economic adviser Larry Kudlow has said, not on providing Americans with a "disincentive" to return to the workplace.
Instead, the president is interested in pursuing legislation that will bring American jobs back in force, Navarro said. More specifically, he told CNN Trump wants to see "at least $2 trillion that is strategically focused around the president's two simple rules—buy American, hire American—along with incentives for American companies to bring offshored jobs back home."
The amount is double what McConnell has said he is considering for the next relief package. McConnell's office did not respond to Newsweek's request for comment before publication.
According to Navarro, the focus on manufacturing jobs will boost the economy as hospitality industries and others take longer to bounce back. The roadblocks those industries will continue to face while implementing social distancing guidelines—which will eat into the profits from things like ticket sales in the entertainment industry and serviceable tables in the restaurant business—and the ongoing struggle to reach a consensus on Capitol Hill are both issues that can be helped by giving a leg up to manufacturing, Navarro said.
"The only way to fully rebuild the economy in the face of those headwinds is to significantly expand and strengthen our manufacturing base," he told CNN.