20% Of New Los Angeles COVID Cases Are In Vaccinated People As Delta Variant Spikes
Los Angeles County Public Health Director Barbara Ferrer announced on Thursday that 20 percent of new COVID-19 cases identified in Los Angeles County were in vaccinated individuals.
"The Delta variant is a game-changer," Ferrer said. With the Delta variant driving community spread and positive case numbers up in LA County, the percentage of breakthrough cases in fully-vaccinated people has gone up as well. The daily average case rate was 7.1 per 100,000 people on July 15 and shot up to 12.9 on Thursday.
Ferrer says one reason more vaccinated people are catching the virus is that more people are vaccinated.
"The more people who are vaccinated, the more people who will end up testing positive," she said.
And as the effects of the June 15 reopening of California reverberate through the region, more people have been interacting.
"When there's more community transmission it affects...even those who have protection," Ferrer added. "If you've got more people around you who are infected, the more likely you are to get infected."
"Those numbers will go up—including among vaccinated people," she said, "until we get community transmission under control. Masking will help."
The county's Department of Public Health reimplemented an indoor mask mandate last week because of rising COVID-19 case numbers.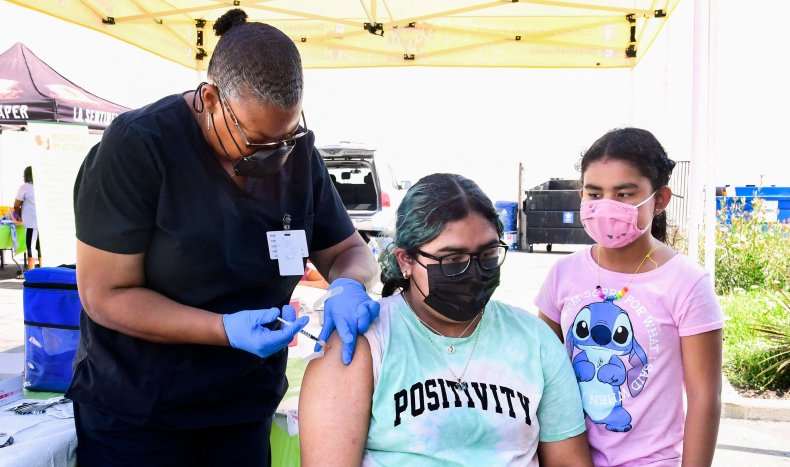 Only about 53 percent of LA County residents are fully vaccinated against coronavirus. About 58 percent of young people between the ages of 18 and 29 are fully vaccinated. And that younger age group seems to be heavily contributing to the rising case numbers, with their positive case rate at 25 per 100,000 as of Thursday.
Even as many regions are seeing breakthrough positive cases among vaccinated people, there is still every reason to get vaccinated. Vaccinated people are still far more likely to be able to fight off the virus when exposed. Vaccinated people are also much less likely to advance to serious illness or death, with 90 percent of nationwide hospitalizations or fatalities occurring in unvaccinated people.
"If you're vaccinated, the chance of you ending up in the hospital, winding up in the ICU, the chance of you winding up intubated are much less," Ferrer said.
Even in the face of increasing breakthrough cases, people who have been fully vaccinated generally won't need to be tested for COVID-19. Testing is no longer recommended for domestic travel, although most international destinations will require evidence of a negative test.
Vaccinated people with symptoms may also choose to get a test. However, since many COVID-19 symptoms are similar to symptoms for other minor infections and ailments, it can be hard to decide when to draw the line.
"If you were in a situation where it's become clear to you that someone was positive and you feel you have symptoms I would go get tested," Catherine Curley, interim director for Villanova's Center of Public Health, told Newsweek in a previous interview. "I don't know if it's necessary to be tested for the sake of it."
Newsweek reached out to a CDC spokesperson for comment.