2,000 Ammo Rounds Found in Vehicle of Man Who Threatened Colorado Firefighters, Police Say
A Colorado man was arrested on New Year's Eve after allegedly threatening firefighters working to contain the Marshall wildfire.
Stephen Roch, 24, was reportedly taken into custody later in the day and booked at the Boulder County jail, according to Colorado's Fox 31. He now faces charges of menacing, obstructing government operations, obstructing a peace officer/firefighter, eluding, and third-degree criminal trespass.
According to a police report obtained by Fox 31, firefighters from Denver were in the Louisville, Colorado, area working the Marshall fire when they noticed Roch's vehicle parked on the side of a road. When they attempted to notify him about the evacuation order in effect for the area and get him to leave, he allegedly became belligerent.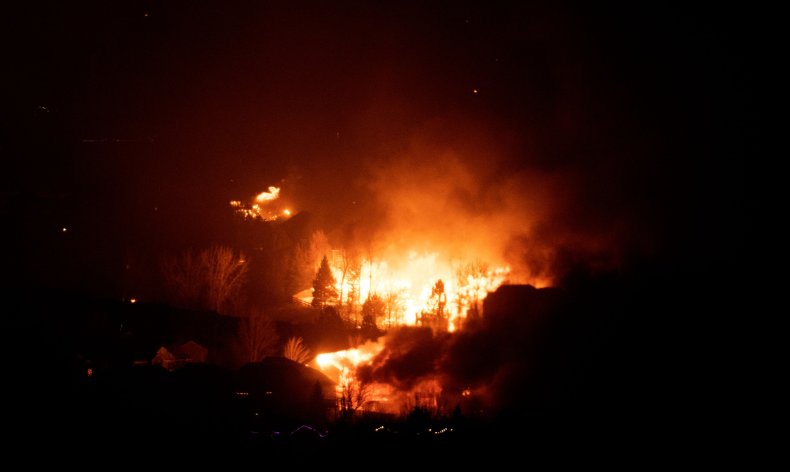 "If you want me out, you'll need to take me out, and I have an AR-15," Roch told a Denver assistant fire chief, according to the report obtained by Fox 31. When confronted about the seemingly threatening remarks, Roch is said to have given the middle finger and driven off.
Roch was arrested after he was pulled over by police later in the day. While conducting a search of the vehicle, officers found the AR-15 he had mentioned to the fire chief and around 2,000 rounds of ammunition for the rifle, in 5.56 and 0.223 calibers. A handgun and 9mm ammunition for it were also found. Officers noted that the assault rifle was loaded and had the safety off but also had the bolt pulled back.
The arrest report also noted that 10 law enforcement officers were pulled away from their assignments helping firefighters in order to track down Roch and take him into custody.
The assistant fire chief who confront Roch initially surmised that he was a local resident dismayed by the loss of his home and who "wasn't gonna take anything and was gonna do what he wanted," according to the arrest reports. Later, Louisville Police Chief Dave Hayes had a similar take on the matter, according to CBS Denver.
"I think he was angry and upset like a lot of people are, but that's not the way to handle it," Hayes said during a press conference.
Newsweek reached out to the Louisville Police Department for a comment on this story but did not hear back before publishing.
The Marshall wildfire has been burning across a region of Colorado just south of Boulder since Thursday. Officials have already dubbed it the most destructive fire in the state's history, with hundreds of homes and other structures destroyed.