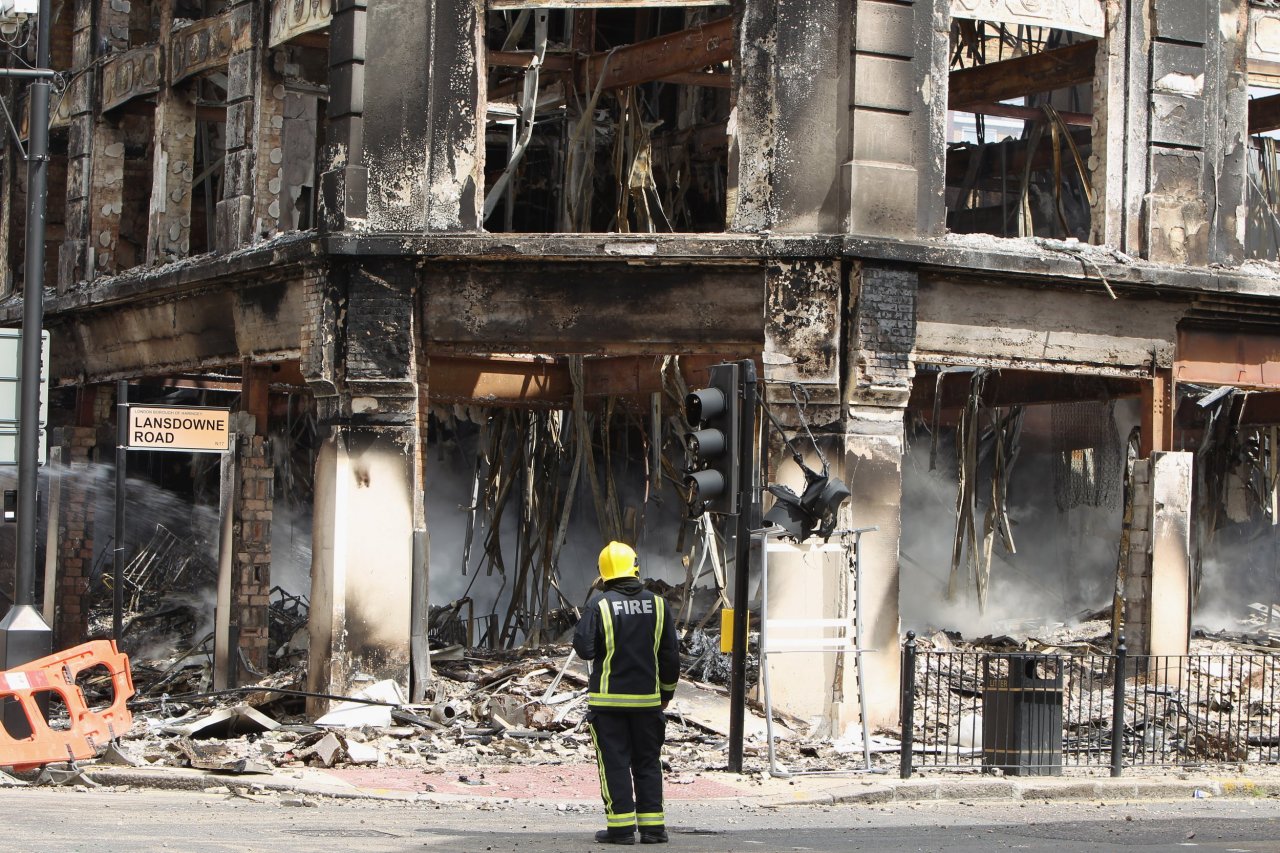 After rehearsing with his hip-hop band one evening last summer, 25-year-old Josh Virasami began making his way to his home in Tottenham, North London. He headed into New Cross Gate station, where he planned to take a train. It was late, but the station was busy—supporters of the Clapton Ultras, a non-league soccer team, were returning from a game. As he walked toward the turnstiles, Virasami noticed police officers searching two black men, who were stood up against the wall of the station. Virasami, who is also black, began filming the incident with his phone.
Less than a minute later, Virasami says, a white officer came up behind him and twisted his arm behind his back, causing him to drop his phone. The officer then handcuffed him and began to search him. "Under what section are you searching me?" Virasami says he asked. The officer responded, he says, by calling over to the two black men: "Do you know this guy?"
Officers then dragged Virasami out of the station and into the back of their van. "This is unlawful. This is racist," he says he told them. The officers drove him to the Lewisham police station, a 10-minute drive, then led him into a small, windowless room. They ordered him to strip naked, turn around, bend over and cough. Virasami says that during this body search the officers laughed at him.
Once the search was over and he was released, Virasami says he waited at the station for two or three hours, asking the police for paperwork documenting what had happened. Eventually, he gave up and went home. (The Lewisham police station says it has no record of this incident.)
Virasami believes the officers who detained him are racists, an accusation that racial equality campaigners have long made about British police. It's a criticism that intensified on August 15 following the death of Dalian Atkinson, a black man and former soccer star who passed away after police Tasered him during an encounter in Telford, in the west of England. (An investigation into Atkinson's death is ongoing.)
As British police continue to detain, arrest and kill black people in disproportionate numbers, a group of anti-racism campaigners—Virasami among them—are organizing and looking to the U.S., where the Black Lives Matter movement has galvanized thousands of people to protest against racial injustice. Virasami and his colleagues, some of whom know the three U.S. founders of Black Lives Matter, decided to adopt the moniker for their group. Armed with the most potent name in modern anti-racism activism—and one that protesters have chanted throughout Europe—Black Lives Matter UK wants to unite people across Britain to defy racial inequality. On August 5, the group held its first protests, shutting down roads in Birmingham, Nottingham and London.
Like its U.S. counterpart, Black Lives Matter UK has made opposing police violence a priority. Since 2004, the Independent Police Complaints Commission, a government-funded organization, has collected data on the number of people who have died during or following police contact in that time frame: 1,115 people, or 93 deaths a year. Black people—who make up 3.4 percent of Britain's population—account for 7.89 percent of the fatalities.
In an email to Newsweek, the National Police Chiefs' Council says it is aware of this disparity and that black people are disproportionately represented in arrest and detention figures. It adds, however that the reasons for this "are wider and more complex than simply contact with the police." The NPCC says the well-known black politician David Lammy is leading an independent review—along with the U.K.'s Ministry of Justice—into the police and the courts' treatment of ethnic minorities. (The report's findings will be released next spring.)
Lammy, who is from the center-left Labour Party, represents the borough of Tottenham, where around a fifth of the residents are black. Many of them have a deep-rooted distrust of the police. In 1985, a black woman named Cynthia Jarrett died of heart failure during a police raid of her home in the Broadwater Farm estate, a public housing project in Tottenham. The next day, residents of Broadwater Farm—who were suspicious of the circumstances in which Jarrett's death occurred—began rioting. Amid the uproar, a crowd of people hacked a British police officer, Keith Blakelock, to death.
More than two decades later, there was another riot in Tottenham. In 2011, police shot and killed a 29-year-old black man named Mark Duggan, who lived in the Broadwater Farm estate. His death sparked five days of rioting across Britain, which resulted in around £200 million ($265 million) of damage.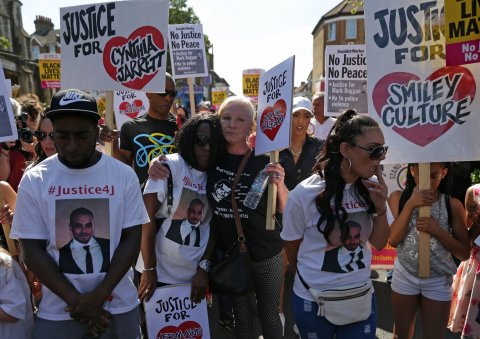 Today, Broadwater Farm is a more peaceful place. Housing up to 4,000 people, it feels like a self-contained town. Residents live in colored tower blocks, linked by walkways; also on-site is a nursery, a playground and a church. At the back of the estate is the Broadwater Farm community center, where Clasford Stirling, who runs the center's soccer club and who has lived in Tottenham for decades, spends most of his time. In 2007, the queen gave him an MBE—a community service award—for his work. Now, Stirling says, for all that he has done, one problem remains unchanged. "[Police racism] hasn't gone; it hasn't gone at all," he says, sitting at a table in one of the center's rooms across from the sports hall. "And we feel it every day. Why is it so [much easier] to assault a black person on the street than it is your white brothers and sisters?"
Around the table, other youth workers murmur their agreement. "Is there any difference to the '60s?" Stirling says. "The only thing is, [the police] are not beating you visibly on the street, like they did in the '60s. But the racism is just the same."
Advocates say the lack of diversity among British police is partly responsible: In London, 40.2 percent of the population is from an ethnic minority background, compared with just 12.4 percent of its police force.
In its email to Newsweek , the NPCC says it is aware that trust in the police is not high among ethnic minorities but police forces across Britain are "work[ing] hard to build trust and strong relationships with all communities." It adds that it does not hold collective data on how this rebuilding of trust is going.
Stirling does not believe the police have made enough of an effort to improve community relations. He says he and other black parents have taught their children to be wary of the police, particularly as they approach adolescence.
The following day, Stirling is finishing soccer practice for the 14- to 17-year-olds he coaches. He calls them over, and they gather around him, squinting in the sun. They are around the age Virasami was when police began to stop and search him for no apparent reason. One 15-year-old boy says his school holds regular classes to teach him and his friends about their rights and what to do if the police stop them.
He says the police are racist and not to be trusted, and the rest of the group nods in agreement. "If you're in the presence of the police, we know that if you're black, you might be stopped," another teenager says. "I wouldn't call the police [if I was in trouble]. If you get robbed, you're not going to call the police."
The group brightens, however, at a mention of Black Lives Matter. They have heard of the U.S. movement and the British group. One teenager says, "[Black Lives Matter] is good 'cause they're trying to prove a point. They're doing something, finally."
Though the name Black Lives Matter carries recognition worldwide, it inevitably invites comparison to what's happening in the U.S.
In 2015, according to the Washington Post's database of police shootings (no official figures exist), U.S. police shot and killed 990 people, 258 of whom were black. In Britain, officers are usually unarmed, so police shootings are infrequent, but Virasami says officers have too often avoided punishment for the deaths of black people who have died during incidents involving the police.
According to the Institute of Race Relations, a London-based charity, the last time a British police officer was convicted over involvement in a black person's death was in 1971, when two police officers were found guilty of the lesser charge of assault—not manslaughter— during their trial for the death of a homeless man, David Oluwale.
The need for Black Lives Matter UK is clear, but the movement has stumbled somewhat in recent weeks. On September 6, the group tried to follow its August 5 protests with a second day of action. Early that morning, nine white supporters of Black Lives Matter UK stormed a runway at London City Airport to protest against the effects of climate change on sub-Saharan Africa countries. The demonstrators forced the closure of the runway for more than six hours but earned the opprobrium of some people you might assume would be their allies. In a series of tweets, Stafford Scott, who works for the anti-racism charity the Monitoring Group, accused Black Lives Matter UK of "fast becoming a joke" for focusing on an environmental issue with a whites-only protest. "These FOOLS are embarrassing BLACK people," he tweeted.
Virasami says Black Lives Matter UK, which has supporters of all ethnicities, sent white activists to the airport because it believed there was less risk the police would harm them.
Black Lives Matter UK is a young movement, with young members, and it still trying to establish itself. Though the September 6 protest may have angered people like Scott, who saw it as a flashy stunt, it earned the group widespread media coverage, and its fans are now waiting for the group's next move. As are its critics.
This article originally incorrectly stated that the Independent Police Complaints Commission (IPCC) has collected data on the number of people the police have killed. The IPCC's data is for deaths that occur during or following police contact