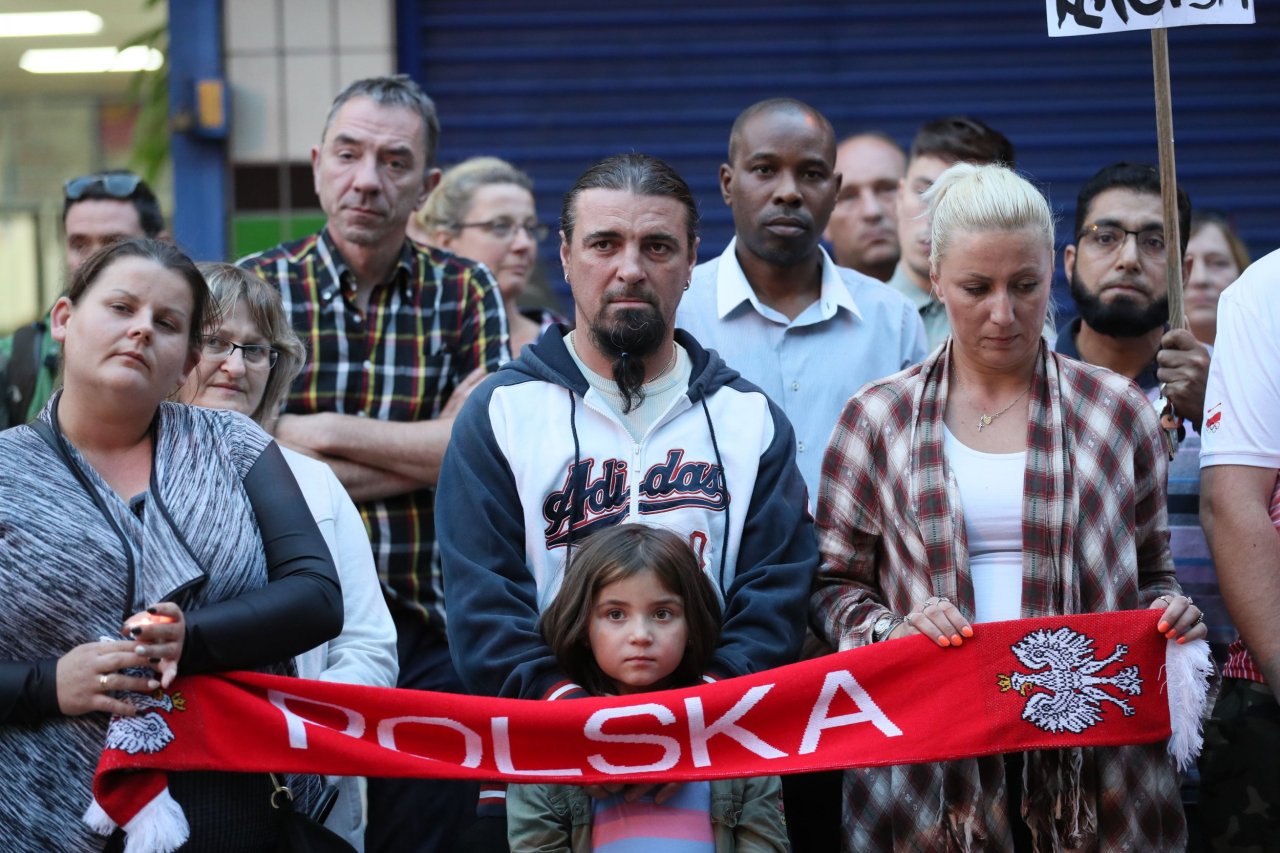 It has been nearly three months since Arek Jozwik, a 40-year-old Polish factory worker in Harlow, England, was killed after being punched to the ground in what police suspect is a hate crime. The Harlow police arrested six teenagers, five of whom were released because of insufficient evidence, while one has been released on bail. Two Polish police officers whom Warsaw dispatched to reassure Harlow's Polish community have headed home, leaving Jozwik's friends and family desperate for justice and deeply afraid. "We only stick together now. We only go to places where you know who is there," says Eric Hind, a Polish close friend of Jozwik.
It has been a hard year for Poles living in Britain. After months of anti-immigrant rhetoric, Britain's decision to leave the European Union on June 23 was followed by a 41 percent surge in hate crimes, many directed against immigrants, in the month after the vote. Days after the referendum, the Polish Social and Cultural Association in west London found the words "fuck you" scrawled across the entrance. On a bus in Newcastle, a boy set a Polish woman's hair on fire. In Leeds, a local couple allegedly told a Polish shopkeeper to "go to your own country." The man, who had a heart condition, collapsed and had to be taken to the hospital.
Across Britain, Polish citizens have established careers as builders, teachers and entrepreneurs, raised their families and formed deep ties. In 2016, the U.K.'s Office for National Statistics announced that Poles had overtaken Indians as the country's largest foreign-born population. But faced with an uncertain future after the Brexit vote and a surge of hostility toward immigrants, many in the Polish community are asking themselves if it's really worth staying.
The uncertainty comes at a time when Donald Trump's sweeping victory in the American presidential election has left some Latinos in the United States feeling the same way. "I want to cry, but I feel…numb," says Carlos Yanez, 17, an undocumented immigrant, who received temporary relief from deportation by an executive order signed by U.S. President Barack Obama—which could be overturned when Trump assumes office. "I don't know what my future is now."
Many U.K. Poles don't know either. Though many Brits think of Polish migration as a recent phenomenon, the community has deep roots here. The 1947 Polish Resettlement Act offered British citizenship to more than 200,000 Poles who had contributed to the war effort, after some 6,000 members of the Polish air force helped win the Battle of Britain against the Nazis. From 1940 to 1990, during Nazi and Communist rule, Polish authorities set up a government-in-exile in London, which several Western states recognized as the de facto Polish capital for much of this time.
Since Poland joined the EU in 2004, the number of Poles in Britain has grown eightfold, from almost 100,000 to 831,000, thanks to immigrant-friendly policies under Labour Prime Minister Tony Blair. When 10 new countries joined the EU in 2004, most from the former Eastern bloc, Britain was one of only three EU countries to immediately open up its labor market, making it an attractive destination for Poles who spoke the language and were eager to take advantage of Britain's higher wages in sectors like construction and hospitality. The Eastern European immigrants were good for the economy, but the British government underestimated the number of those who arrived in the first decade by more than 350,000; anti-immigrant politicians and British tabloids used the error to inflame anger over the displacement of low-skilled British workers.
In 2014, the U.K. Independence Party—whose leader, Nigel Farage, would go on to play a key role in the campaign to leave the EU—won the 2014 European Parliament election on the issue of EU immigrant labor. One memorable poster read: "26 million people in Europe are looking for work, and whose jobs are they after?" Before the Brexit referendum in June, European Commission President Jean-Claude Juncker suggested that the British government's decision to welcome so many Eastern Europeans so quickly caused the anti-immigration sentiment that partly drove the decision to leave.
Now Poles living in the U.K. worry that they may not even be able to stay in the country. Westminster has said it expects to allow Poles already living in the U.K. to remain after an official Brexit, but it is waiting on a similar promise from the EU that British citizens will also be able to stay on the continent.
Some Poles may not wait to find out. On a trip to the U.K. in September, citing the strength of his country's economy, Polish Deputy Prime Minister Mateusz Morawiecki told the BBC he expected large numbers of Poles to return home from post-Brexit Britain. But Madeleine Sumption, director of the Migration Observatory at Oxford, says "a mass exodus of Poles is unlikely" because of their ties to the U.K. Since Morawiecki's comments, Polish officials have softened their warnings about a mass migration. "It is too soon to speculate about the scale and directions of migration flows after Brexit," Poland's Europe minister, Konrad Szymanski, tells Newsweek.
If large numbers of Poles do leave, however, it would be economically disastrous for Britain. Polish citizens have become important contributors to key sectors of the economy, from farming and construction to technology. A 2014 University College London study found that European immigrants who arrived in the U.K. since 2000 contributed more than $24 billion to the public purse between 2001 and 2011, and endowed the country with human capital that would have cost $8.3 billion in spending on education.
To hold on to its Polish citizens, the U.K. will have to make them feel welcome. Barbara Mirowska, editor of the Polish Express, Britain's biggest Polish-language newspaper, says most Poles who have contacted her paper after the Brexit vote have concerns that are less economic than cultural. "They are not afraid of losing their jobs, as the majority of Poles are hardworking and skilled," she says. "They are more frightened of a situation in which they are stigmatized and perceived as unwanted." Adam Bodnar, Poland's independent human rights commissioner, says it would help if the British government confirmed Poles' right to remain now, rather than waiting for the same assurance about British citizens living in Europe. "If politicians are treating this whole group as a bargaining chip," Bodnar says, "it creates an atmosphere of instability."
In the long term, many Poles want to see their history in the U.K. recognized. Daniel Kawczynski, a Conservative member of Parliament and the first Polish-born person to sit in the House of Commons, is campaigning for a memorial to commemorate the role of Polish airmen in the Battle of Britain. "It's a strong symbolic gesture at this time to say that we acknowledge the contribution," he says.
Others, like Bartek Luszcz, marketing director of Volleyball England, are trying to import Polish culture into Britain. Luszcz, the chair of IBB Polonia—a club in London made up largely of Polish-born players or those of Polish descent—wants to grow volleyball, a big business in Poland, to similar heights in the U.K. "Hopefully, soon there will be a Poland-England or Poland-Team GB high-level volleyball match, and someone will say: 'Hey, that's Polish people who taught [the] English how to play volleyball,'" he says. Such imports add to the British economy too; the U.K's curry trade, founded by Indian and Bangladeshi immigrants, now generates $5.1 billion a year in sales.
Already Britain's Poles are making significant contributions to their adopted country. In November, the U.K.'s Companies House business registry released a document it describes as imperfect but that lists about 30,000 companies in the U.K. whose owners or directors are Polish citizens. Like many immigrants, Poles have created jobs in London's tech sector, co-founding companies like Azimo, a startup that makes it easier to transfer money between friends, and GrantTree, which helps tech companies access government funding. GrantTree employs 28 people and has raised over $55 million for U.K. tech companies. But its Polish co-founder, Paulina Sygulska Tenner, is waiting on the outcome of Britain's negotiations with the EU before deciding whether to keep the bulk of her business in London. In the meantime, the Brexit vote has made her wonder whether she should be moving elsewhere in Europe. "You don't really want to live in a country where you fundamentally disagree with…the principles on which its external politics is built," she says.
Hind feels the same way. When he arrived in Britain in 2004, the country "was like a dream," he says, but now "the place has got [a] big question mark." Before his friend's death, he had hoped to stay in the U.K. for the sake of his nearly 2-year-old daughter—she was born in Britain, and Hind wanted her to grow up there too. Now he is thinking hard about leaving. It's up to Britain to win him back.
With reporting by Terry Greene Sterling in Phoenix.