Is there really an international wave of a hard-right populism? Are the masses rising up around the world to topple corrupt elites? Or is talk of this colossal political shift just jargon, guff and cocktail chatter concocted by analysts searching for patterns when the victories of Donald Trump in the U.S. presidential election and Britain's decision to leave the EU—to name the two most significant results in the West—could just be unconnected blips?
A year ago, the evidence for a global phenomenon was weak. Some midsize European countries, Hungary and Poland, had elected rightist, anti-globalization governments, and France, the Netherlands, Sweden and a few other European nations had parties that were beginning, maybe, to look like electoral contenders. The U.K. was heading for a vote on its EU membership, but few people thought the majority would vote for Brexit. At that point, Trump seemed to be just a whacky sideshow in a Republican primary.
As Newsweek's Josh Lowe and Owen Matthews report in this week's cover story, the evidence of an international populist surge has grown since then. Trump's victory has made it harder for centrists to close their eyes and hope nationalism will just disappear. His triumph was a shock in many ways, but one of the most sobering aspects of it is his warmth toward prominent authoritarian leaders and foreign politicians with alarming views. Trump's counterparts in Europe, long confined to the margins of politics, will watch with admiration as Trump, soon to be the world's most powerful person, takes office on January 20.
Read more: How Donald Trump surged public anger to the presidency
The 45th U.S. president will have a growing number of like-minded company at marquee meetings like the G-20 and the U.N. General Assembly, where the power players have, in recent years, been centrists like U.S. President Barack Obama and German Chancellor Angela Merkel. If the National Front's Marine Le Pen wins the French presidential election in May, the five permanent members of the U.N. Security Council would be led by Trump, Le Pen, Russia's Vladimir Putin, China's Xi Jinping and Britain's Theresa May, who is ushering the U.K. out of the EU (even though she campaigned, tepidly, for it to remain). With the possible exception of May, none seem thrilled about how the world has worked since the end of the Cold War.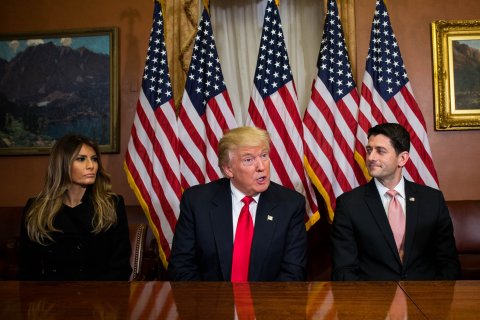 In the pieces that follow, Newsweek looks at what's happening in Eastern and Western Europe to try to understand what's behind this populist revolt. The last time the world saw a spike in nationalism—the early 1990s—the cause was clear: The end of the Cold War had allowed many long-suppressed national desires to violently erupt, often along ethnic lines. So what's behind the current tumult? No single political upheaval has shaken the world—and by many measures, people are generally richer, healthier, better educated and living in less violent societies than ever before. But the world today is also far more divided between rich and poor than it was a quarter-century ago: The 10 wealthiest people on the planet collectively hold $505 billion, more than most countries produce every year, according to Forbes. There's also an increased sense that the very rich buy political influence, perhaps more than ever. Increased migration has revealed how many in the West remain hostile to outsiders—from Syrian refugees to Polish or Honduran immigrants; champions of globalization had assumed that sort of animus had waned. And social media and information technology have accelerated our ability to form closed, like-minded groups—and to get very angry at one another in public without apparent consequence.
As defined, populism—ideas intended to give ordinary people what they want—seems beneficent. But is what the people want now as violent as their leaders' rhetoric? And with insurgencies mounting from east and west to throw out the elites in cosmopolitan cities like Paris and Amsterdam, which side will prevail? —Matt McAllester
The Next Brexit
By Josh Lowe
Six days after Donald Trump's victory in the U.S. presidential election, social media users in Britain awoke to a photograph of the president-elect standing beside another familiar face—Nigel Farage, leader of the U.K. Independence Party (UKIP). The two men, who both pitch themselves as champions of ordinary men and women, stood beaming before a glittering, gold-plated elevator door in Trump's $100 million New York City penthouse. The image wasn't just a sign of a budding bromance; it was evidence of a wider convergence. Like-minded figures from the populist hard right are looking across borders and celebrating one another's successes. "They saw Brexit as an inspiration for their campaign," a triumphant Farage tells Newsweek. "If you look at the last weeks of the Trump campaign, every single night at every single rally, he said this is going to be bigger than Brexit."
Farage has traveled some way to reach the golden pinnacle of Trump Tower. It was only two and a half years ago that I waited in the freezing rain to watch him speak in a faded hall in the coastal city of Portsmouth on England's southern edge. It was a spit-and-sawdust affair, with an eccentric merchandise stand selling comedy tea towels that described then–European Council President Herman Van Rompuy as a "damp rag." Now Farage and other politicians in Europe with similar views think the movement has moved from the fringe to the center. In June, the British masses surprised the experts and voted to leave the European Union; then came Trump's victory. As news of that sunk in, Florian Philippot, vice president of France's hard-right National Front, tweeted his delight: "Their world is collapsing. Ours is being built."
That may be an exaggeration, but across Western Europe, right-wing populists are preparing for battles against nervous progressive or centrist politicians. In Austria, which faces a rerun of its presidential election on December 4, Norbert Hofer, the candidate of the far-right Freedom Party, might win the largely symbolic but still important office. That would make him the first hard-right head of state in the EU. In March, the Netherlands will hold parliamentary elections in which the anti-Islam Freedom Party is set for a tight race against the incumbent center-right government. Later, France's National Front also has a chance at victory in the presidential election. In Germany, which will have a federal election early in the second half of 2017, the Alternative for Germany (AfD), a new anti-immigration and anti-Islam party, is likely to win its first seats in the national parliament.
Yet it's far from certain that the hard right will prevail in all these contests. The Austrian presidential election is too close to call. Marine Le Pen, the National Front's presidential candidate, is polling around 30 percent, enough to get her to the second round of voting in France but a long way below the 50 percent she'll need to win the Élysée Palace. In the Netherlands, the Freedom Party and Prime Minister Mark Rutte's center-right People's Party swing between first and second place. None of that means moderates and progressives are safe. "If you had told me a year ago, 'In one year's time, you'll be living in Brexit Britain while Trump is elected,' I would have said, 'Oh, but the likelihood is really low,'" says Daphne Halikiopoulou, an analyst of the European far right at the U.K.'s University of Reading. "Where we are now, I wouldn't put anything past anyone."
These parties are not identical, but they have all positioned themselves between the starched shirts of the center right and the swivel-eyed thugs of the extreme right. They all share a "put us first!" flavor of nationalism plainly visible in their slogans, from Farage's "we want our country back" to the Austrian Freedom Party's guiding principle, "Austria first," to Trump's swaggering promise to "make America great again." Opposition to immigration is a cornerstone of their appeal, but where some give explicitly cultural or racial reasons for this, others couch it in more practical terms. The leading hard-right parties in Germany, France, Austria and the Netherlands are explicitly anti-Islam, for example, while Geert Wilders is happy to refer to the Netherlands' "mega Moroccan problem." (Unlike its right-wing counterparts elsewhere in Europe, UKIP has focused more on immigration to Britain from other EU states.) These parties all draw some support from working-class communities, often in post-industrial areas, and are happy to take up causes like economic protectionism and even nationalization, which have been more associated in recent decades with the left than the right. But their support cannot be reduced to purely economic concerns.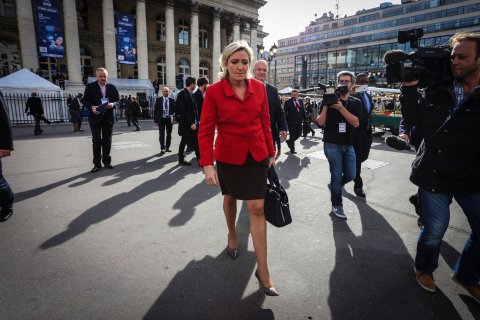 Relationships between the rightist movements aren't always warm; some of these newly empowered populists are rapacious opportunists with fractious personalities. Farage has sought to distance himself from Le Pen's party, for instance, which he has accused of anti-Semitism. This denunciation helped him be seen as a legitimate political voice on British television and in the country's established newspapers. If some of these parties win power, it's not hard to imagine the friction as a collection of "put us first!" governments slug it out. But this is a criticism the parties dismiss. Farage sums up their reasoning with a disarming cliché: "Good fences make good neighbors."
The personal links between these parties and movements are only deepening. Farage is linked to Trump's White House via his former adviser and close ally, Raheem Kassam, editor of the London branch of the hard-right news site Breitbart. Kassam is a protégé of Breitbart's former chairman Steve Bannon, whom Trump just appointed as his chief strategist, and whom Farage has known, as he puts it, "for some years." Meanwhile, in 2015, the Dutch and Austrian Freedom parties, the National Front and others created a group in the European Parliament called Europe of Nations and Freedom; the parties will back one another in their upcoming contests. Farage tells Newsweek he does not rule out supporting these parties. Some may soon share a sympathetic media outlet too; Breitbart, whose abrasive and sometimes racist or Islamophobic content was lapped up by Trump supporters and has been unfalteringly pro-UKIP, is set to expand into France and Germany, potentially boosting Le Pen and the AfD.
In some ways, says Halikiopoulou, the analyst of the far right, it's not so important whether these parties agree on every detail; their chances of electoral success will improve simply by projecting a shared sense of purpose. "They can put forward a façade that emphasizes that their aims, their goals are the same." Each electoral success for one member of the group—and especially Trump's in America—adds legitimacy and momentum to the others. "They're saying, 'Look, we've been right all along," says Halikiopoulou.
If they win national elections, the insurgent populist parties of Western Europe could align on some issues with Hungary and Poland, both governed by populists of the religious right—Fidesz in Hungary and Law and Justice in Poland. These parties do not advocate withdrawing from the EU, but they are often opposed to European interference in areas like immigration and refugee policy; Hungarian Prime Minister Viktor Orbán and Law and Justice leader Jaroslaw Kaczynski have pledged to wage a "cultural counter-revolution" against liberal Europe. Meanwhile, in Italy, the populist Five Star Movement—less nationalist but similarly anti-establishment—stands to gain if Prime Minister Matteo Renzi loses a December 4 referendum over constitutional reform on which he has staked his job.
Wilders and Le Pen both want to hold EU referendums if they win. (Hofer would not have that power if he prevails.) They want to leave the EU and create a new system in which nations work together in a much looser structure. Brussels is keenly aware of the threat: "We need to turn this painful awakening into a political wake-up call," Pierre Moscovici, the European commissioner for economic and financial affairs, said in a speech after Trump's victory.
But few EU leaders can agree on a strategy to push back. For European Commission President Jean-Claude Juncker, the solution is more cross-border cooperation: "There is not enough Europe in this Union, and…there is not enough union in this Union," he said in September. Others think the EU should retreat from controversial areas like asylum policy and stick to functions like promoting competitiveness in business. "The common thread is that all these parties complain that they have lost control over their own fate," says Pieter Cleppe, head of the Brussels office at the think tank Open Europe. "The EU is definitely part of that; the anonymous bureaucrats in Brussels taking very important decisions."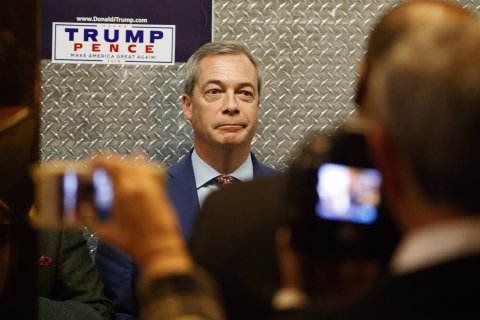 Farage, Le Pen and others like them aren't making the big decisions just yet. Rutte and former Prime Minister Alain Juppé in France could easily win the Dutch and French elections respectively. Both are center-right moderates with deep experience, calm temperaments and international outlooks. But what both Trump and Brexit have demonstrated is that a promise of unfettered independence for a nation and cultural or racial homogeneity for its people can prove extremely compelling. As the tide of nationalism rises, centrists must find a way to make the opposite case better—or find themselves drowning beneath it.
Putin Power
By Owen Matthews
Falling dominoes: That's what U.S. President Dwight Eisenhower called countries coming under Communist control in the 1950s, while warning that aggressive Soviet expansion would cause the "disintegration" of the free world. Over the next four decades, thousands died in proxy wars from Vietnam to Afghanistan, as the U.S. and its allies fought to contain Moscow's global influence.
In November, dominoes began falling once again in a new contest between Europe, which is struggling to maintain its unity, and a recently assertive Russia. In the EU member state of Bulgaria, Rumen Radev—a pro-Russian former air force general with no political experience—beat a candidate from the center-right political establishment in the country's presidential elections. On the same day in Moldova, once part of the USSR, a pro-Moscow political outsider, Igor Dodon, won the presidency, defeating a pro-Western former World Bank economist.
"Russia is trying to destabilize Europe," warned outgoing Bulgarian President Rosen Plevneliev. In Moscow, by contrast, the news was greeted with glee. "The tide in Europe is finally turning against American-dictated Russophobic hysteria," said Duma deputy Vyacheslav Nikonov.
Suddenly, the world seems to be going Vladimir Putin's way. Moldova and Bulgaria are just the latest victories in a series of electoral gains for groups that support the Kremlin's attempts to divide Europe and weaken NATO. From the Netherlands' rejection of a treaty between the EU and Ukraine in April, to Brexit and Donald Trump more recently, Putin is likely to remember this year with great fondness.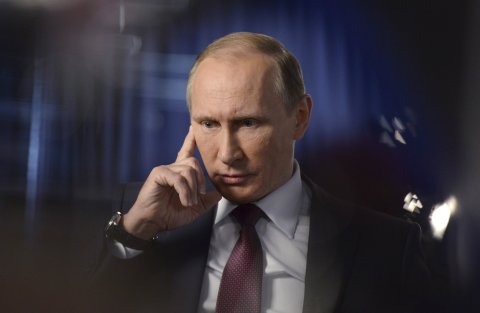 Bulgaria's Radev ran on a ticket of lifting EU sanctions on Russia imposed in the wake of Moscow's 2014 annexation of Crimea; he said Europe should be "pragmatic" about punishing Putin for violating international law. In Moldova, Dodon's position was even more radical—to scrap an agreement signed in 2014 setting out free trade and integration with the EU and instead join the Moscow-dominated Eurasian Economic Union.
Bulgaria's economy is suffering, partly because of a slump in the number of Russian tourists since Western sanctions were introduced, while its agricultural sector has been badly hit by a tit-for-tat ban imposed by Russia on the import of all foodstuffs from the EU. Moldova, meanwhile, has been hammered by sanctions on wine and produce, implemented by Moscow supposedly for health and safety reasons—but put into effect right after Moldova signed its trade deal with the EU.
"The nations of Eastern Europe haven't seen any benefit from NATO expansion, from the Middle East conflict, from sanctions against Russia," says Russian Senator Oleg Morozov, a member of the Federation Council's Committee on International Affairs. "What we are seeing today is a global revolt against elites. A new crop of politicians are coming to power all over Europe. Some are openly pro-Russian, some less so—but they will all be necessarily more pragmatic, which will be good news for Russia."
Putin has become "a kind of Che Guevara for the anti-establishment right," says Brian Whitmore, author of Radio Free Europe's influential Power Vertical blog. Europe's ultra-left seems to admire him too. In Greece, for instance, senior members of the socialist Syriza party—including Nikos Kotzias, the current foreign minister—have close links with Alexander Dugin, a Russian Orthodox ultranationalist ideologue now favored by the Kremlin.
"What we're seeing is the breakdown of traditional party systems and the rise of protest parties all over Europe," says Dmitry Abzalov, vice president of the Moscow-based think tank the Center for Strategic Communications. "Left-wing candidates are taking the positions of the right wing—on immigration, for instance."
Russia has deployed a diverse arsenal to back up its allies in Europe. Economic carrots have included a large loan offered by the Kremlin in 2014 to Greece during its euro crisis and cut-price gas supplies offered to Hungary and Bulgaria. Sticks include sanctions imposed on countries like Moldova that have dared to sign agreements with Brussels.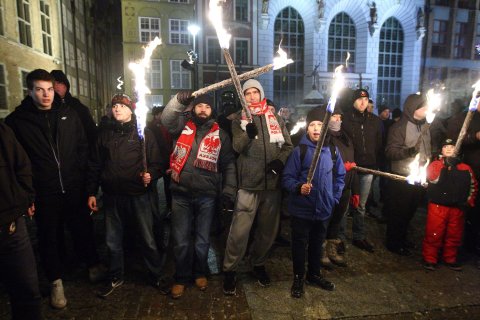 Getting the EU to scrap sanctions, up for review at the end of January, is Moscow's main goal. The other is to divide NATO. Trump has already alarmed the Baltic states by calling the alliance "obsolete" and suggesting that the U.S. would respond to a Russian attack only after determining whether the victims "have fulfilled their obligations to us."
November's U.S. election results don't, so far, mark a deep split inside NATO. Bulgaria's President-elect Radev—a fighter pilot who once studied at the U.S. Air War College in Alabama—pledged to maintain his country's place in the alliance. "Being pro-European doesn't mean being anti-Russian," he says. But alongside Hungary's strongly anti-immigrant and pro-Moscow Viktor Orbán, Russia's influence is on the rise at the same time that voters' faith in the EU is waning. In Moldova—Europe's battleground state, tugged by both Moscow and Brussels—66.6 percent of respondents in a recent survey by Moldova's Institute for Public Policy said they trusted Putin, compared with just 28.3 percent who had faith in Angela Merkel.
As the hard right continues to push westward and support for a united Europe teeters under the weight of a stagnant economy and persistent refugee crisis, it may be just a matter of time before more dominoes fall Putin's way.
Read more from Newsweek.com:
- Theresa May hints at a transitional Brexit deal for the U.K.
- Donald Trump's Russia dilemma
- After the Brexit vote, what next for Britain's Poles?