The story played on some of Germany's worst fears.
Just after 1 a.m. on New Year's Day, in a crowded bar in Frankfurt, a group of roughly 50 "Arab" men, as the bar's owner, Jan Mai, later said, stumbled in and soon began to dance, push and grope female customers, some of them putting their hands up the women's skirts.
It was a "sex mob," involving "masses" of migrants, or at least that's how Bild, a popular German tabloid, described it after an interview with Mai. The story went viral on social media after right-wing outlets like Breitbart News picked it up.
The only witness in the Bild story besides Mai was "Irina A.," a woman in her 20s, who did not give Bild her last name but offered vivid details of how she was allegedly assaulted. "I can be happy that I wore sheer tights," she told the paper. "They grabbed me under the skirt, between my legs, my breasts, everywhere."
The article took authorities by surprise, says Andrew McCormack, a spokesman for the Frankfurt Police, because there had been no reports of a sexual assault in the area that night. The department opened an investigation. Local business owners told the police they hadn't seen any "mob" that night. Soon, the police found posts on Irina's Facebook page that indicated she wasn't even in the city on New Year's Eve. McCormack says the police could not find any other witness to the alleged crime. When the police asked Mai for security footage from the bar, he told them the cameras didn't work.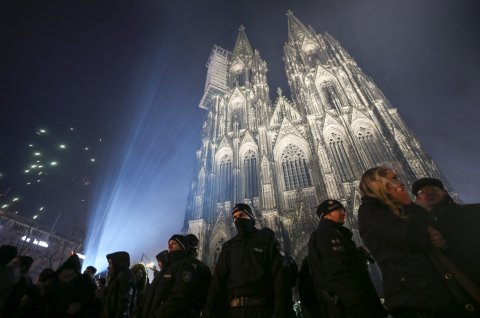 In a press conference on February 14, the police announced that the allegations were baseless. Now, McCormack tells Newsweek, Mai and Irina are under investigation for starting false rumors and wasting police time. (Mai claims he is telling the truth, and Irina did not respond to requests for comment via Facebook message.) Meanwhile, Julian Reichelt, Bild's online editor-in-chief, apologized for its "non-truthful reporting" in the story.
False stories in the press are nothing new. But the nature of the internet, social media and today's partisan political climate have created a rich breeding ground for fictitious reports that, with each like, heart and retweet, get closer to reaching a mass audience around the globe. So-called "fake news" takes many forms—from outlets deliberately impersonating real news organizations for profit, to legitimate news sources, desperate for traffic, that rush to publish pieces without checking their veracity.
These fake stories proliferated during the recent elections in Europe and the U.S., fueled by populism and Russian propaganda. Among the most outrageous examples: A report that Hillary Clinton and her 2016 campaign chairman, John Podesta, were involved in a child sex ring in a Washington, D.C., pizza parlor.
The next battleground for fake news is in Germany, where federal elections begin in September, and Chancellor Angela Merkel and other lawmakers are concerned that bogus stories—generated by partisans, profit seekers and Russian intelligence—could have an impact on the vote. "Opinions aren't formed the way they were 25 years ago," Merkel said last November. "Today, we have fake sites, bots, trolls—things that regenerate themselves, reinforcing opinions with certain algorithms, and we have to learn to deal with them."
To address the problem, Germany has taken the most aggressive stance against fake news of any country yet. This spring, the country unveiled a hate speech bill that would fine social media companies like Twitter and Facebook up to 50 million euros ($56 million) for failing to remove intentionally fake news stories or stories that incite hate. The bill has been approved by Merkel's Cabinet and seems to have a high chance of passing in the German parliament this summer.
Facebook opposed the legislation, saying in a statement that it would "force private companies, rather than the courts, to become the judges of what is illegal in Germany." But the tech titan promised to expand its team reviewing content in Germany to 700 employees by the end of 2017 and pay third-party fact-checkers in Europe to curb fake news.
So what does fake news in Germany look like? Much of it has a political slant, taking advantage of readers' hunger for stories that confirm their beliefs and ideology. It also tends to be about refugees—2 million of them have entered the country since 2015. And while many Germans support this open-door policy, leaders in the far-right Alternative for Germany (AfD) party, one of which has said police should shoot refugees trying to cross the border, have exploited xenophobia to great effect. Though the AfD's popularity has recently dipped, it is polling well enough to pick up seats in the national parliament this September, the first right-wing party to do so since World War II.
HoaxMap, a German website that debunks fake stories about refugees, says that in the last year it has found at least 250 fake stories. The most common themes involve robbery, theft and rape. Others involve refugees eating swans, desecrating graves and sexually harassing women.
Since accurate reports of sexual assaults in Cologne on New Year's Eve in 2015, Miriam Aced and Christina Lee of Migration Voter, a German initiative that studies the impact of migration on elections, have noticed a "disturbing pattern" in which false stories, like the sex mob story in Bild , have focused on sexual abuse of women. "Interestingly, the reporting around the Frankfurt incident often mentioned that it happened a year after the Cologne incident," Lee says. "It's as if the reporters constantly want to remind people of what happened in Cologne."
Last January, not long after the Cologne story broke, a 13-year-old Russian girl in Berlin claimed she was kidnapped and raped by a group of Arab immigrants. The popular Russian TV network Channel One aired a segment about her story, which falsely claimed the city's police were ignoring her allegations, prompting a protest in the streets of Berlin. The only problem: The story was false. And it has raised concerns about potential Russian interference in the election through the use of leaks, cyberattacks and fake news aimed at the 3 million Russian émigrés living in Germany.
Lee and Aced say it's unclear if fake stories will influence upcoming elections. Studies offer mixed results as to how much Germans trust the press. But the two researchers believe the anti-immigrant sentiment, fueled by false news stories, has forced Merkel to harden her immigration rhetoric. Merkel recently expressed support for a ban on full-face veils—a position that was initially championed by the AfD.
Mai is sticking to his story about the migrant mob—though the publicity has been bad for business. "Why would I tell people a story like this?" he says, sitting in the corner of his mostly empty bar on a rainy Saturday evening in March. "It's not good for my reputation.… People come into this bar to call me a racist. They ask if this is the 'Nazi bar' they read about in the papers."
Yet McCormack dismisses Mai's story as a lie. And it's not the only one he's seen printed recently. In January, police in Dortmund quashed a story run by Breitbart News that claimed a mob chanted " Allahu akbar " while setting a church on fire. Police said the night was, in fact, "rather average to quiet."
"Fake stories can be dangerous," McCormack says, "because many people could believe it to be real." If Mai's story is any indication, many Germans already do.