When Luc Besson's now classic The Fifth Element arrived in theaters two decades ago, American viewers were stumped. The campy sci-fi romp, featuring Bruce Willis as a taxi driver reluctantly saving the universe, was called "one of the great goofy movies" by Roger Ebert, but it was also that year's worst-performing summer film.
"We did a screen test in Arizona that was painful," Besson remembers. "When the opera singer [played by Inva Mula] came out, the guy sitting next to me said to his two kids, 'Let's get the fuck out of here.' And they left. It was too weird. It was too European. It was too much."
Related: Guardians of the Galaxy Vol. 2 relies on Chris Pratt and co. in a bombastic sequel
Besson is telling me this as his latest film, the $180 million sci-fi epic Valerian and the City of a Thousand Planets, is about to be released, perhaps as a way to prepare Americans for yet another WTF moment. The film concerns the Pearls: a celestial tribe of long-limbed, silver-skinned humanoids from the planet Mül, whose enviro-friendly existence is destroyed by the arrival of space invaders. When I mention that the Pearls sound suspiciously like the Na'vi in James Cameron's 2009 blockbuster Avatar, Besson blanches. "I had my script ready to go," says the 57-year-old filmmaker. "I watched Avatar. I took my script and threw it in the garbage. And I started again."
Cameron's technological advances and universe-building bravura forced Besson to try harder, which can only be a good thing since Valerian—a 3-D adaptation of the long-running French graphic novel series Valérian and Laureline—is both the most expensive independent feature and European production ever. Besson, a bearish presence with spiky, salt-and-pepper hair and three days' worth of beard, grew up with the novels and his greatest dream was to turn them into films. "Every single square of energy, love—everything—I put it in," he says.
Such ambition takes several pairs of balls, particularly in America: Hollywood couldn't be more risk-averse at the moment (see a summer crammed with mega-budget sequels, spinoffs and reboots, including Alien: Covenant, Cars 3 and Wonder Woman), which suggests that audiences are as well. Besson, in addition to asking them to invest in an unknown story, is also asking them to see a film without one famous face. In 1997, Willis had already made the blockbuster Die Hard. Valerian's galaxy questers are played by up-and-comers Dane DeHaan (The Amazing Spider-Man 2) and Cara Delevingne, a supermodel-turned-actress (in the tradition of The Fifth Element's Milla Jovovich). Their mission: to root out the mysterious forces imperiling a colossal space station, which entails hurtling across the ever-popular time-space continuum, tangling with a menagerie of outlandish extraterrestrials, killer robots and Rihanna, as a shape-shifting burlesque performer.
The film is visually stunning, a Skittles-colored spectacle that took seven years, 6,000 storyboard drawings, 950 effects technicians and 2,734 computer-generated shots to bring it to the screen. It's also a crucial stress test for EuropaCorp, the Paris-based studio Besson co-founded in 2000. To eke out a profit, Valerian needs to gross at least $400 million. In effect, the company is investing one year of revenue into one project—a huge, if not outright crazy, risk.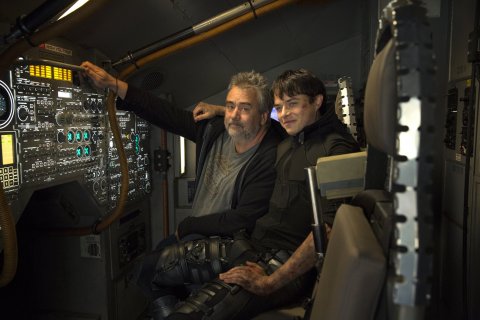 If Valerian does succeed, a franchise is likely. And Besson has a knack for knocking those out, having written or directed two blockbusters for his studio—the Taken trilogy and The Transporter films (which, combined, grossed over $1.2 billion)—with Lucy offering the possibility of a third (a sequel is in the works). But EuropaCorp's track record with other directors is less successful: The Circle (starring Tom Hanks and Emma Watson); Shut In , a psychological thriller with Naomi Watts; and the Barry Sonnenfeld–directed cat comedy Nine Lives all flopped, critically and commercially. (Miss Sloane, last year's award season hope, fared better critically, earning a Golden Globe nomination.) So if Valerian is an epic fail, EuropaCorp could go up for auction.
As a majority shareholder, Besson denies that any portion of his studio would be for sale, pointing out that the studio's investment in Valerian's budget was minimal. "If the film collapses, it's sad," says Besson, but "the company will survive anyway. What you lose is reputation more than money." No matter what happens, he adds, with an insouciant flip of the hand, "when the film opens on the first day, I'm happy. I don't need the numbers to be happy. It exists!'"
The unspoken hope is that Valerian will be a hit along the lines of Marvel's Guardians of the Galaxy, which came out of nowhere in 2014, an unproven commodity that stunned Hollywood by making $773 million. That film, with its broad comedy and outré characters, contained considerable Fifth Element DNA. Besson, however, is playing it safer this time. "Valerian is not too much. It's only a little weird."