When Greta Gerwig was in high school during the early 2000s, she kept a detailed diary of her life. In a recent interview with New York magazine, Gerwig described revisiting the diary as an adult and marveling at the full-throated intensity of those entries: "I would go on for pages and pages about this crush I had, dissecting every moment. 'Did he notice that our arms were touching, or was that an accident?' And then I wrote, 'Upon further reflection, I think that this might've been a more vivid emotional experience for me than him.'"
From its opening shots—a mother and daughter driving home from a tense college visit—Gerwig's indelible new film (and solo directorial debut), Lady Bird, which opens Friday, is suffused with that distinctly teenage intensity of experience. Every slight, every betrayal, is all-consuming and devastating. Every flirtatious gesture is imbued with impossible promise. And every crush's name must be scribbled on a bedroom wall in Magic Marker, preserved in perpetuity.
Related: Mistress America review: Noah Baumbach's wry, charming sister comedy
The story, which starts in 2002, chronicles a tumultuous year in the life of Christine "Lady Bird" McPherson (Saoirse Ronan), a high school senior whose preferred nickname is the embodiment of her freewheeling spirit. ("Is that your given name?" an impatient teacher at her Catholic high school asks. Yes, she replies: "It was given by myself to myself.") Lady Bird has dyed red hair and an impressive knowledge of Alanis Morissette singles. She commits to everything she does—whether it's high school theater or pursuing a pretentious boy she meets at an indie-rock show—with glorious enthusiasm and a fierce streak of individualism.
Lady Bird wants nothing more than to leave her hometown of Sacramento, California, behind and attend a prestigious college on the East Coast—to sail past the faceless mediocrity of her upbringing and claim some small measure of greatness. Her grades, however, are well shy of great, and as her eternally aggravated mother (Laurie Metcalf) keeps reminding her, the family can't possibly afford Yale or Columbia. They can barely afford in-state tuition.
Much of Lady Bird's emotional heft hinges on the titular character's constant squabbling with a short-tempered mom who loves her daughter but can't seem to express it. (The film's working title was Mothers and Daughters.) Neither a savior nor an outright villain, Metcalf performs the role with admirable complexity.
Gerwig established herself as a skillful screenwriter with Frances Ha (2013) and Mistress America (2015), both films about young women navigating creative ambitions and messy personal betrayals in Obama-era New York City. Both were also collaborations with her partner, writer-director Noah Baumbach (The Meyerowitz Stories [New and Selected]). Lady Bird is all hers, and seems to be a more personal endeavor.
The plot details are reminiscent of Gerwig's own upbringing in Sacramento. But she has rejected the term autobiographical in interviews, stressing that Lady Bird is not much like her teenaged self—too brash, too rebellious. Lady Bird gets kicked out of a school assembly for mouthing off at an anti-abortion speaker. She plots when and how to lose her virginity. She relentlessly pursues—and wins over—the cute boy in her theater class, only to discover, in one of the film's great tragicomic sequences, that he is gay.
Gerwig doesn't star—or act—in the film; at 34, she's too old to play a high schooler. But Ronan—five years out of high school herself—is exceptional. With her mix of exuberance and American-style adolescent angst, it's easy to forget she is Irish.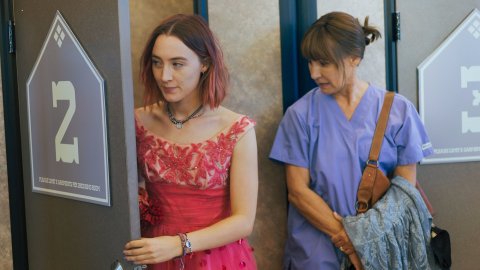 There's a warmth, specificity and authenticity in Gerwig's depiction of high school's particular agonies. Aside from Lady Bird ditching her dorky best friend (Beanie Feldstein) for a cooler crowd—an overly familiar subplot—the story and characters are multifaceted and free of clichés. (The gentle tone is more reminiscent of Lucas, David Seltzer's low-budget 1986 classic, than a clone of Mean Girls or Clueless.) Lady Bird understands late adolescence as the endless accumulations of tiny humiliations and a deep, unutterable yearning for escape. And it's particularly good at capturing the way teens flit from identity to identity, trying to figure out who exactly they are, while simultaneously loathing and craving the comforts of home.
Why does the film take place in 2002 and 2003 and not the present day? One reason, I suspect, is that it gives the film an excuse to steer away from the Instagram- or Snapchat-fueled obsessions of 2017 teen life, instead depicting a simpler time when some (wealthy) teenagers had cellphones and many others did not. It also locates the narrative at a moment of historical anxiety that feels both distant and vivid at once. The Iraq War unfolds on television in the background of scenes, and 9/11 is a fresh trauma. Lady Bird muses that it will be easier to gain acceptance to colleges in New York, because everybody else is "afraid of terrorism."
And there are lighter, funnier period signifiers: Justin Timberlake and Dave Matthews Band hits blare at parties, and Lady Bird's hipster crush lugs around Howard Zinn's People's History of the United States and sports a Cannibal Ox poster in his bedroom.
Gerwig attended a Catholic high school during that era, graduating in 2002. She escaped to a prestigious East Coast college (Barnard). And she found that measure of greatness. Lady Bird is her proof.