When Lola Kirke was 16, she stumbled upon a record at a flea market. The album cover struck her. "It was a photograph of this beautiful woman lying down in a field," says Kirke, the 27-year-old Mozart in the Jungle star, who didn't own a turntable at the time. She bought the album anyway, as a decorative artifact. Years later, when she finally got a record player and played it, "I was like, 'Oh my God, this is the most beautiful thing I've ever heard.'"
Affair!, by a country-pop singer with the unforgettable name of Bonnie Guitar, was a little-known 1969 concept album about a woman cheating on her husband. Kirke played it constantly. About a year later, Kirke found a YouTube video of the singer and "tracked her down through the good old internet." Bonnie Guitar was then in her 80s (she's 95 today) and still gigging once a week in Soap Lake, Washington. "We talked on the phone for hours," says Kirke, "and she shared all about being a woman in the music industry, being a mother, love—everything."
I've never heard of this 1969 album, and neither has Spotify: It never made the leap to CD, much less streaming. But Kirke's enthusiasm is contagious enough to inspire you to start scouring garage sales and dusty stacks of used record stores until you find another copy. You can hear a similarly deep reverence for the folk-rock heroes of the 1960s and '70s in Kirke's twanged-out debut album, Heart Head West, with nods to the Laurel Canyon scene of Joni Mitchell, Crosby, Stills, Nash and Young and particularly Gram Parsons—an obsession that led to "a really bad tattoo that I recently covered up," Kirke says. (More contemporary favorites include new California bands such as Amo Amo and Hand Habits.)
With a classic-rock drummer for a dad and a mandatory working knowledge of the classical canon (thanks to years of Mozart in the Jungle), the artist's musical interests span genres and centuries. But after years of well-received film and TV roles, she now plays herself: the songwriter. In 2016, Kirke released an EP—four country-inflected rock songs—"which was kind of a test run" for an album: "Can I do this? Is this interesting?" Satisfied that both answers were yes, she spent the next year or two amassing an album's worth of nakedly personal material, inspired by "the death of somebody I really loved, being drunk and alone at night, not getting laid and wanting to, feeling tension with my family." (Not that it's all personal—the highlight "Bad News" sets the country's slide into Trumpian fascism to harmonies and fiddles.)
It's a notably bohemian family, including sisters Domino, a singer-slash-doula, and Jemima, an actress known for her work on the HBO series Girls. Lola, the youngest, was born in London and raised in New York, where her mother, Lorraine, owns the vintage clothing store Geminola (and notably supplied outfits for Sex and the City). Her father is British drummer Simon Kirke; the singer credits him for her "deep love and knowledge of dad rock," a phrase that's never been employed quite so literally. (Does he offer any music-career advice? "Don't let anyone send you to rehab," she laughs. "Just kidding. No.") His more famous band, Bad Company, was a little too "arena rock for my taste," says Kirke. But she considers his earlier group, the blues-rock band Free (signature song: "All Right Now"), to be among the most underrated bands of the late '60s and early '70s. "If I could sing like Paul Rodgers, that would be great," she says.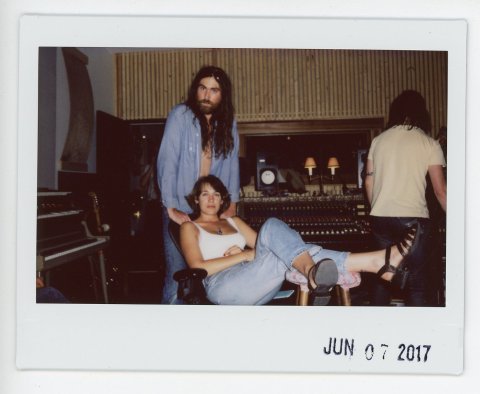 No wonder Kirke's lovely and frayed folk-rock melodies sometimes feel like a bridge to the past. "We're both big lovers of the music of yesteryear—the Neil Youngs and the Lucinda Williams," says Wyndham Garnett, Kirke's boyfriend, frequent collaborator and producer of Heart Head West, which was recorded near their home in the San Rafael Hills area of Los Angeles. "We'd been listening to Neil Young—the Hawks & Doves record, which is pretty much him in a barn, and you can hear that and feel that. We wanted a [similarly] raw feel."
Kirke's own music career began nearly a decade ago, as an 18-year-old student at Bard College, the birthplace of Steely Dan. That was when she got her heart broken by a man she cheerily identifies as "a total douchebag."
Playing the ukulele seemed the only way to console herself. "It was 2008, so every white girl at a liberal arts school owned a ukulele," Kirke says, "and I was one of them. I started playing Patsy Cline songs in this Jumpin' Jim's Ukulele country music book."
She graduated to guitar and soon joined an all-girl country band—a revelatory and empowering experience. "I grew up around music and always thought rock 'n' roll was something men did," says Kirke, "while women looked on dotingly, before marrying those men." She found herself drawn to boys who played guitar, until "I realized, almost as if struck by lightning, that I could just be the boy I wanted to fall in love with me."
This past May, when she hosted and played at a Tribute to Women in Americana, in Brooklyn, she had another revelation, thanks to a backstage experience vastly different from those of her youth. "It was this crazy parallel universe of utopia, teeming with talented women," she says. "The vibe was so supportive. Everybody was just holding space for each other in a really beautiful way."
After college, acting became Kirke's focus, though music featured heavily in the character she's best known for, the ambitious musician Hailey Rutledge on Amazon's Mozart in the Jungle. Kirke isn't really a classically trained oboist virtuoso—she just plays one on TV. Well, played one: The critically acclaimed show was canceled in April. "It's very rare as an artist to have that kind of consistency in life," she says of Mozart's four seasons. Would she have wanted a fifth? "I wouldn't have kicked it out of bed for eating crackers, if you know what I mean!" she laughs. "That's an idiom I'm really trying to make a thing."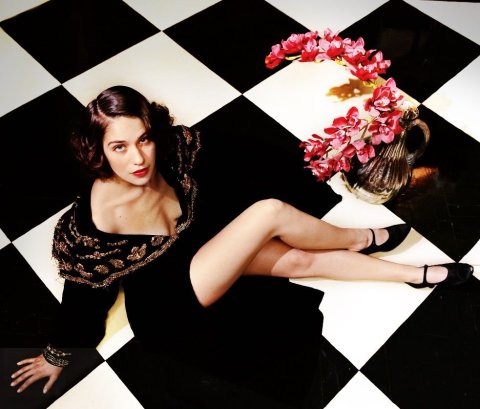 On the big screen, Kirke has had roles in 2014's Gone Girl and 2015's Mistress America, which was directed by Noah Baumbach and co-written by star Greta Gerwig. On the morning we speak, she's in Vancouver, British Columbia, working on a film tentatively titled Love & Oatmeal, co-starring Ben Platt. "We play a brother and sister navigating my schizophrenia—just a little lighthearted film," she says. The end of Mozart, it seems, has freed Kirke up to explore new creative impulses. "Thus far, I've played a lot of, as Willa Cather put it, whips to other people's impulses. I would like to be the impulsive one."
Kirke is funny and fast-talking, not at all like the more reserved characters she sometimes portrays onscreen. She misses New York, she confesses half a minute into our conversation: "I miss the oppressive heat and the disgusting smells and feeling like I need to take a shower every five minutes."
Off-camera, she has amassed a reputation as a frank and outspokenly feminist celebrity figure. In April, after New Yorker film critic Anthony Lane described her character in the thriller Gemini as "hardly flattering," quibbling with her baggy outfits and a "haircut from hell," Kirke pushed back and sent the magazine a strongly worded letter to the editor.
"There was a part of me that just internalized the things he was saying and felt ashamed that my character didn't appear in a flattering way on screen," she says in reflection. "It made me think: I should lose a bunch of weight. I should only wear a push-up bra in movies from now on. And then I was like, Wait a minute: Fuck that! I'm not going to change. I want the world to change."