'A Deeply Divided Nation': 68 Percent of Americans Say the Election Is Causing Significant Stress in Their Lives
Over two-thirds of U.S. adults say the 2020 presidential election is a significant source of stress in their lives, a survey by the American Psychological Association (APA) has revealed.
Some 68 percent of over-18s living in the U.S. who took part in the survey by The Harris Poll for the APA said the election was a significant source of stress—up from 52 percent in 2016.
Political affiliation did not appear to be protective, as 76 percent of Democrats, 67 percent of Republicans, and 64 percent of Independents said the election was a significant source of stress.
In a year with the news dominated by emotionally charged issues such as the election, the pandemic, and Black Lives Matter Protests, more than three-quarters (77 percent) of respondents said they found the future of the nation a significant source of stress. That figure was up from 66 percent in 2019.
Sixty-eight percent of participants said the current political climate was a significant source of stress, compared with 62 percent in 2019.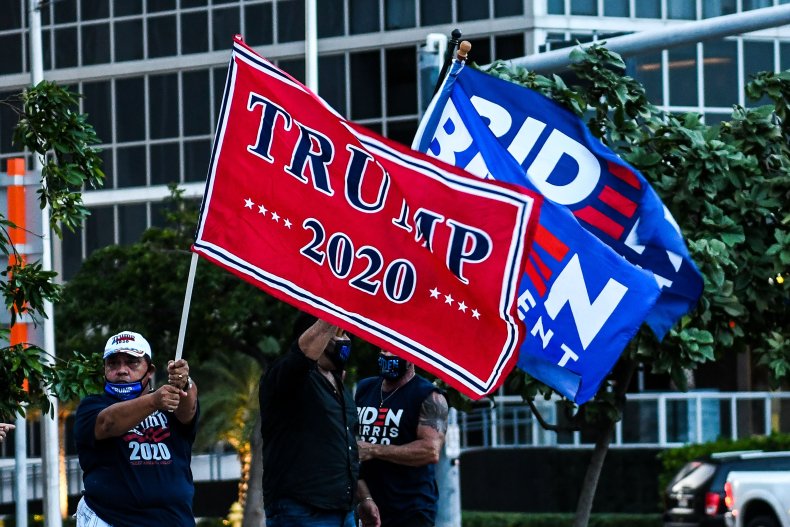 The nationally representative survey involving 3,409 adults was conducted between August 4-26, 2020, before the emergence of two further complicating factors for the election: President Donald Trump falling ill with the coronavirus and the death of Justice Ruth Bader Ginsburg creating a vacant seat on the Supreme Court.
When broken down by demographic, the results showed a spike in Black adults saying the election was a source of stress since 2016, up to 71 percent from 46 percent.
Those with chronic conditions were also more likely to say the election was a source of stress in their life this year (71 percent) when compared with four years ago (55 percent). Sixty-four percent of those without chronic conditions cited the election as a source of stress this year, versus 45 in 2016.
Ken Yeager, the director of the Stress, Trauma and Resilience Program at The Ohio State Wexner Medical Center, who did not work on the survey, told Newsweek: "It's important to note this is a deeply divided nation, with deeply divided news sources teeing up opposing views on almost every issue.
"However, the big issues are management of the pandemic, appointment of a Supreme Court justice which will tie to many strong beliefs among voters e.g., Roe v. Wade, and strong belief systems related to race relations, police funding, LGBTQ rights and healthcare.
"Many feel if their candidate is or is not selected there could be catastrophic results for their party and accompanying issues."
Psychologist Dr. Vaile Wright, senior director for health care innovation at APA, told Newsweek via email: "This is an unprecedented time and it is to be expected that people are feeling more overwhelmed or anxious than at other times in our memory."
Wright said it was important for people to find ways to cope with these feelings to address the potential impact, including by getting enough sleep, eating healthily, staying active as much possible, and keeping virtually connected with loved ones "even if we cannot connect in person."
Wright said: "We need to engage in a variety of coping skills, (for example, meditating, baking, or journaling), while also maintaining a regular daily routine. Finally, give yourself permission to take breaks from the news and social media. Staying informed is important but be mindful of how often, when and what type of news/social media you are consuming."