Fauci Says Trump's COVID Could Still Go in 'Wrong Direction,' President Could Get Into 'Trouble'
Anthony Fauci has said President Donald Trump looks "very well" despite developing COVID-19. However, he also said it is still possible Trump's condition could go in the "wrong direction" due to how the disease progresses.
The director of the National Institute of Allergy and Infectious Diseases and White House coronavirus task force member made the comments after the president left Walter Reed National Military Medical Center on Monday following a three day stay to treat COVID-19. Trump revealed he was diagnosed with coronavirus on Friday.
Fauci, who is not involved in the president's care, told CNN's Chris Cuomo on Monday Trump looked "fine" when he left the facility.
"The issue is that he's still early enough in the disease that, it's no secret, that if you look at the clinical course of people sometimes when you're five to eight days in you're going to have a reversal [...] a reversal meaning going in the wrong direction and getting into trouble."
Experts who spoke to Newsweek Monday expressed similar concerns.
Fauci said that outcome is "unlikely," but both Trump and his physicians know it is possible. "You're not out of it until you've gone several days out and doing well," he said. "But he certainly does look very well, I mean, you don't need me to tell you that."
Over the course of his treatment for COVID-19, Trump has been prescribed with the anti-inflammatory steroid dexamethasone, Regeneron's monoclonal antibody therapy REGN-COV, which mimics the proteins the body creates to fight infection, and the antiviral drug remdesivir.
He was also given oxygen therapy after his saturation dipped, as well as Zinc, vitamin D, famotidine, melatonin and aspirin.
Dr. Brian Garibaldi, one of his physicians, told a news conference the president would be given his fifth and final dose of his course of remdesivir at the White House on Tuesday evening.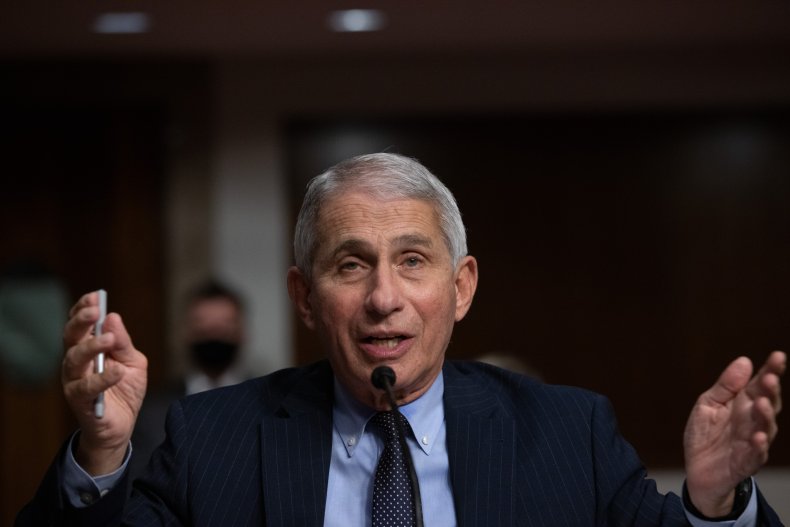 Asked by Cuomo what he thought helped Trump to seemingly "beat the curve," Fauci said it "very well could have been" the monoclonal antibodies. "I know from experience that we had in Africa with Ebola that monoclonal antibodies can really do a knockout punch to a virus," he said.
"I'm strongly suspicious that it was [monoclonal antibodies] but obviously you can't prove that until you do a number of studies to show that it actually works." It is possible the president was "naturally going to turn around anyway," Fauci said.
The president was given REGN-COV after his doctors made a compassionate use request, according to Regeneron, as it has not been given emergency use authorization by the U.S. Food and Drug Administration.