The next few days will be crucial when it comes to President Donald Trump recovering from COVID-19, experts have told Newsweek.
On Friday, the president tweeted that he and first lady Melania Trump had both tested positive for the coronavirus that causes COVID-19, making him one of a handful of world leaders known to have caught it. As shown in the graphic by Statista below, U.K. Prime Minister Boris Johnson was the first.
Before being sent to Walter Reed National Military Medical Center for treatment on Friday evening, Trump experienced a low-grade fever, chills, nasal congestion and a cough according to his physician Dr. Sean Conley. On Sunday, Conley said the president's blood oxygen levels had dropped twice, but Dr. Brian Garibaldi, who is also treating the president, said he may be discharged on Monday.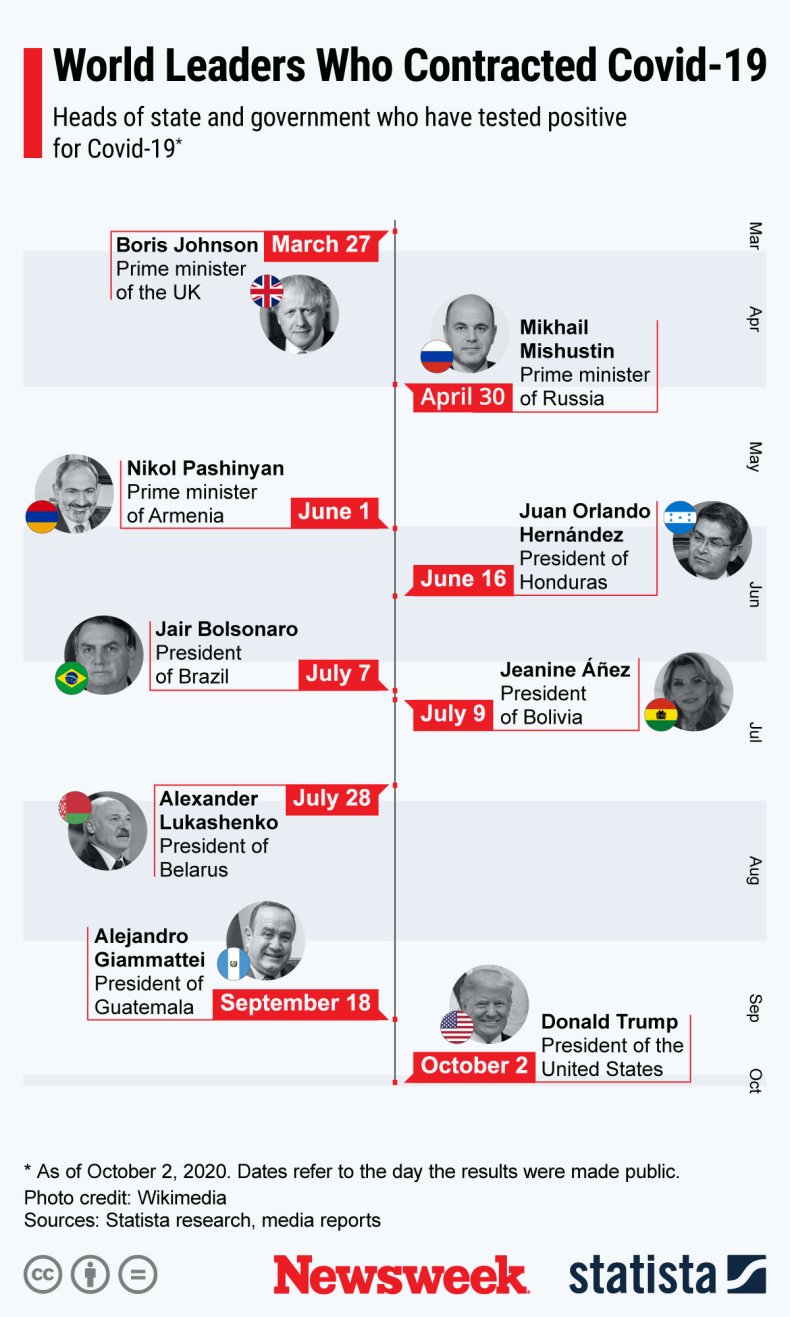 Daniel Davis is a professor of immunology at the University of Manchester in the U.K. and author of The Beautiful Cure. He told Newsweek: "The next few days are crucial because it's now well-established that a patient's well-being can suddenly change around 7 to 10 days after symptoms first develop, even when they feel on the mend in the meantime." Other experts who spoke to Newsweek made similar warnings.
As each patient is different there is no definitive timeline for the progression of the disease, experts said. Trump, for instance, is at higher risk of COVID-19 complications due to his age, his obesity, and high blood pressure.
Paul Hunter, professor in medicine at the University of East Anglia's Norwich School of Medicine in the U.K., told Newsweek it is difficult to give a precise estimate of risk, but given the president's age he is about six times more likely to die than someone in their 50s and about 60 percent more likely to die than a woman of a similar age.
At the same time, he has access to some of the world's best medical treatments unlike most of the other 35.2 million people who have also caught the virus.
The president is "more likely to survive than not," said Hunter. Even so, "you cannot give the all-clear for at least a couple of weeks, especially for someone in their 70s," he said.
In the case of Johnson, he was moved to an intensive care unit 10 days after he tested positive for the coronavirus. After Johnson recovered, he revealed to The Sun newspaper that he was given "litres and litres of oxygen" and was almost put on a ventilator, which is used in only the most serious cases of COVID-19. Doctors made arrangements in case they had to announce his death, he said.
But since Johnson fell ill, several treatments have shown promise against COVID-19, according to Andrew Preston, an expert in microbial pathogenesis at the University of Bath in the U.K.. These include the anti-viral remdesivir, the anti-inflammatory steroid dexamethasone, and Regeneron's antibody therapy REGN-COV2, which mimics the proteins the body creates to fight infection.
Both Hunter and Preston described the approach taken by the president's physicians as "throwing the kitchen sink" at his condition. According to Conley, as well as the previously mentioned drugs, Trump has also been given oxygen therapy, as well as zinc, vitamin D, famotidine, melatonin and aspirin.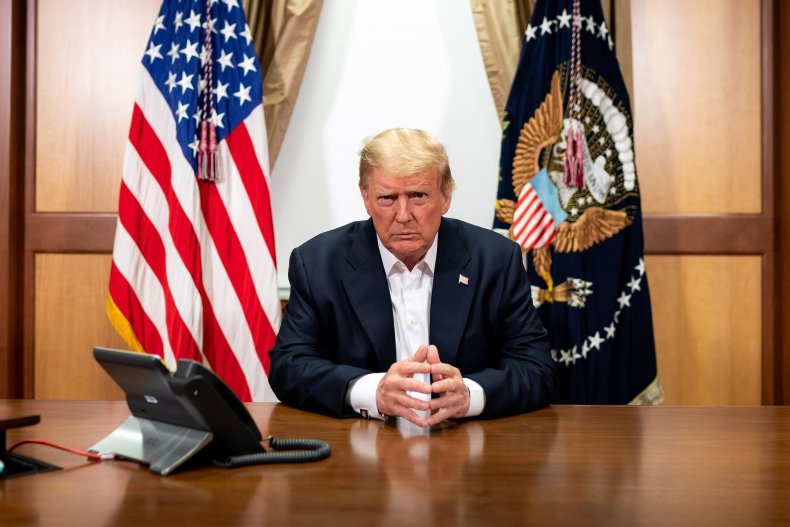 This combination of treatments, which the president is thought to be the first person to have, has prompted questions over whether his condition is more serious than the White House has disclosed, or if he has so-called VIP syndrome—where he is given different treatment due to his status.
There is logic in trying these treatments, including remdesivir, famotidine, REGN-COV2—and dexamethasone "only when people get more sick," said Hunter, otherwise the anti-inflammatory could make things worse.
But he said "if you do give someone many different drugs you never know whether the interactions between the different drugs are beneficial or potentially harmful."
Echoing Hunter, Preston said: "I am not aware of data regarding the effects of such a combination, so time will tell."
Dr. Julian W Tang, honorary associate professor and clinical virologist at the U.K.'s University of Leicester, told Newsweek Trump was given this cocktail of drugs earlier than most patients. "Purely from a virological angle, I think the early administration of this drug combination, will reduce the chances of any acute complications from COVID-19."
He went on: "Essentially, it is a three-pronged attack on the virus and its impact on the body." Tang suspects Trump's illness will be mild, but longer term complications can't be ruled out at this stage.
This article has been updated to remove a duplicate paragraph.
Uncommon Knowledge
Newsweek is committed to challenging conventional wisdom and finding connections in the search for common ground.
Newsweek is committed to challenging conventional wisdom and finding connections in the search for common ground.
About the writer
Kashmira Gander is Deputy Science Editor at Newsweek. Her interests include health, gender, LGBTQIA+ issues, human rights, subcultures, music, and lifestyle. Her work has also been published in the The Independent, The Independent on Sunday, The i Newspaper, the London Evening Standard and International Business Times UK.