After announcing he tested positive for the coronavirus that causes COVID-19 last week, President Donald Trump has been prescribed a combination of drugs that experts say is unusual for patients with the disease, prompting questions over whether he has so-called VIP syndrome.
This is where a person's importance affects decisions about their medical care, ranging from doctors sparing them from tests to prevent them from experiencing pain, to unnecessarily investigating any minor abnormality, as well as the individual demanding treatments.
Dr. Mark Siegel, a pulmonary and critical care physician at the Yale School of Medicine, told ABC News: "When a patient is high profile, there's a temptation to break away from the standard medical care that you would give to any other patient—and sometimes to the disadvantage to the patient, the VIP."
What care has the president received?
According to White House physician Dr. Sean Conley, Trump is on the anti-inflammatory steroid dexamethasone, a monoclonal antibody therapy that mimics the proteins the body creates to fight infection, the antiviral drug remdesivir, he has been given oxygen therapy usually administered to those with low levels of the gas in their blood, as well as Zinc, vitamin D, famotidine, melatonin and aspirin.
At a press conference on Saturday, Conley said the president was "receiving all the standard of care and beyond."
Asked by a reporter why Trump was given remdesivir as well as antibody therapy, Conley said: "We're maximizing all aspects of his care, attacking this virus [...] [with a] multi-pronged approach. As [he is] a president I didn't want to hold anything back. If there was any possibility that it would add value to his care and expedite his return I wanted to take it."
The cocktail of drugs the president is on has sparked fears his condition is more serious than the White House is letting on. But the New York Times reported some experts believe it may be the case the president is ordering his doctors to give certain treatments, in a case of VIP syndrome.
Dr. Walid Gellad, director of the center for pharmaceutical policy and prescribing at the University of Pittsburgh told Time it was "unprecedented" that the president has been prescribed remdesivir so early in his illness, as most patients have symptoms for eight to 10 days before they are enrolled in the trial where the drug is given.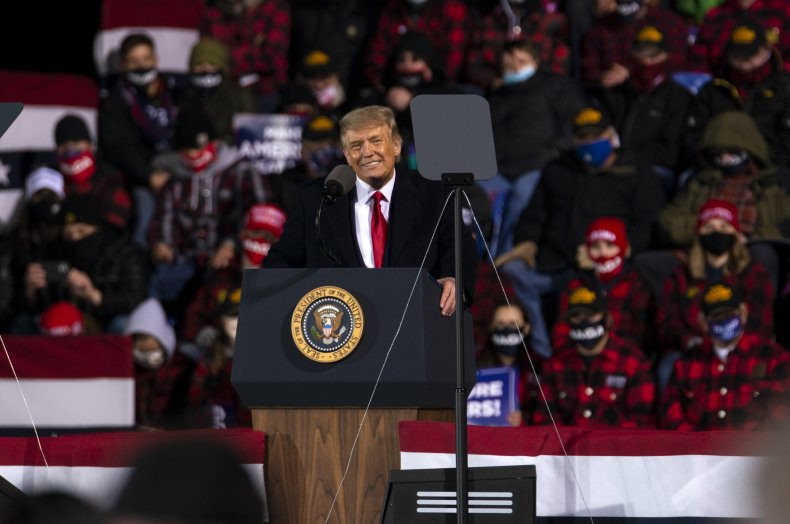 Rochelle Walensky, chief of infectious diseases at Massachusetts General Hospital, told the Washington Post Trump has "gotten kitchen-sink therapy." None of the COVID-19 patients given dexamethasone in clinical trials earlier in the year were also given the antibody therapy. There is no data on this cocktail of treatments, she said.
Joshua Barocas, an infectious-disease specialist at the Boston University School of Medicine, told the Washington Post there is no evidence that vitamin D or zinc are effective against COVID-19, and he hadn't seen any good evidence about famotidine.
The president has previously falsely claimed that zinc in combination with the anti-malarial drug hydroxychloroquine could be effective against the coronavirus. Despite there being no robust evidence to back his decision, Trump said he took hydroxychlorine to prevent COVID-19, but his physicians have not mentioned the drug among his treatments.
Newsweek has contacted the White House for comment.
Uncommon Knowledge
Newsweek is committed to challenging conventional wisdom and finding connections in the search for common ground.
Newsweek is committed to challenging conventional wisdom and finding connections in the search for common ground.
About the writer
Kashmira Gander is Deputy Science Editor at Newsweek. Her interests include health, gender, LGBTQIA+ issues, human rights, subcultures, music, and lifestyle. Her work has also been published in the The Independent, The Independent on Sunday, The i Newspaper, the London Evening Standard and International Business Times UK.