George Floyd's brother, Philonise Floyd, believes Democratic presidential candidate Joe Biden deserves to win the election.
"I think he [Biden] actually deserves a chance to prove himself worthy. Everybody has an opportunity but I really think he deserves it this time," Philonise told ABC 13 in Houston, the Texas city where Floyd grew up.
Members of the Floyd family traveled to different parts of the country, including Houston and Chicago, to encourage people to vote in the lead up to the election.
"I want people to know that you have a voice, you have to get out and use it every year, not just for president...you have to put the right leaders in place at all times," Philonise told ABC13.
At the time of writing, over a million votes were yet to be counted across Arizona, Pennsylvania, Nevada, North Carolina and Georgia, according to data compiled by Edison Research for The New York Times.
Preliminary estimates of exit polls conducted in Pennsylvania, Nevada, North Carolina and Georgia showed around 80 to 92 percent of Black voters supported Biden, while seven to 17 percent voted for Trump.
Each of the polls, which were conducted by the Edison Research for the National Election Pool, was done among 3,000 to 4,600 voters.
While Floyd's brothers remain hopeful for Biden's win, they fear the George Floyd Justice in Policing Act of 2020 may not come into fruition with the Senate expected to stay under Republican control.
The bill, which has been passed by the Democratic-controlled House of Representatives, "addresses a wide range of policies and issues regarding policing practices and law enforcement accountability," according to the government website.
Philonise said: "Justice is on the ballot, equality is on the ballot. The Justice for George Floyd Act needs to be passed...I don't need to see anybody else choked to death."
Rodney, another one of Floyd's brothers, told ABC13: "It's not going to happen. That bill's been sitting on their desk, collecting dust."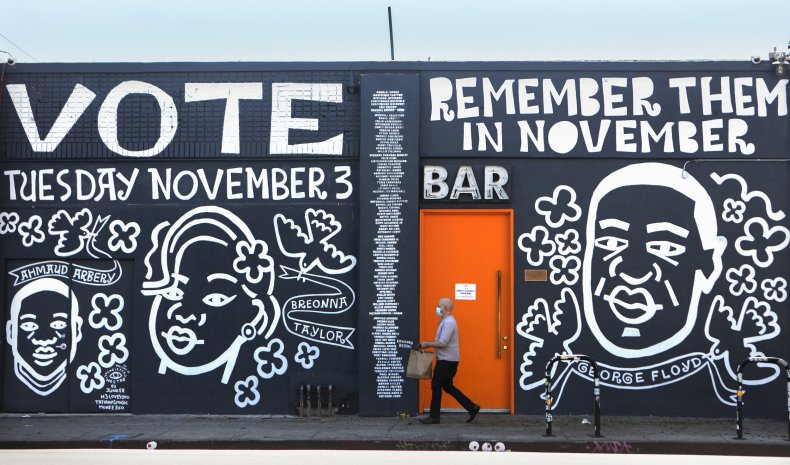 Floyd, an unarmed 46-year-old Black man, died in May during an arrest made by the Minneapolis Police Department after Derek Chauvin, a white officer, held Floyd to the ground with a knee to his neck for nearly eight minutes.
Floyd's death led to the arrest of the four officers involved in the incident, including Chauvin, who is facing murder and manslaughter charges in the death of Floyd. Chauvin was released from custody last month after posting bond.
The killing of Floyd reignited the Black Lives Matter (BLM) movement and saw a series of protests erupt across the globe in an outcry against police brutality and racial injustice.
BLM protesters formed a united front against President Donald Trump in a bid to oust him out of office. But neither Biden nor Trump have pledged to reduce police budgets.
Biden is aiming to "reinvigorate community-oriented policing" with a $300 million investment to boost the existing Community Oriented Policing Services (COPS) program, which he spearheaded, according to Biden's campaign website.
The Trump administration requested $1.51 billion for more than 50 programs funding state and local law enforcement, according to the budget plan of the U.S. Department of Justice for fiscal year 2021.
Biden has pledged to tackle several issues facing Black Americans including racial inequity in the country's education system, closing the racial wealth and income gaps as well as other disparities, according to the Biden campaign website.
The graphic below, provided by Statista, illustrates the key issues Americans voted on in the 2020 election.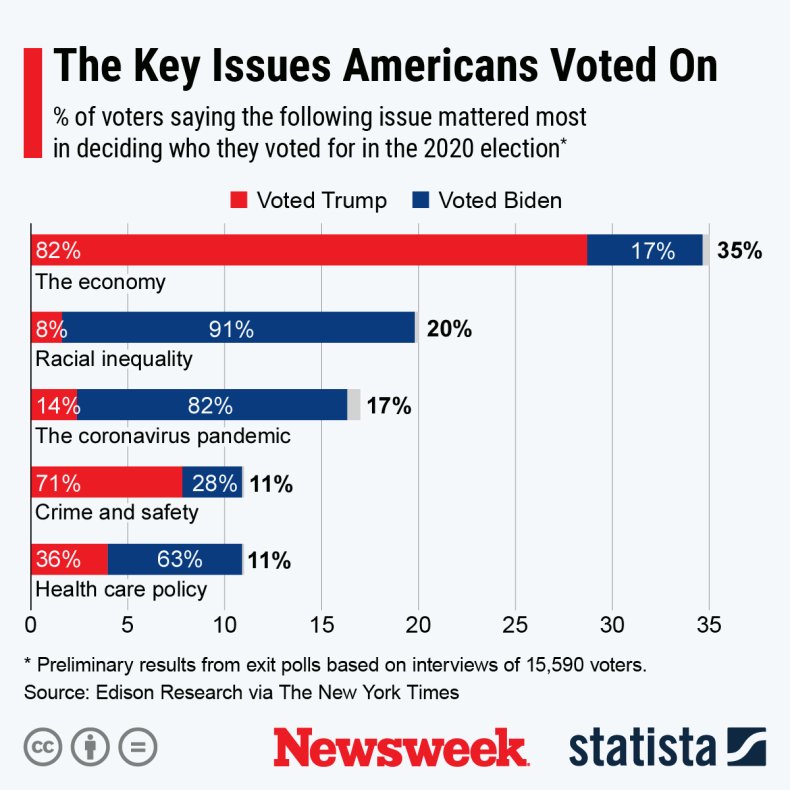 The graphic below, also provided by Statista, illustrates how close presidential races have been historically.