"Engaging with art can make the world felt. And this feeling spurs thinking, connection and even action," says Olafur Eliasson, the Danish-Icelandic climate-focused artist, about the power of art as activism. Eliasson is part of a growing movement of artists not only bringing more awareness to environmental perils, but also inspiring more urgency around our climate crisis. This week, the crisis was underscored as even more critical with the UN's "code red for humanity" climate report, which U.S. special climate envoy John Kerry said calls for an "overwhelming urgency" for action.
Inspiration leads to action, says Christina Beckmann co-founder of Tomorrow's Air, the first travel collective for carbon removal with permanent storage. "Art can capture our imagination and touch our hearts in ways that articles and charts and graphs cannot," says Beckmann about why Tomorrow's Air created their "Artists for Air" community.
"I think artists are also seeing the world in new ways, communicating in fresh ways, and probably increasing our odds of gaining collective traction on this problem."
If you want to take tangible, measurable action, artist or not, you can offset your emissions when you travel with permanent carbon removal through Tomorrow's Air.
Climate Action Through Art
The pandemic has not only exacerbated our fears about natural calamities, but it's isolated us from the immersive nature of experiencing art. So could there be any better time to be inspired by climate art from around the world?
From a permanent climate art exhibit onboard a polar expedition ship to a live opera performed on a climate disaster faux beach, these works of art make the case for a stronger connection to the natural world and imagine a more sustainable future.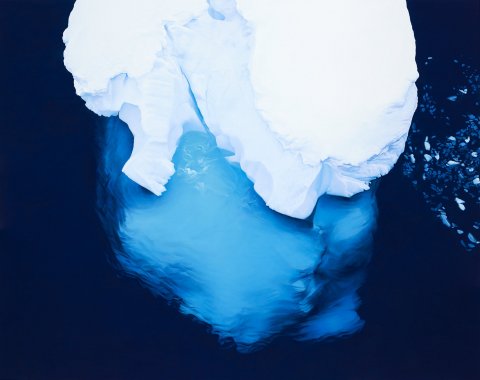 Change
Aboard Endurance Polar Ship (Arctic, Antarctic)
Lindblad Expeditions' new polar vessel, National Geographic Endurance, is home to the first-ever, permanent ship-based climate art exhibition. Curated by artist Zaria Forman, whose hyper-realistic large-scale pastel drawings document climate change, the ship-wide exhibit of original climate change art hopes to provoke thought and change as travelers witness the threatened beauty of the Arctic and Antarctic right outside their windows.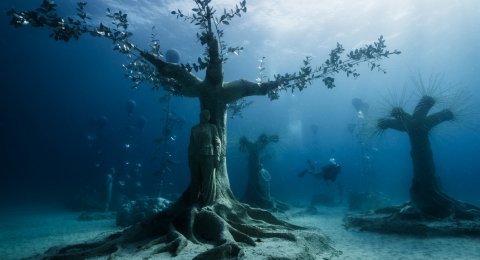 M.U.S.A.N.
Ayia Napa, Cyprus
Prolific eco-artist Jason deCaires Taylor has created a first-of-its-kind underwater forest at the Museum of Underwater Sculpture Ayia Napa. Here, snorkelers and divers can find 93 works of submerged art, including hybrid trees and life-sized figures that will attract coral growth, in an area of the Mediterranean that is now depleted of marine life. Taylor tells Newsweek, the installation "speaks directly about climate change and about holding people and corporations to account for their actions."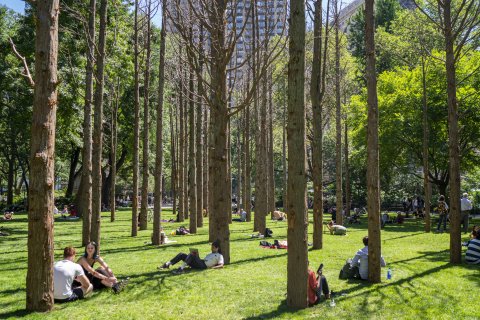 Ghost Forest
New York City
While they might sound like fiction, ghost forests are a grave reality and a marker of climate change. The deadly remains of once verdant woodland, ghost forests are a result of rising sea levels and extreme weather events, such as hurricanes and drought. In an effort to raise awareness of climate change, artist Maya Lin has installed 49 leafless and stark, 40-foot-tall dead cedar trees right in the center of Madison Square Park through November 14. The forest graveyard looms over passersby calling attention to an environmental calamity.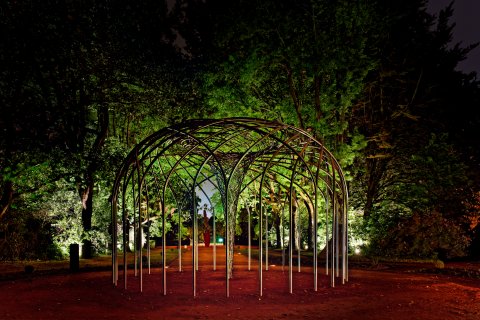 Y/Our Future is Now
Porto, Portugal
Olafur Eliasson's first solo exhibit at the Serralves Museum of Contemporary Art includes several suspended three-dimensional sketches, both organic and artificial. Those in the surrounding garden are on exhibit through September 26. In the exhibition catalog, Eliasson says, "It's clear now that we cannot continue living as we had in the past, and that all aspects of society will have to adapt to the climate crisis."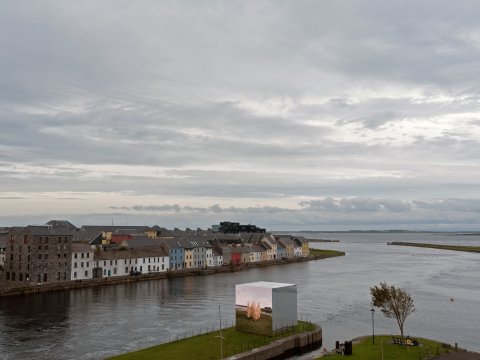 Mirror Pavilion
Galway, Ireland
John Gerrard's outdoor installation is a striking high-tech art piece in the Irish countryside. With three-mirror walls and a high–resolution LED wall, the work is a reflection of the escalating climate crisis with digital art and virtual simulation. This year, Mirror Pavillion will host a new piece, Leaf Work, on display during the Galway International Arts Festival 2021.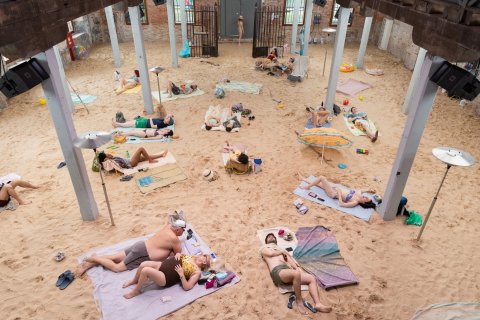 Sun & Sea
Brooklyn, New York
Winning a Golden Lion award at the 2019 Venice Biennale, this installation premieres in the U.S. in September at Brooklyn's Art Museum before touring worldwide. A seemingly mundane day at the beach, this poignant opera performance uses 13 vocalists, around 25 tons of sand and climate-disaster references in song—the Great Barrier Reef is a "bleached, pallid whiteness"—to pose serious thought about the disastrous path our planet is on.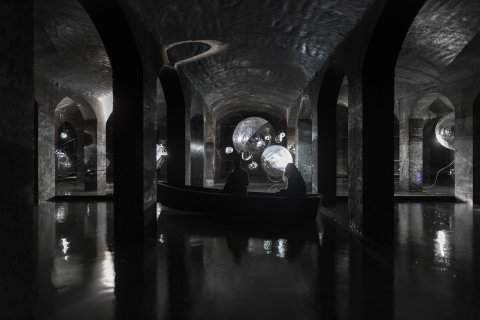 Event Horizon
Copenhagen, Denmark
Using the moody, dark tunnels of Cisternerne, a 19th-century underground water reservoir turned contemporary art space, Argentine artist Tomás Saraceno invites visitors to float through an immersive lit-up exhibition to view silvery sculptures amongst the dripstone cave's stalactites. Absorbing the climate crisis art on water nods to melting glaciers, rising sea levels and flooding—with an urgent message to change our actions in order to keep our planet afloat.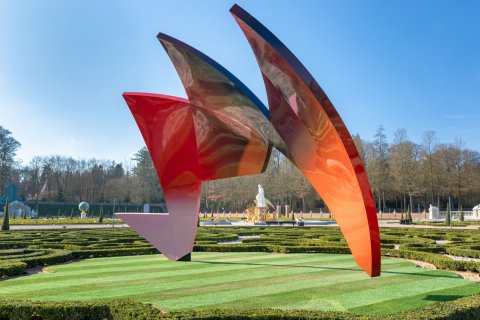 The Garden of Earthly Worries
Apeldoorn, Netherlands
In stark contrast to the perfectly symmetrical 17th-century baroque gardens of Paleis Het Loo, architect Daniel Libeskind's four abstract sculptures stand out. Each represents greenhouse gases that degrade the environment and contribute to our changing climate. This exhibition is the first time that contemporary art has been shown in the former royal Dutch palace.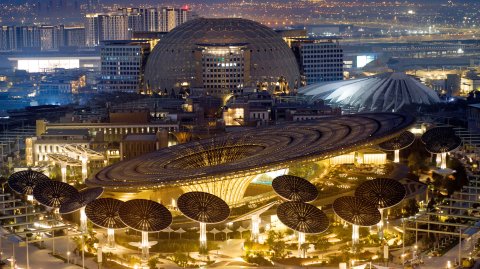 Expo 2020
Dubai, United Arab Emirates
The long-awaited first World's Fair in the Middle East will finally open this fall and run through March. It will feature large-scale art installations by contemporary artists from the UAE and Saudi Arabia that tackle environmental issues. The art will be housed at the Sustainability Pavilion, Terra, which aims to be a net-zero energy and net-zero water project, making it a 100 percent self-sufficient building in the middle of a desert.