2022 Audi RS3 Review: Rally Roots in a Compact Sedan
Audi's car lineup starts with the As. The A3, A4 and A6 are sedans. The A5 and A7 were at least coupe shaped, if not true two-door coupes. The S moniker lands on its sportier models and its race-inspired versions all come with the RS badge. The least expensive way to land one of those RS badges is in this compact 2022 Audi RS3 sedan.
The second-generation Audi RS 3 comes with a wider front bumper and a unique matte black honeycomb grille compared to the A3 and S3. It has larger air intakes than its predecessor and rally-style flared wheel arches. In back the RS 3 has a glossy black spoiler, unique rear bumper with diffuser and oval tailpipes on both sides. It's offered in eight different colors, including the Audi Sport specific Kyalami Green and Kemora Gray.
The 2022 RS3 has Audi's Matrix-design LED headlights with a dark bezel. New digital daytime running lights flash a checkered flag sequence when approaching. In back LED taillights do their own coming home/leaving sequence.
The RS 3 comes standard with ten-spoke, 19-inch wheels with summer performance tires. Pirelli P Zero Trofeo R motorsport tires are optional for use on racetracks. There's a Carbon Package with carbon fiber mirror housings, rear spoiler, and side sill inlays. The Black Optic Plus Package puts matte black on the wheels, gloss black on the Audi rings and badges, and a Brilliant Black roof.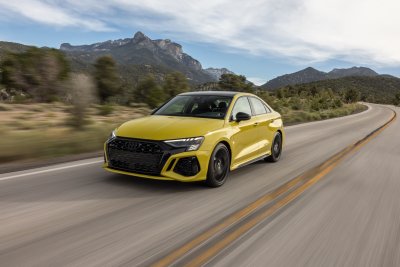 Inside a standard 12.3-inch Audi virtual cockpit plus displays pertinent data. A new "RS Runway" graphic design puts the highest number of rpms in the foreground, and shows g-forces, lap times, and acceleration times. It also features a shift indicator that turns from yellow to red, telling the drier when to shift. A 10.1-inch touchscreen infotainment system with Apple CarPlay and Android Auto also shows the coolant, engine, transmission oil temperatures, as well as the g-forces and tire pressure figures.
A three-spoke RS steering wheel features redundant buttons for audio and menu controls. It also has a button specific for RS driving modes. Nappa leather front sport seats come standard with RS embossing and honeycomb stitching. The RS Design Package turns those stitches Micrommata green, adding accents on piping and seatbelts.
The cabin of the Audi feels small with a family of four. Two child seats clip into the latches under plastic flaps in the outboard rear seats. There's legroom for a child in a booster seat, but much less in a standard forward facing seat. A rear-facing seat would be even tighter.
Apple CarPlay worked well, and the touchscreen infotainment was flawless with controls near the gearshift if drivers don't want to poke at the display. There are also buttons for climate and other features if buyers prefer physical controls. The rest of the interior is interesting and stylish with the green accent stitching and patterns on the seats.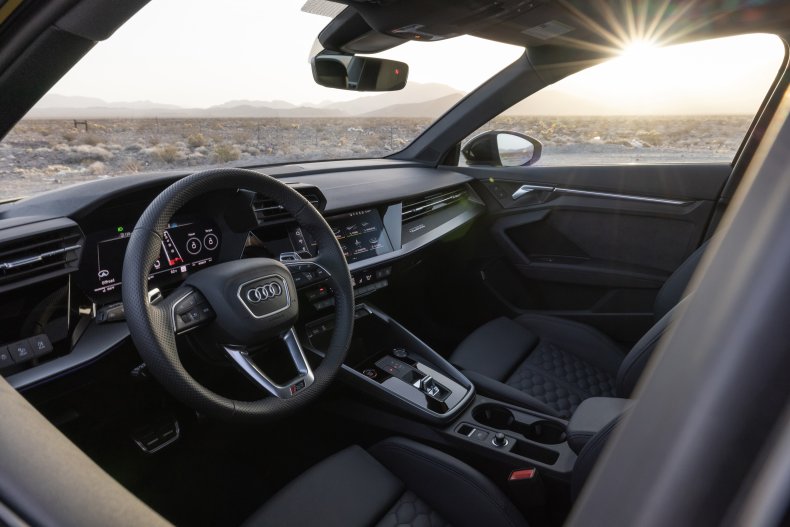 The RS3's claim to fame is its rally heritage, with Audi introducing a turbocharged inline five-cylinder engine when the last generation landed in the US in 2017. The inline layout is similar to the Audi Quattro rally car, which dominated the motorsport in the 1980s. Power has been increased for 2022 with the mill now delivering 401 horsepower (up from 394 hp) and 369 pound-feet of torque (up from 354 lb-ft).
It continues using the RS Torque Splitter, an electronic differential that can send up to 100 percent of the rear torque to the outside wheel for faster corner exits. A maximum of 50% of the total torque can be sent to the rear axle in any drive mode and the front axle always remains engaged. It's influenced by longitudinal and lateral acceleration, steering angle, throttle position, current gear, and yaw angle.
Drive modes include Comfort, Auto, Dynamic, RS Torque mode that sends all of the power rearward for drifting, and RS Performance, which balances oversteer and understeer.
Those modes change up the suspension, steering, throttle and Torque Splitter operation greatly. In comfort the suspension is very soft over broken midwestern roads. Upper modes tighten everything up and make the shifts from the dual-clutch transmission harsher, along with stops and starts, almost annoyingly so.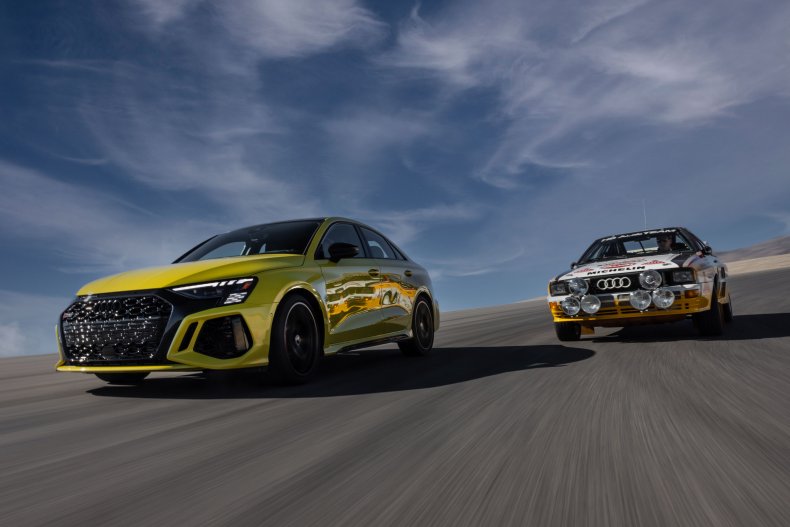 However, in the sportier modes the 2022 RS3 is a joy to drive hard. Pushing through corners drivers don't have to worry as Audi's quattro system sorts out which wheels need the most power. Oversteer, when the rear end slides, can be induced in the sportier modes. On gravel, its real home territory, the RS3 grips and turns just as good as on pavement, just with a lot more noise.
The 2022 Audi RS3 is closely comparable to the new BMW M2. That comes with 453 horsepower from a turbocharged six-cylinder. The M2 is rear drive only but does offer a manual transmission. BMW's M240i delivers 382 hp. The all-wheel drive Mercedes-AMG CLA45 is also competing for buyers. The Mercedes does come in all-wheel drive but also without a manual transmission.
The 2022 RS3 starts at $59,995 including the destination charge. The BMW M2 is $63,195 while the less expensive but still fun M240i comes in at $48,550. The Mercedes CLA45 starts at $58,850 and lays down 382 hp.
All three are fun for long and short drives. If a rear-drive layout or manual transmission is of interest, buyers will have to stick with the BMW. Otherwise, the Mercedes and Audi are both four-season vehicles in any climate. The BMW is more enjoyable for enthusiasts, but both of the other German options are just a half step behind.