2022 Ford Bronco Everglades Review: Rough, Tough, Most of the Right Stuff
Engineers at Ford Motor Company continue to find new ways to utilize its four-wheel drive Bronco off the beaten path. The new 2022 Ford Bronco Everglades goes a wet step in the opposite direction of the Bronco Raptor, pushing forward through murky terrain with a combination of equipment that is mostly already available in other parts of the lineup.
Despite that, the Bronco Everglades is a unique solution for drivers looking to drive the model to the depths of its fording capabilities without sacrificing the dry and rocky ground prowess that the SUV has become known for. A one-stop solution rather than a trip to shop your favorite (or second-favorite) aftermarket retailer.
To build the 2022 Bronco Everglades, product planners started with the Bronco Black Diamond. It's marine-grade upholstery and wash out interior carried over making the two-row SUV mud-ready on the inside.
The exterior is big on functional aesthetics. It features a snorkel with easily replaceable bits, a large Everglades graphic that takes up a good portion of the front quarter panel and a 10,000-pound capacity Warn winch with a synthetic line sits up front with a safari bar and steel plates added for protection.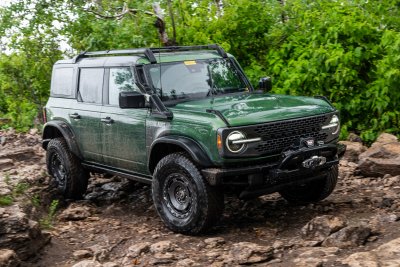 Ford's Sasquatch package gives the Bronco Everglades its lift, with 17-inch Carbonized Gray-painted alloy wheels wrapped around 35-inch Goodyear mud-terrain tires.
The combination allows for a total of 36.4 inches of water fording capability and, whether doors and roof on or off, is visually intimidating and instantly recognizable in all the right ways.
Powering the model is Bronco's standard 2.3-liter EcoBoost engine, which is paired with a 10-speed automatic transmission. Power allocation remains at the same level as in a traditional Bronco - 300 horsepower and 325 pound-feet of torque, which is plenty.
When driven in the Mud/Ruts G.O.A.T. (Goes Over Any Type of Terrain) Mode as most of the testing day deep in the woods of Drummond Island allowed, the transmission didn't shine. It still lacks the low-end torque and easy transition between second and third gear that would move the Bronco nearer to perfection.
Steering in the Bronco Everglades is properly weighted and connected for the task of off-roading.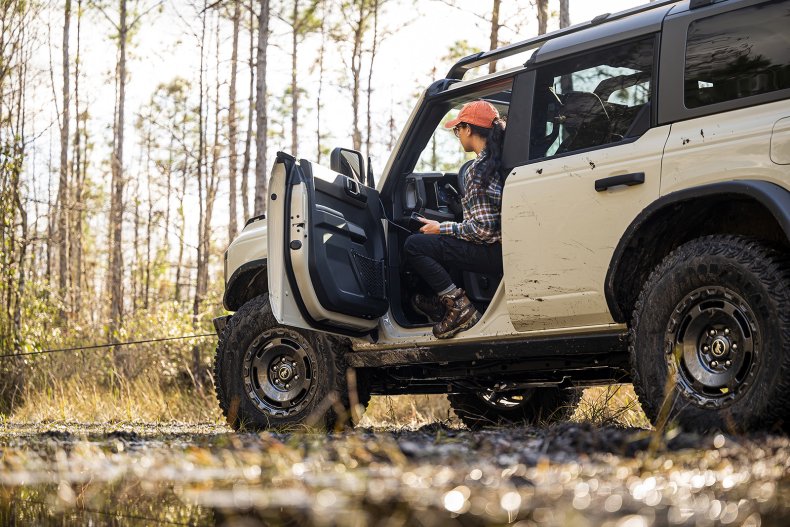 Finding the right seating position is easy, with a good amount of headroom for those of average height when they're sitting high to see around obstacles.
The Everglades model doesn't ditch the Bronco's traditional capability for a new set. It merely enhances it. Genuine rock crawling, requiring spotters and precision maneuvering, is an easy task at hand. Maintaining stability as the deep water burbled beneath and around the SUV's undercarriage and hidden boulders made themselves known - not an issue.
Like every other Bronco on the market, the Bronco Everglades is plenty capable. With features like the winch and snorkel its undeniably aggressive looking.
For mud-ready off-roaders, the Bronco Everglades is the smart pick for you, if you can get one. They're allocated only for current Bronco reservation holders. Pricing starts around $53,000.