2022 Ford F-150 Lightning Review: Exactly What It Needs to Be
The 2022 Ford F-150 Lightning is everything it needs to be to keep F-Series customers happy and convert internal combustion engine drivers to the electric vehicle (EV) lifestyle.
The front view of the F-150 Lightning is not foreign to F-Series enthusiasts. Though built from the ground up, the electric truck's looks fit directly into the aesthetic of the current lineup, with some enhancements like a wide LED daytime running light bar that spans the width of the model from headlight to headlight. Its nighttime light signature is wholly unique. The familiarity is not a bad thing.
Ford is selling its new electric truck in four trim levels: Pro, XLT, Lariat and Platinum. There's only one cab and box configuration, SuperCrew cab with a 5.5.-foot cargo box. The configuration allows for plenty of second-row head-, leg-, and hip room in the second row while not compromising storage space out back.
Zone lighting can be activated from an owner's smartphone. Even running boards get into the mix, with their own sets of LEDs that illuminate the side of the truck.
The automaker found that potential buyers like the current F-150 bed setup and decided to carry much of it over to the new truck. Ford has given the F-150 Lightning the same style tailgate work zone that is found on the traditional F-150. It is available with a spray- or drop-in bed liner, or naked. Bed accessories, like storage racks by Yakama, that fit the gasoline- or diesel-powered F-150 will fit the Lightning too - no need to buy completely new equipment. This is a win-win.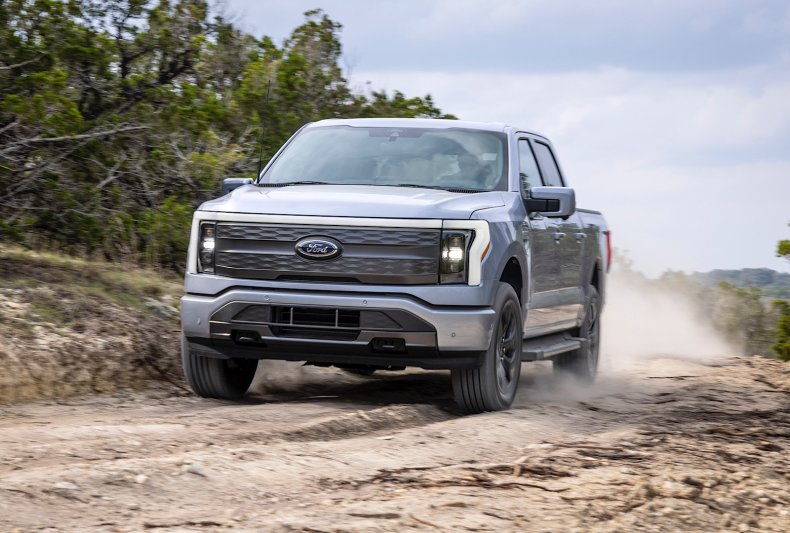 Though a front trunk is no longer an anomaly, the Ford frunk is a space of distinction, easily rising above the others in its class due to its size and charging capability.
Every Lightning model comes standard with a Mega Power Frunk. The 400-liter, 14.1-cubic-foot storage space is at the front of the model where internal combustion engine (ICE) versions of the F-150 have an engine. The large space is capable of holding two sets of golf clubs, plus the requisite shoes, gloves, hats, with room to spare. Notably, mobility scooter users can fit their apparatus in the frunk and charge it at the same time via an outlet in the space.
That's not the only outlet outside the cabin. Ford has enhanced its Pro Power Onboard generation system, allowing it to deliver 9.6 kilowatts of power to the model's 11 power outlets. Its this type of thoughtful innovation that shows that Ford knows its customer.
The automaker sells the Lighting with an available Ford Charge Station Pro wall box. When installed, it's capable of delivering 80 amps of power. The box is standard with Extended Range models.
Ford Intelligent Backup Power allows power to be transferred from the truck to an owner's home in the event of an outage. For most homes, a fully charged, big battery F-150 Lightning can provide at least three days of power supply. For eco-friendly homes, that number can grow to as much as 10 days worth. In disaster prone areas, its not an exaggeration to say that the tech could be a life- or home-saver.
Unlike many all-electric SUVs, Ford will only sell the F-150 Lightning with a dual-motor setup. There are two battery choices: standard or extended range.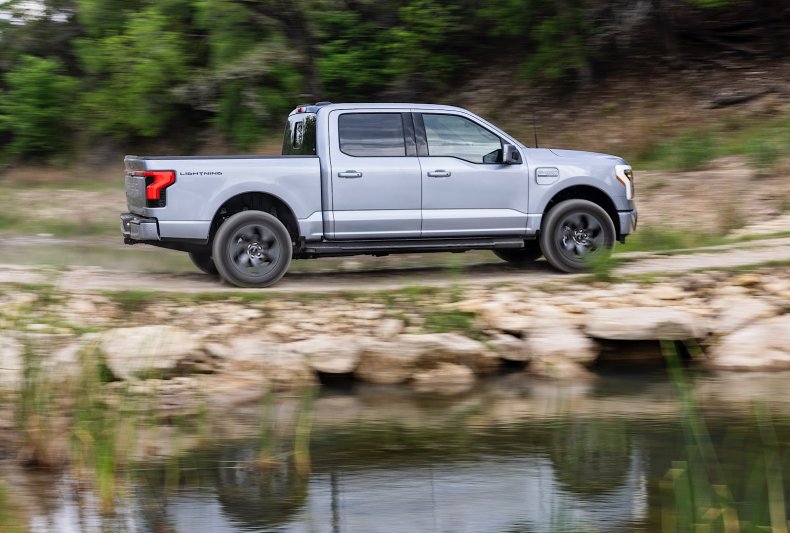 Power is pushed to the wheels via the pickup's electric motor setup. Ford has placed one motor each on the front and back axles. This is different than the setup of the Rivian R1T, which has motors on all four wheels. It's not as agile as the GMC Hummer EV or R1T, but that doesn't mean that the Ford's turning circle is cumbersome or that it's not fun drifting through loose gravel or dirt.
The truck maxes out at 452 horsepower and 775 pound-feet (lb-ft) of torque with the standard range battery. That's more than plenty. Opting for the extended range model gives drivers access to 580 horsepower (it retains the same amount of torque), which is more than enough to get the heavy full-size moving down the highway at a clip in a blink. The numbers are less than what the Rivian R1T is capable of.
Also trucks in the category are more than capable enough when it comes to power.
Ford has billed the model as the fastest accelerating F-150 model ever with a targeted mid 4-second zero to 60 miles per hour time for the extended range truck. Standard range versions will be a nudge slower. Stepping on the gas of the truck doesn't deliver the brutal G-forces that the Mustang Mach-E GT and GT Performance deliver. Instead, rapid acceleration feels better managed with less yaw, but no less zip.
On the high end, the Environmental Protection Agency (EPA) estimates put the F-150 Lightning XLT and Lariat models as capable of achieving 320 miles of range, when equipped with an extended range battery. This range is higher than Ford initially anticipated.
The base model F-150 Lightning Pro with a standard range setup can go 230 miles between charges, the low of the group.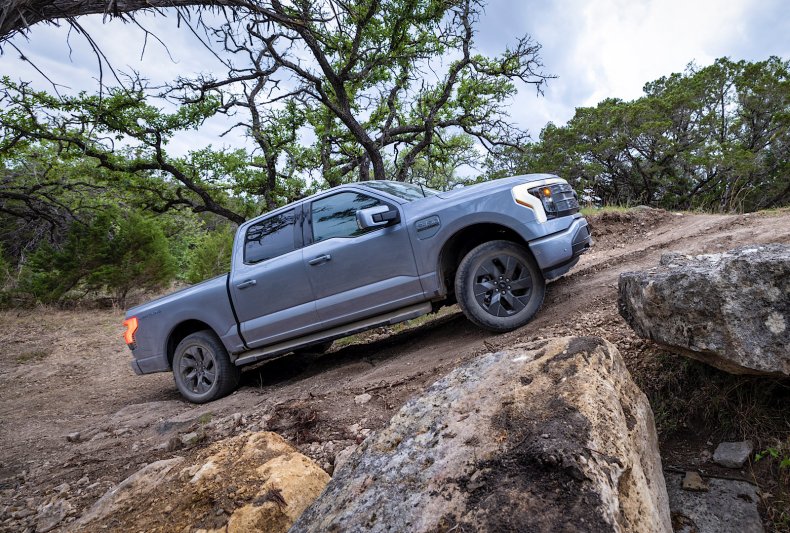 Ford estimates that maintenance costs for the F-150 Lightning will be 40 percent less than the cost of F-150s with internal combustion engines over the first five years of ownership.
The F-150 Lightning is capable of towing up to 10,000 pounds in the extended range Lightning Pro, XLT and Lariat variants and 7,700 pounds with the standard range model, when properly equipped. The Lightning Platinum (only available with the extended range) has a rating of 8,400 pounds.
Lightning Pro, XLT and Lariat have a 2,235-pound maximum payload rating while Platinum models are rated for just 1,850 pounds.
The truck tows with ease, though buyers should beware that towing decreases the truck's range considerably. How much depends on driving style and the weight of the cargo.
Like other Fords the truck comes with a Tow/Haul drive mode. Available onboard scales and Smart Hitch technology allow for real-time estimates of cargo weight, including what is being held in the Mega Power Frunk. The heaviness of what is towed or hauled can greatly impact range estimates so having this technology is essential to making sure charging happens in a timely and appropriate fashion.
Trailer light checks can be performed via the FordPass app, eliminating the need for two people to perform the appropriate checks before taking off with a load. Trailer Theft Alert technology uses the same app to alert an owner of a potential property loss incident. This tech is a welcome improvement to the traditional test for trailers.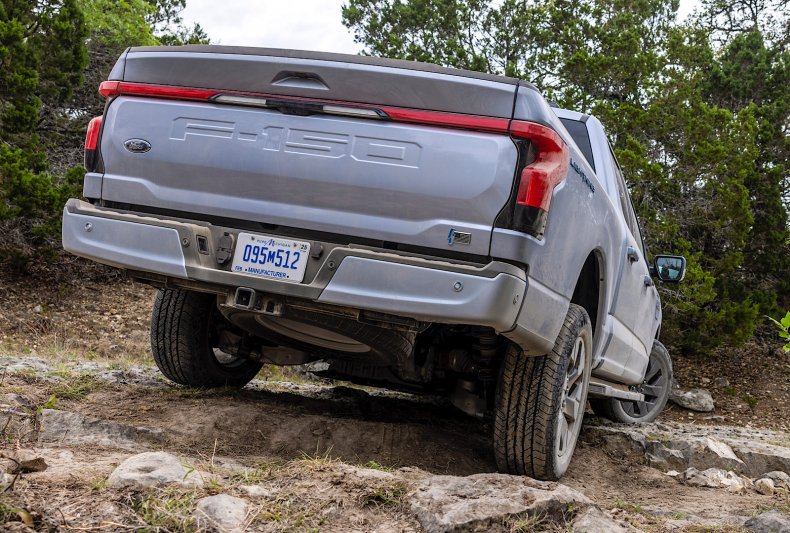 Opting for the Max Tow Package gets owners access to the full towing and hauling capabilities of the vehicle, plus a number of equipment upgrades like a 360-degree camera, integrated trailer brake controller, onboard scales with Smart Hitch, Pro Trailer Backup Assist, Smart Trailer Tow Connector, and Trailer Reverse Guidance. Much of this technology is available on a traditional F-150.
The interior of the truck is strikingly like the ICE-d F-150, but with some high-tech updates. It remains well-appointed at all trim levels, but its sophistication lags far behind that of the Ram 1500.
In front of the driver is an easy-to-read fully digital instrument cluster. This is the hub for information relating to BlueCruise, Ford's hand-off driver assist and safety technology, real-time energy consumption and reclamation information. Its animations aren't not wholly different from what is found in the ICE F-150 and a driver can naturally adapt. The information shown also falls into line with the type of content that is displayed on the screens of other EVs.
Ford has installed a 15.5-inch portrait style infotainment touch screen inside top-tier Lightning models. This is the same screen that can be found inside the Ford Mustang Mach-E. It works equally as well. Its clean design and responsive menus make the screen a winner, but those who wish to have a nest of tabs at the bottom of the screen will want to opt for the standard 12-inch screen, which is horizontally orientated.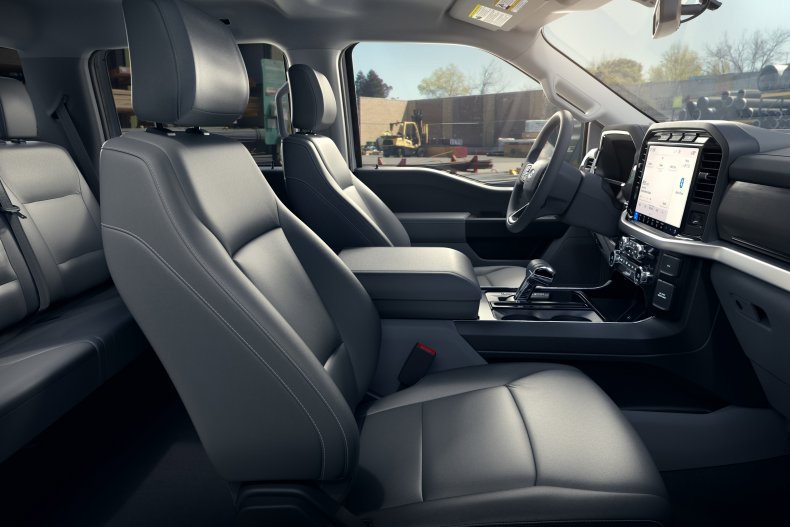 The truck's SYNC 4 infotainment operating system includes 911 assist; apps; cloud connectivity; built-in navigation (three years free); voice recognition; a digital owner's manual; wireless Apple CarPlay and Android Auto; and wireless phone connectivity as standard. Lightning Lariat and Platinum models add the larger screen and personal profiles.
A Wi-Fi hot spot and over-the-air software updates are also standard. These updates could prove crucial to keeping the truck updated and allowing buyers to enjoy the benefits of modern technology for little or no cost, at least for a few years.
There are eight USB ports on the model. Six of those are inside the cabin. The other two are located inside the Mega Power Frunk.
Owners have the option of using their smartphone for numerous functions. This includes managing the flow of power from the truck to a home during an outage, remote starting the model and using the phone as a key (standard on Lightning Platinum).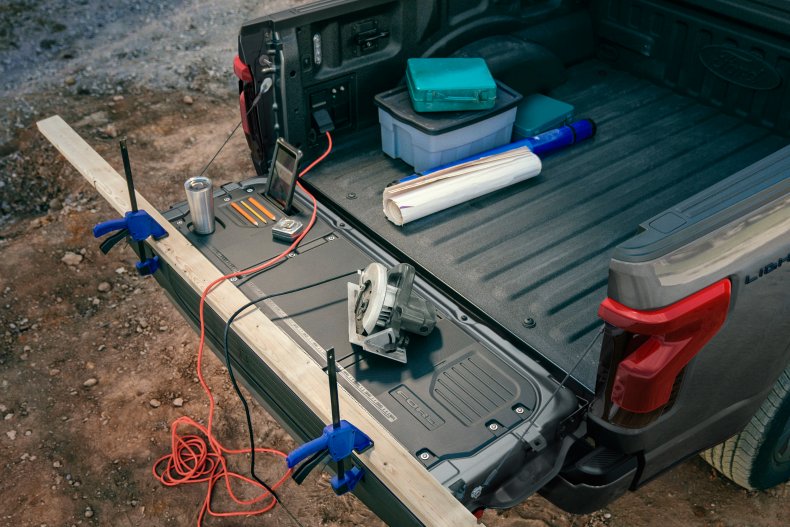 Ford has adapted its Interior Work Surface, the formal name of the fold-out center console table, and fold-down shifter to the F-150 Lightning. It performs exactly the same as it does elsewhere in the company's lineup, performing its functions with ease.
Every F-150 Lightning model except the Pro have under-seat storage in the second row. That means formal bins are present. In all versions of the truck, owners can place storage under the space however, in the Pro version, it's possible for the cargo to shift around when not secured or braced properly.
Each Ford F-150 Lightning comes standard with at least the Ford CoPilot360 2.0 suite of driver assist and safety technology that includes automatic high beams; blind spot monitoring with cross-traffic alert; lane-keeping alert; post-collision braking; pre-collision assist with automatic emergency braking, pedestrian detection, and forward collision warning with dynamic brake assist; a rear obstacle sensing system; and reverse brake assist.
Lighting Lariat and Platinum models get evasive steering assist; adaptive cruise control with stop-and-go, lane centering, and traffic sign recognition; and intersection assist as standard equipment. Lightning XLT buyers can choose to add the tech for a cost.
Only the highest grade Lightning Platinum model gets Ford BlueCruise hands-free driving tech and park assist. As it does in other Ford and Lincoln models, BlueCruise proves to be a continued work in progress, with a long way to go to meet the high standard of similar General Motors' Super Cruise tech.
The best bet to get a balance of comfortable features, cost, well-appointed surfaces and tech is the F-150 Lightning Lariat. It comes standard with a 360-degree camera, a forward obstacle sensing system, Interior Work Surface, SiriusXM with 360L, 15.5-inch infotainment touch screen, Ford Co-Pilot360 Assist 2.0, power open/close tailgate, power-adjustable pedals, 9.6-kilowatt Pro Power Onboard, and wireless charging pad.
But, customers won't be disappointed with the F-150 Lightning Pro base model, especially when they find out that the cost is a tick above $40,000 with all fees included and without any tax incentive factored in.
Truly, Ford has made a truck that does what it has to do - be a really decent battery-electric F-150. This is the reality, and it's not a bad thing. In fact, it's a smart and savvy move, making the electric truck undeniably attractive to buyers.