2023 Honda Pilot Review: Hits All the Right Notes Except One
Honda didn't need to re-invent the Pilot three-row SUV with its latest generational change-over, so it didn't. Instead the Japanese automaker did what it does best. It accentuated the points that were working, made it safer, and added some features that families will love. All that, together with a budget-friendly price point make the model a home run.
Designed in California and developed in Ohio, the new, fourth-generation Honda Pilot arrives as more buyers are opting for all-wheel drive and off-road-friendly packaging in their third-generation Pilot, up 22 percent year-over-year.
For the 2023 model year, Honda sells the Pilot in Sport, EX-L, TrailSport, Touring and Elite trim levels. The Pilot TrailSport gets black exterior treatments that set it apart from the crowd. Buyers can get their model in a seven- or eight-passenger configuration (captain's chairs in the second row versus two rows of bench seating).
It's the only model in its class with eight-passenger seating and a panoramic glass roof.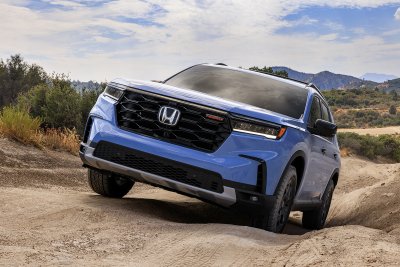 The SUV comes standard with a refined version of the company's 3.5-liter V6 engine that delivers slightly more horsepower and the same torque as last year's model (285 and 262, respectively). The engine is paired with the company's nine-speed automatic transmission. The combination results in 40-50% less emissions out the tailpipe than the previous generation Pilot.
Honda's engineers have refined the power distribution in the Pilot for the fourth-generation, allowing drivers to have more oomph to pass when cruising.
All-wheel drive is available on the SUV, bringing with it up to seven different drive modes, depending on trim level. Added to the last-gen's Normal, Eco, Sand and Snow modes are Tow, Trail and Sport.
Pilot also gets increased capability, now able to tow up to 5,000 pounds.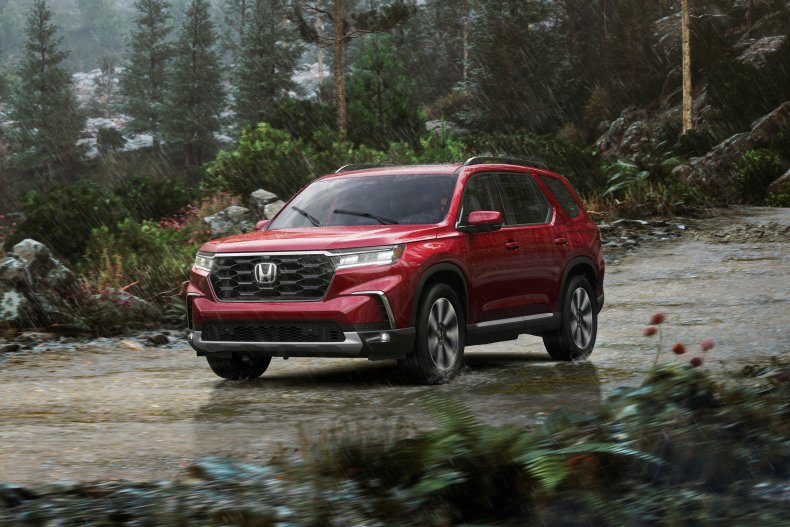 Automakers usually add features for a new generation. One of Honda's strategies for the 2023 Pilot was to remove the rear entertainment system option that was previously available. They found that the system was a low priority and offered little value for customers so it didn't make the cut.
Pilot comes standard with a 7-inch infotainment touch screen. Pilot EX-L and up get a 9-inch. Pilot Elite also comes with a 10.2-inch configurable digital gauge cluster.
Apple CarPlay and Android Auto come standard on the Pilot. The company has put 14 cupholders inside the SUV and made a wireless charging pad and 12-speaker Bose sound system available.
Honda's improved the infotainment system user experience, eliminating and simplifying some menus.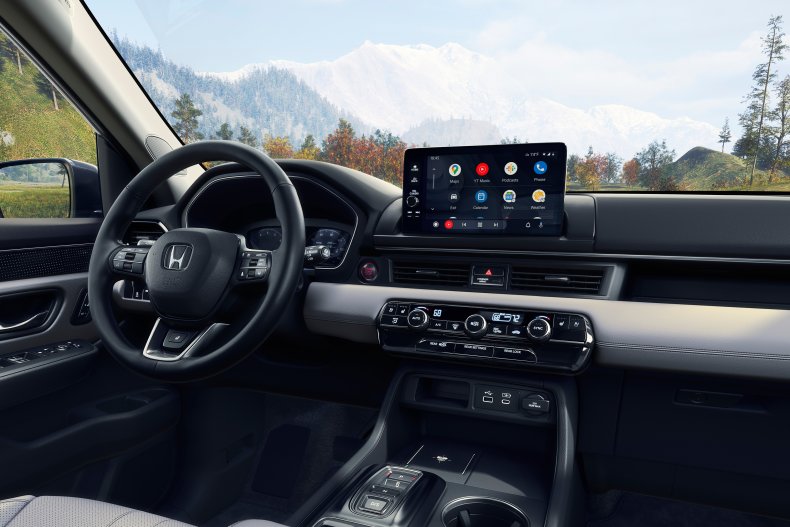 The Honda Sensing suite of driver assist and safety technology has been expanded for the 2023 model year. Four of the technologies have been updated and three new ones added: traffic jam assist, traffic sign recognition and Lane Speed Braking Control. Hill descent control and the TrailWatch multi-angle camera view are available.
Additionally, the team at Honda's research and development center has ensured that the Pilot is safe from a structure standpoint. It is designed to hold its structural integrity in new, more rigorous Insurance Institute for Highway Safety (IIHS) crash testing. It also comes standard with Honda's next-generation airbag technology.
The 2023 Honda Pilot starts at just over $39,000 and heads north of $52,000 when fully equipped. Honda charges an additional $1,345 in delivery fees on every model.
2023 Honda Pilot Review
The SUV's face and body styling comes courtesy of the CR-V. Its size lends itself to a more commanding presence than the smaller model, but it's nonetheless attractive, far better than the last version.
The new body and face lend themselves to other improvements. It's quieter than the outgoing Pilot and good greenhouse positioning and multi-view cameras make the Pilot relatively easy to maneuver whether you're on a trail or in a supermarket parking lot.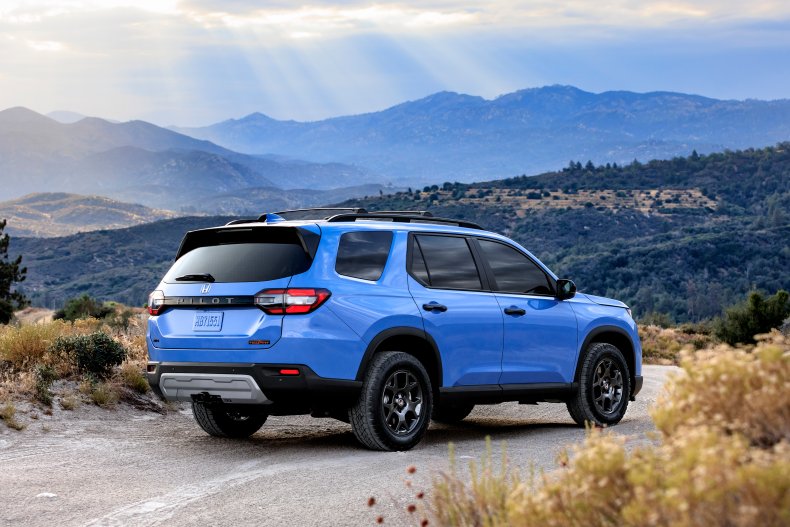 The car's engine is strong, and added power is noticeable. In the Eco drive mode, acceleration isn't painfully slow and on city streets it's the sensible and little-compromise mode for travel.
Use Sport mode and the Pilot gets piped in electronically enhanced acceleration noises and a noticeable change in throttling.
Honda designed the Pilot TrailSport to have "extreme off-roading capability". Make no mistake, this isn't a Jeep, but it did comfortably and confidently take on Sedona, Arizona's Broken Arrow Trail in the snow. Chalk up at least some of that capability to its Continental All Terrain tires, but the Pilot's all-wheel drive system is also plenty capable of handling what was thrown at it.
The cabin of the new Pilot doesn't look or feel as spacious as that of the outgoing model. There's good reason for that. The center console is now at a height that it properly acts an arm rest, meaning that the skinny seat-attached arm rests of the third-generation have been retired. This move makes the cupholders and shifting buttons more easily reachable.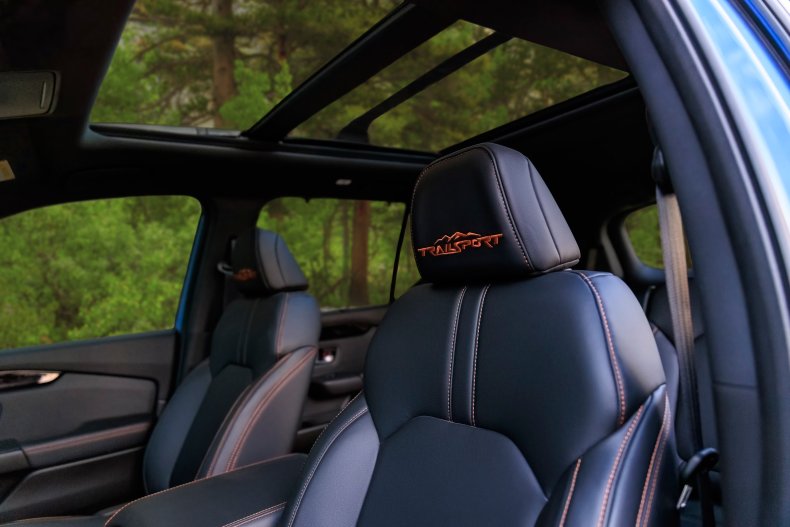 Pilot's seats haven't just had the arm rest removed. They've also been completely re-engineered delivering a more comfortable passenger experience. It's a smooth rider on the pavement with its equipment working hand-in-hand with improved seating structure to easily hold passengers in place with little sway when cornering, even on winding roads.
Families who buy the Pilot need to fit their broods and corresponding "stuff" inside the SUV. It shouldn't be a problem. The SUV has best-in-class third-row legroom and cargo space behind the third. This isn't to confuse it with being a full-size SUV. Its dimensions are on-par with Kia Telluride and Hyundai Palisade rivals.
It also has a removable second-row middle seat for added convenience. The Nissan Pathfinder has a similar feature with its second-row center console able to be removed. In both the Pilot and Pathfinder, the removable section can fit in underfloor storage at the rear of the model.
While the Pilot doesn't have many shortcomings, one of the most glaring is the way the third row seat lowers. What is quick and easy on one side of the split, is a multi-step process on the other side.
Most things about the Pilot are expected. Of course it's going to be safer, quieter, and have more power than the last-generation. Of course Honda put revised and new technology into the 2023 Pilot. Of course its looks are different and like the CR-V's.
That doesn't mean it's bad. In fact, the Pilot quickly moves ahead of the Toyota Highlander thanks to its packaging and its on-road stability and technology put it right up against the Telluride and Palisade. Other models, like the Mazda CX-9, Chevrolet Traverse, and Dodge Durango, just can't compete, though out of that bunch the Traverse is the closest.