New Hybrid-only, Three-row 2024 Mazda CX-90 Part of Company's Big Makeover
The new era of Mazda continued Tuesday with the reveal of the electrified three-row 2024 CX-90. The fresh crossover will offer a plug-in or a mild-hybrid powertrain, rides on a new platform and comes in rear- or all-wheel drive.
Unlike the midsize CX-50 and CX-5, which are both staying around, the CX-90 will eventually replace the three-row CX-9.
"I would say the new era is in progression because it's not only the product, but it's also what's happening in the network. And so those two strategies, which started years ago, are progressing. There are now 260 of these new retail evolution Mazda dealerships," Jeff Guyton, Mazda CEO told Newsweek.
"There's a lot going on inside, about the customer experience and the training and the staffing of those stores. So that premium experience we're trying to give. We're also trying to give them the vehicles. They're both coming they're coming together. And that was intentional," he said.
The new platform under the CX-90 switches to a base rear-wheel drive layout, as opposed to the CX-9 which comes standard with front-wheel drive. It was developed with electrification in mind, will transform to underpin the upcoming CX-70 and CX-80, and already underpins the CX-60 sold as a hybrid in Europe. Mazda has confirmed the CX-70 is coming to the U.S.
The 2024 CX-90 platform has a wider body, fenders and longer wheelbase than the CX-9. The bumper comes with chrome trim. Its diamond-cut black metallic wheels measure 21 inches.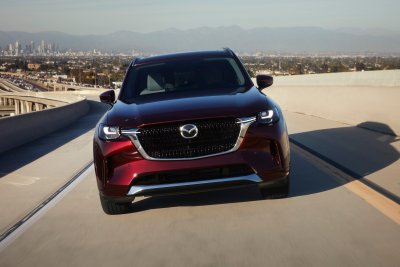 A new paint color was created specifically for this vehicle, Artisan Red. Mazda says the paint varies depending on lighting, sometimes looking almost black.
Motivating the 2024 Mazda CX-90 are a pair of powertrains. A turbocharged 3.3-liter inline-six engine delivers 340 horsepower and 369 pound-feet of torque. The mild hybrid starter/generator system placed between the engine and transmission makes for smooth acceleration from a standstill without a torque convertor, leading to a more efficient drive.
A new eight-speed transmission is standard across the lineup.
The plug-in hybrid e-Skyactiv powertrain features a 2.5-liter four-cylinder engine paired with a an electric motor that combine to make 323 horsepower and 369 pound-feet of torque. The PHEV can operate in electri—only mode in certain scenarios thanks to a 17.8-kilowatt-hour battery.
EPA testing is still to come so there are no official fuel mileage or all-electric range numbers yet.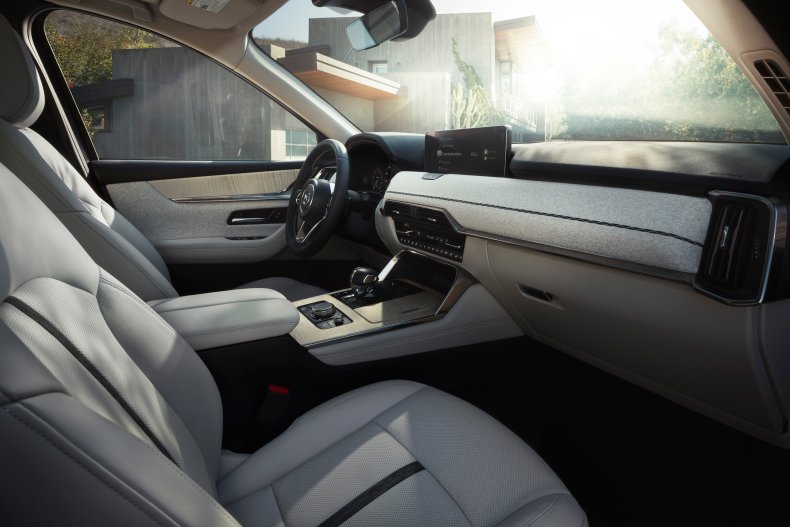 "Along with the platform, the whole design of the inline-six and the new eight-speed transmission was to be able to create room for hybridization and various electric devices in that package space," Guyton said.
Inside the cabin, buyers get more chrome trim while the air vents have been moved from their place in the CX-9 for a more modern appearance. Nappa leather, wood trim, and two-tone fabrics are available in all three rows. The dash fabric is connected using hanging stitches, which was inspired by a hand-bookbinding and weaving technique called Kumihimo. Mazda says this method uses negative space to create a unique design.
Like the tiny Mazda MX-5 roadster, the CX-90 comes with the company's Kinematic Posture Control software that Mazda says suppresses body lift in tight corners, "allowing occupants to maintain a natural body posture."
Mazda thinks the new SUV opens the door to more customers with improvements in three key areas.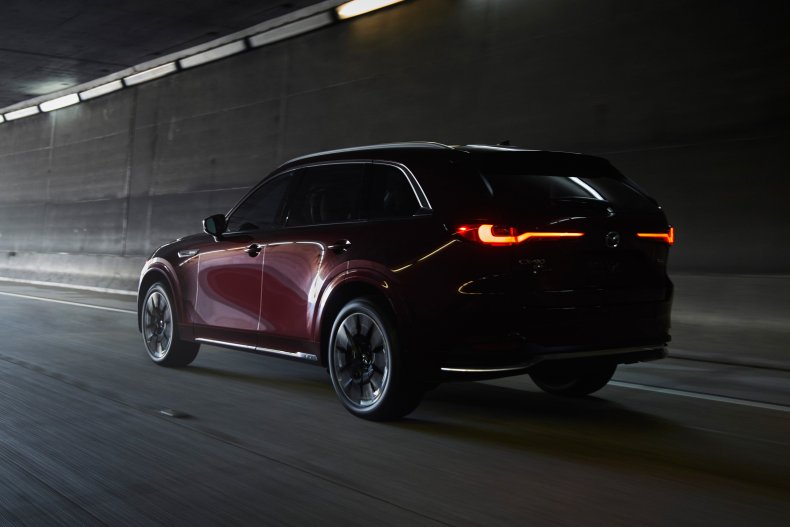 "I think almost certainly we're going to appeal to more people than with CX-9, which was a great driver's car. But we aimed to give a much bigger package. A better interior, a lot more power and more towing, are the three things in this segment that are really important. And we've addressed all of those things with CX-90 and we're really excited about that," Guyton said.
"Mazda has long hung its hat on being the fun-to-drive brand, no matter the size of vehicle; more recently it's also been pushing into the premium end of its segments too. In this new CX-90, you see both of those hallmarks," David Undercoffler, editor-in-chief at Autolist told Newsweek.
"It has a choice of electrified powertrains, including a plug-in hybrid, that wouldn't be out of place in a pricey German brand, a rear-drive biased platform for better handling, and interior and exterior styling that aims for Lexus and Acura, not Toyota and Honda. This is the clearest sign yet that Mazda takes its aspirations very seriously and based on what we learned today, its rivals should too."
The 2024 Mazda CX-90 goes on sale this spring. Pricing hasn't been revealed, but it is expected to start around $40,000.