204K U.S. Children Tested Positive for COVID Last Week, 4.8M Since Start of Pandemic
The number of children testing positive for COVID-19 has increased sharply in recent weeks, according to the American Academy of Pediatrics.
Between August 19 and August 26, nearly 204,000 COVID-19 cases in children were reported by officials in states across the U.S. In total, as of August 26, 4.8 million children have been infected with the virus since start of the pandemic.
The American Academy of Pediatrics said after the nation saw fewer child cases of COVID-19 earlier this summer, case rates in kids "have increased exponentially, with over a five-fold increase the past month."
During the week that ended on July 22, officials across the country only reported 38,000 COVID-19 cases in children.
At this point, the organization said it appears that "severe illness due to COVID-19 is uncommon among children."
"However, there is an urgent need to collect more data on longer-term impacts of the pandemic on children, including ways the virus may harm the long-term physical health of infected children, as well as its emotional and mental health effects," the American Academy of Pediatrics stated.
The rise in COVID-19 cases among children comes as the school year has started around the country while the highly contagious Delta variant continues to spread.
In Tennessee, data released by health officials shows that last week, 40 percent of new COVID-19 cases in the state were seen in children between the ages 0 and 18, News Channel 5 in Nashville reported. Throughout the entire pandemic, children have made up only 17.4 percent of the state's cases.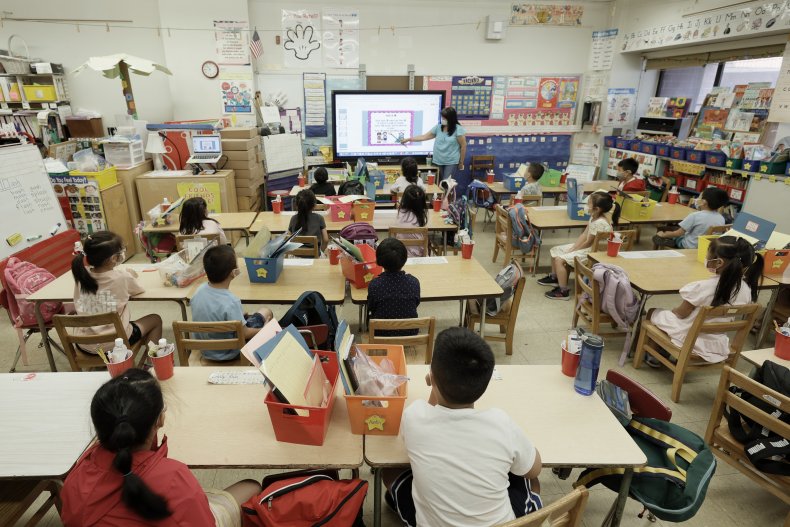 In Florida, children are also seeing higher rates of COVID-19 infection—last week, data showed the virus was hitting kids harder than any other demographic in the state.
More children are also being hospitalized with the virus in Florida. The Associated Press reported Tuesday that there were 230 children in the hospital with COVID-19, compared to 20 in June.
While increase COVID-19 cases among children increase, Florida Gov. Ron DeSantis and some of the state's school districts have fought over mask mandates for students.
DeSantis signed an executive order barring masking requirements in schools, though a judge said his ban was unconstitutional. The Florida governor has vowed to appeal the ruling.
Pediatricians in Florida have pushed for masks in schools, Florida Politics reported.
In Utah, health officials in the state told reporters Tuesday that COVID-19 cases among children are 3.5 times higher at the beginning of this school year compared to last.
"We know kids are very unlikely to get seriously ill, but the sheer amount of transmission turns that small percentage into a fairly large number of hospitalizations," said Dr. Michelle Hoffman, the deputy director of the Utah Department of Health, according to KSL.
"We also know that kids are very good spreaders — and even if they don't get sick, they take their infection home to those who may be more vulnerable," she said.