27 Senators Who Signed 2017 Letter Defending Filibuster Backtracked Today
Over half of the Democratic senators who voted in favor of scaling back the filibuster on Wednesday night had signed on to a letter five years ago urging the chamber's leaders to preserve the procedure.
The Senate voted 52-48 on Wednesday to eliminate the filibuster so Democrats could advance voting rights legislation. Democratic moderates Kyrsten Sinema of Arizona and Joe Manchin of West Virginia joined all 50 Senate Republicans in opposing the change.
The vote is a reversal for many Democratic Senators who signed a 2017 letter urging both parties' leaders "to preserve existing rules, practices, and traditions as they pertain to the right of Members to engage in extended debate on legislation before the United States Senate."
The filibuster requires 60 votes for most business to advance and the Senate and has been used by the minority party to stymie the majority's agenda or extract concessions. Each party has modified the procedure's use in recent years. In 2013, then-majority Democrats eliminated the filibuster for most court nominees.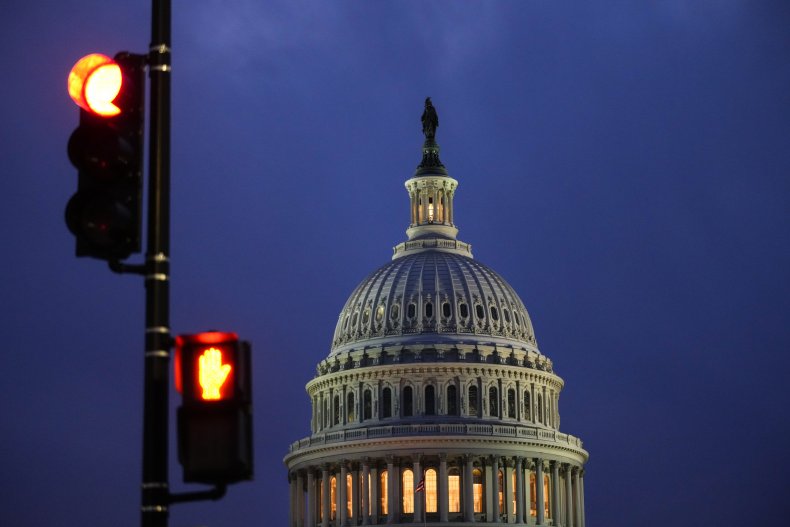 The letter was issued when then-President Donald Trump nominated Neil Gorsuch for the Supreme Court, and Democrats still smarting from the 2020 election threatened to use the procedure to block him from ascending to the court.
The letter, signed by 61 senators from both parties, recommitted to the procedure's use in preserving extended legislative debate, despite past disagreements over its handling of judicial and executive branch appointments.
"We are mindful of the unique role the Senate plays in the legislative process, and we are steadfastly committed to ensuring that this great American institution continues to serve as the world's greatest deliberative body," reads the letter. "Therefore, we are asking you to join us in opposing any effort to curtail the existing rights and prerogatives of Senators to engage in full, robust, and extended debate as we consider legislation before this body."
The Senate ended the filibuster for Supreme Court nominees in 2017 and Gorsuch was confirmed.
Absent from the letter are members of Senate Democratic current leadership, including Majority Leader Chuck Schumer, Majority Whip Dick Durbin and Assistant Majority Leader Patty Murray. So is some of the more vocal left-leaning members of the Democratic Caucus, including Vermont independent Bernie Sanders and Elizabeth Warren of Massachusetts.
The letter includes the signatures of red state Democrats including Jon Tester of Montana. Others include Missouri's Claire McCaskill, North Dakota's Heidi Heitkamp and Indiana's Joe Donnelly, all of whom lost their 2018 reelection bids.
Unsurprisingly, Manchin also signed the letter. Sinema was not yet elected to the Senate.
It also includes the signature of then-California Senator Kamala Harris, who would go on to be elected vice president and become a leading proponent of changing filibuster rules.
In the lead-up to Wednesday's vote, Democrats have insisted that voting rights legislation was urgently needed in response to new voting restrictions embraced by Republican-led states.
"We understand that the moment is urgent, and we've got to get this stuff done," U.S. Senator Raphael Warnock, a Georgia Democrat elected in 2020, said last month. "People on the left and the right agree that there's something awry, and yet we haven't had a debate about that."
All 27 Current Democratic Senators Who Signed the 2017 Letter
Chris Coons (Delaware)
Joe Manchin (West Virginia)
Patrick Leahy (Vermont)
Michael Bennet (Colorado)
Mark Warner (Virginia)
Amy Klobuchar (Minnesota)
Bob Casey (Pennsylvania)
Martin Heinrich (New Mexico)
Jeanne Shaheen (New Hampshire)
Sherrod Brown (Ohio)
Dianne Feinstein (California)
Kirsten Gillibrand (New York)
Brian Schatz (Hawaii)
Cory Booker (New Jersey)
Maria Cantwell (Washington)
Mazie Hirono (Hawaii)
Jon Tester (Montana)
Thomas Carper (Delaware)
Kamala Harris (California)
Maggie Hassan (New Hampshire)
Tammy Duckworth (Illinois)
Tim Kaine (Virginia)
Jack Reed (Rhode Island)
Ed Markey (Massachusetts)
Debbie Stabenow (Michigan)
Sheldon Whitehouse (Rhode Island)
Bob Menendez (New Jersey)
Update (1/20, 8:40 p.m.): This story has been updated with the full list of current Democratic senators who signed the list.