Authorities in Wauwatosa, Wisconsin, arrested 28 people during the third night of protests in the city after the district attorney did not press charges in an officer-involved shooting of a Black teenager.
The Wauwatosa Police Department (WPD) and other agencies conducted the arrests on Friday night, local station WITI reported. Law enforcement officers used tear gas to disperse a crowd of protesters who decided to stay out past 7 p.m., the curfew set by city leaders Wednesday.
"Law enforcement officers were struck with bottles, and deployed tear gas to stop the unlawful assembly," the WPD tweeted Friday.
Protests initially erupted in the city, a suburb of Milwaukee, on Wednesday after Milwaukee County District Attorney John Chisholm declined to file charges against WPD officer Joseph Mensah.
Mensah, who is also Black, is accused of fatally shooting 17-year-old Alvin Cole outside the Mayfair Mall in Wauwatosa on February 2, after police responded to a disturbance.
Chisholm presented his reasoning in a letter to WPD Chief Barry Weber, writing that Cole had run from officers while carrying a stolen 9mm handgun, the Milwaukee Journal-Sentinel reported. The district attorney said evidence showed Cole had also fired a shot while fleeing and refused officers' commands to drop the weapon.
"In this case, there is sufficient evidence that Officer Mensah had an actual subjective belief that deadly force was necessary and that belief was objectively reasonable," Chisholm wrote.
Kimberley Motley, an attorney for the Cole family, noted that Chisholm "did not say that the shooting was justified," according to the Associated Press. "And that's really important."
Motley has also represented the families of two other people whom Mensah is accused of fatally shooting while on duty. In 2016, Mensah fatally shot Jay Anderson Jr. inside his car. Mensah claimed that Anderson was reaching for a weapon inside the vehicle. Mensah also fatally shot Antonio Gonzalez in 2015 after Gonzalez approached officers with a sword. Investigators declared both shootings were justifiable, and Mensah was not formally charged with a crime in either incident.
Wauwatosa's Police and Fire Commission unanimously voted in July to suspend Mensah with pay, pending an internal review, but he has not been fired, the Journal-Sentinel reported.
"Officer Mensah is currently on paid administrative suspension as required by law pending the ongoing investigation by the Wauwatosa Police and Fire Commission," a spokeswoman told Newsweek. "That status has not changed since he was placed on paid administrative suspension in July."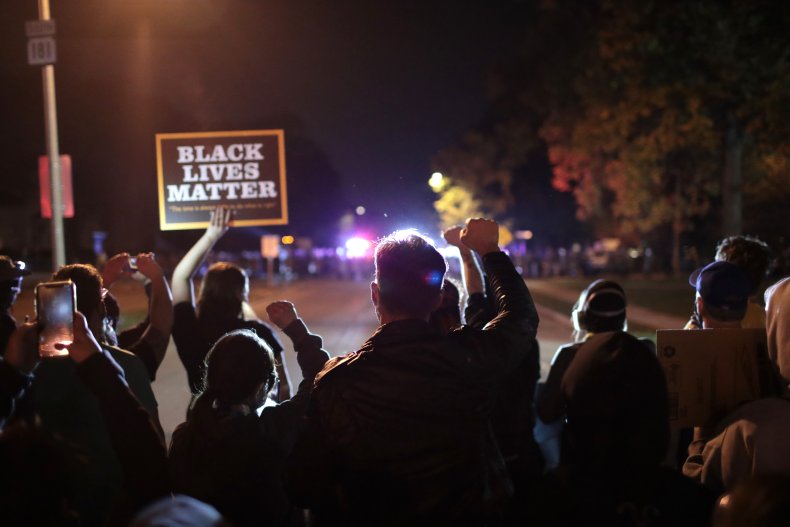 The city of Wauwatosa issued a 7 p.m. to 6 a.m. curfew on Wednesday, which will be in effect until at least October 12. But many have ignored it to protest the district attorney's decision, marching through the city and chanting "Arrest the police" and "Fire Mensah."
The WPD said 24 people were arrested in Wauwatosa Thursday night, including Cole's mother, Tracy, and his two sisters, Taleavia and Tristina.
"They arrested Tracy Cole for peacefully protesting tonight!" Motley tweeted Thursday. "She ended up in the hospital - more to follow."
Tracy and Tristina Cole were released from the hospital just after midnight Friday, but police were "refusing to give an answer on where Taleavia Cole has been taken," Motley tweeted.
Jay-Z's Team ROC, the social justice arm of his entertainment company Roc Nation, offered to pay the bail bond and citation fees for all 24 protesters arrested Thursday night, WTMJ-TV reported.
"Our hearts break for the family of Alvin Cole and the Wauwatosa community," said Team ROC director Dania Dia in a statement. "Not only did the District Attorney's Office fail to hold Officer Joseph Mensah accountable for killing Alvin, but the local police also arrested and injured Alvin's mother Tracy and his sisters as they peacefully protested."
The protests continued on Friday night after police officers declared another unlawful assembly, releasing tear gas, pepper balls and paint balls into the crowd as a form of self-defense, WITI reported. Protesters threw rocks and bottles at authorities, broke windows and also attempted to start fires, police said. Small children were reportedly present in the crowd.
By 6:50 p.m. Friday, the crowd of protesters grew to be about 100 people, forcing the Wisconsin National Guard to be deployed, the WPD said in a statement. Authorities arrested 28 adults. Two of the arrests were felony arrests, one was a misdemeanor and 25 were municipal arrests, the WPD said.
The Wauwatosa Fire Department evaluated two adult arrestees for minor injuries, police said.
"We can appreciate the anger and frustration that exists among those closely affected by recent events," the WPD statement read. "We continue to ask that all citizens comply with the emergency order in place."
When reached by Newsweek for further comment, a WPD spokeswoman responded: "The summaries we provide each night are our official communication regarding the protests."
Update (10/10/20, 2:21 p.m.): This article has been updated to include comments from the Wauwatosa Police Department. A previous version of this article incorrectly stated that Officer Joseph Mensah was placed on unpaid leave. He was placed on paid leave.