28 Democratic Senators Call for 'Immediate Ceasefire' in Gaza As Biden Admin Urges 'Calm'
A majority of the Senate Democratic Caucus on Sunday called for an "immediate ceasefire" in the Israel-Palestinian conflict, a move that President Joe Biden's administration has not yet made. Earlier today, U.S. Secretary of State Antony Blinken urged returning to "calm" and an end to the violence in Gaza.
Twenty eight senators, led by Georgia's Jon Ossoff, issued a joint statement calling for a ceasefire in the Middle East. "To prevent any further loss of civilian life and to prevent further escalation of conflict in Israel and the Palestinian territories, we urge an immediate ceasefire," the senators wrote.
The statement's signatories include Senators Cory Booker of New Jersey, Tammy Duckworth of Illinois, Dick Durbin of Illinois, Tim Kaine of Virginia, Angus King of Maine, Amy Klobuchar of Minnesota, Ed Markey of Massachusetts, Jeff Merkley of Oregon, Bernie Sanders of Vermont, Mark Warner of Virginia, Raphael Warnock of Georgia and Elizabeth Warren of Massachusetts.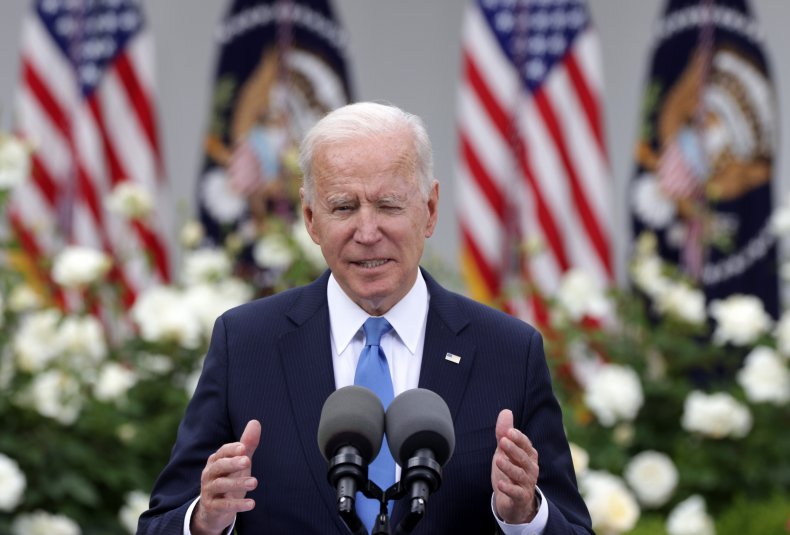 Newsweek reached out to the White House for comment. This story will be updated with any response.
Their move came after Blinken called the foreign ministers of Qatar, Saudi Arabia and Egypt on Saturday to encourage a stop to the violence.
"The secretary reiterated his call on all parties to de-escalate tensions and bring a halt to the violence, which has claimed the lives of Israeli and Palestinian civilians, including children," read a Sunday statement from the State Department, recounting Blinken's call with Sameh Shoukry in Egypt.
Later, Blinken shared a tweet, saying: "Spoke today with Egyptian Foreign Minister Shoukry to discuss the ongoing violence in Israel, West Bank, and Gaza. All parties need to de-escalate tensions—the violence must end immediately."
On Monday morning local time, Israeli forces restarted airstrikes in Gaza after a brief pause in violence. "Our fighter jets are currently striking terror targets in Gaza," the Israeli Defense Forces tweeted. Intense bombings left dozens of Palestinians dead over the weekend.
The Biden administration has repeatedly supported Israel's "right to defend itself" despite calls from progressives to condemn Israel's actions toward the Palestinians amid the region's escalating violent conflict.
Sanders, a Jewish-American independent who caucuses with Democrats, urged the Biden administration to denounce "Israeli extremists." Warren called for the federal government to "make clear to the Israeli government" that evicting Palestinians from their homes is "illegal and must stop immediately."
On Saturday, Israel Prime Minister Benjamin Netanyahu indicated that the violence in Gaza will continue for "as long as necessary."