30 Stunning Photos From the Golden Age of Jazz
Between the 1930s and the early 1950s, Manhattan's 52nd Street (also called "Swing Street," or simply "The Street") was the hub of the city's nightlife. The street was home to iconic performance venues including the Downbeat, The Three Deuces, Charlie Parker's Birdland, Famous Door, Kelly's Stable, Spotlight, Jimmy Ryan's, Club Samoa, Club Carousel, The Onyx, The 21 Club (the sole remaining club), and The Hickory House. The area was convenient to musicians because of its proximity to Broadway, where many had other gigs. It was also close to the studios of CBS Radio, where performers often guested, and Sarah Vaughan starred on national shows.
William Gottlieb began writing a jazz column for The Washington Post when he was a college senior in 1938. By the mid-1940s he was a writer-photographer for Downbeat magazine and also shot for some of the nation's most popular weekly magazines. Gottlieb wrote a book called The Golden Age Of Jazz, and in 1995 donated his collection of jazz photos to the Library Of Congress. This collection represents the atmosphere and class embodied in what became known as the Golden Age of Jazz. Stacker reviewed Gotlieb's collection and picked out 30 stunning photos offering a representative view of that historic era and its major players.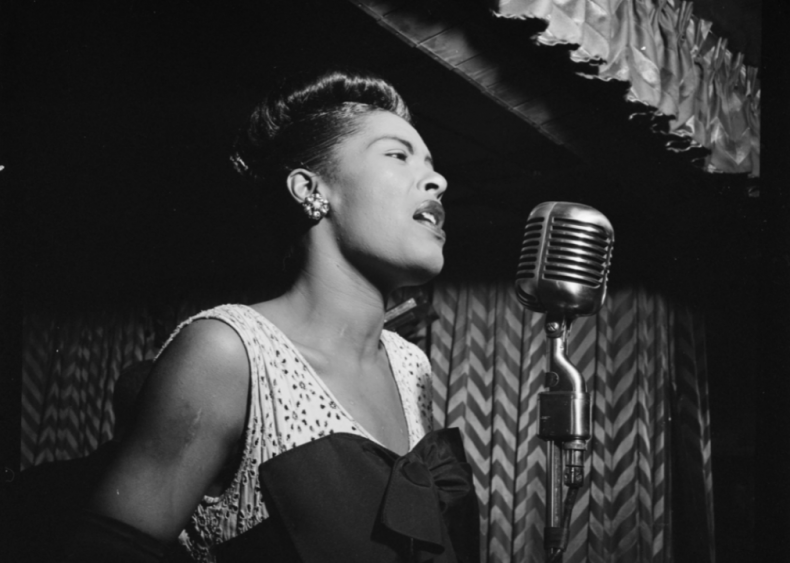 Musicians and vocalists including the likes of Miles Davis, Stan Kenton, Cab Calloway, Dizzy Gillespie, Thelonious Monk, Ella Fitzgerald, Coleman Hawkins, Sarah Vaughan, Billie Holliday, Lionel Hampton and Charlie Parker himself headlined at these nightspots. "The Street" gained national prominence via live broadcasts by a disc jockey named Sidney Tarnopol ("Symphony Sid"). For a time, Tarnopol headquartered his program at Birdland.
The coterie of headliners who played 52nd Street frequently headed uptown with their instruments after gigs to Minton's Playhouse in Harlem, a modest after-hours diner. There they would have the jam sessions where they workshopped their new sonic form—"bebop." Once the foundations were laid for this revolutionary, rapidly paced genre, 52nd Street became the unofficial bebop (or "bop") capital of the world.
Leading the bop vanguard stylistically and in influence were trumpeter Dizzy Gillespie, pianist Mary Lou Williams, pianist Monk, and drummer Max Roach. One impetus behind bop was setting a pace that was nearly impossible for pretenders to appropriate. Bop artists felt their runaway chord structures and unpredictable changes helped them secure gigs, studio work, and band positions that otherwise could have been occupied by copycats. In the late 1950s and early 1960s, the trend of urban renewal forced New York City jazz to spread geographically—or shutter altogether. The genre also lost peak popularity among the young hipsters, to folk, soul, the Beat Generation, and eventually, the British Invasion exemplified by The Beatles. The last traditional jazz spot there closed its doors in 1968; the 21 Club exists solely as a bar and restaurant now.
Gottlieb's photographic treasure truly encapsulates a 20-year run between the end of Prohibition and the music's migration to other sections of Manhattan—one of which was Greenwich Village. Continue reading to get a snapshot of the Golden Age of Jazz.
You may also like: American history from the year you were born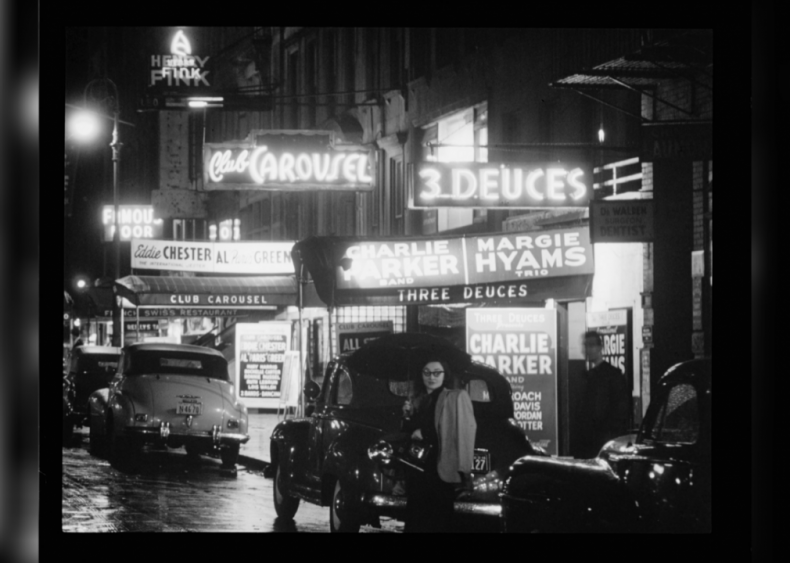 Swing shot
This image captures the neon collage of 52nd Street in New York City, circa 1948. The vantage point is from the south side of 52nd Street, between Fifth and Sixth avenues, looking west. The Three Deuces marquis announces saxophonist Charlie Parker headlining with Max Roach on drums.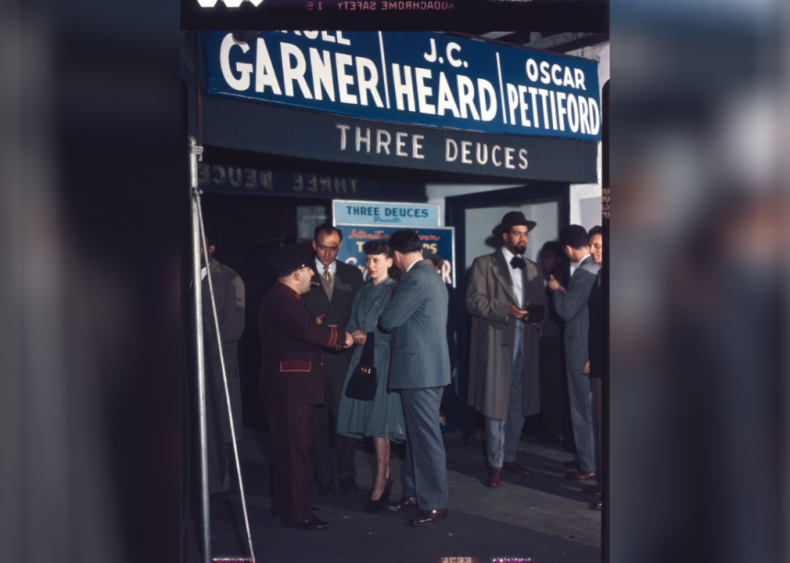 Deuces Wild
Patrons gather at The Three Deuces on 52nd Street in New York City to enjoy a bill of bassist Oscar Pettiford and drummer J.C. Heard with flashy pianist Erroll Garner, circa 1948.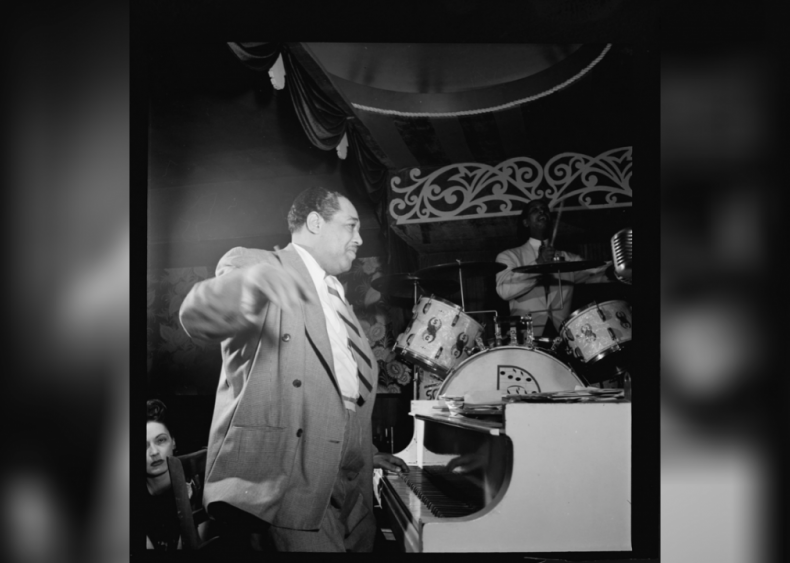 Rhythm royalty
Bandleader Duke Ellington and drummer Sonny Greer are seen in action at the Aquarium nightclub in New York City, circa November 1946. The Ellington organization was one of the tightest bands in the U.S.—so much so, its members called Ellington "Old Grumpy" and "The Headbanger"—behind his back of course.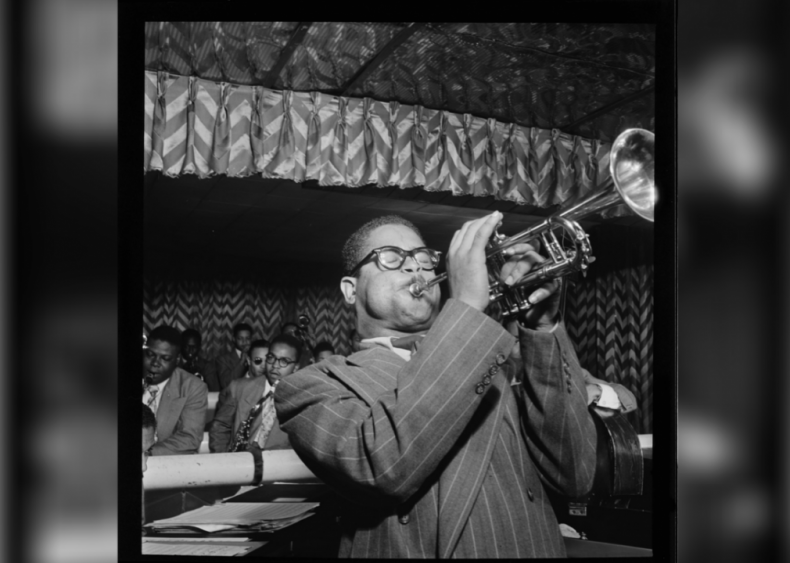 Bop quiz
Here we find a young Miles Davis and Ray Brown back trumpeter Dizzy Gillespie at the Downbeat club in New York City, while a pre-Modern Jazz Quartet John Lewis accompanies on piano, and Cecil Payne performs on baritone sax. This photo was taken between 1946 and 1948 during the dawn of bebop.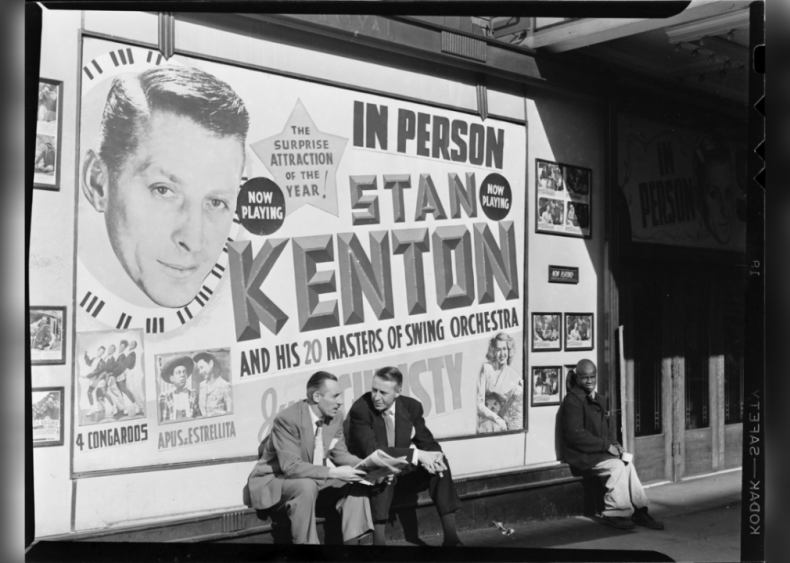 Progressive chords
Bandleader Stan Kenton and sax player Bob Gioga commiserate before a showbill announcing Kenton's big band (circa 1947 or 1948). By 1947 Kenton had expanded his orchestra to 20 members, showcasing what he termed "progressive jazz." His arranger was Pete Rugolo, later famous for his work scoring "Leave It To Beaver" and "The Fugitive."
You may also like: 50 Most Popular Baby Names for Boomers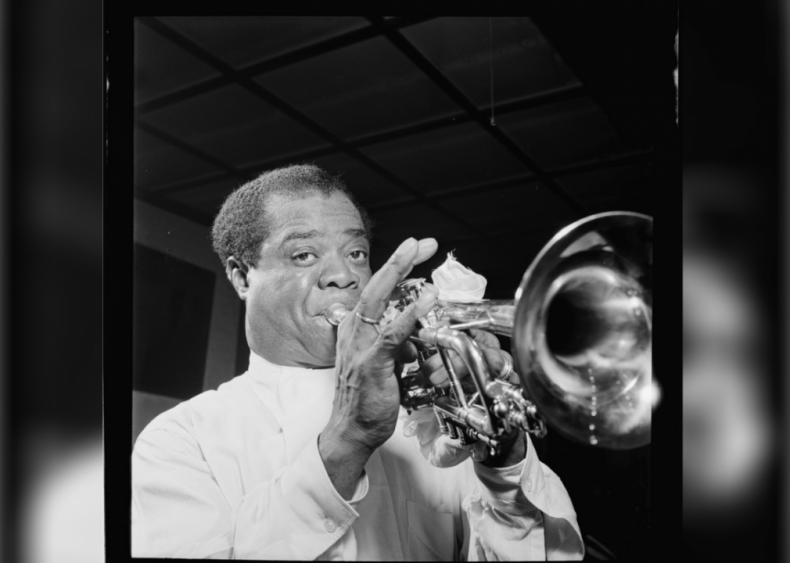 On borrowed time
Louis Armstrong is seen at Carnegie Hall in New York City, circa April 1947, holding Bobby Hackett's trumpet, as Armstrong's instrument had just been stolen. Armstrong was part of the first presentation of jazz at Carnegie Hall.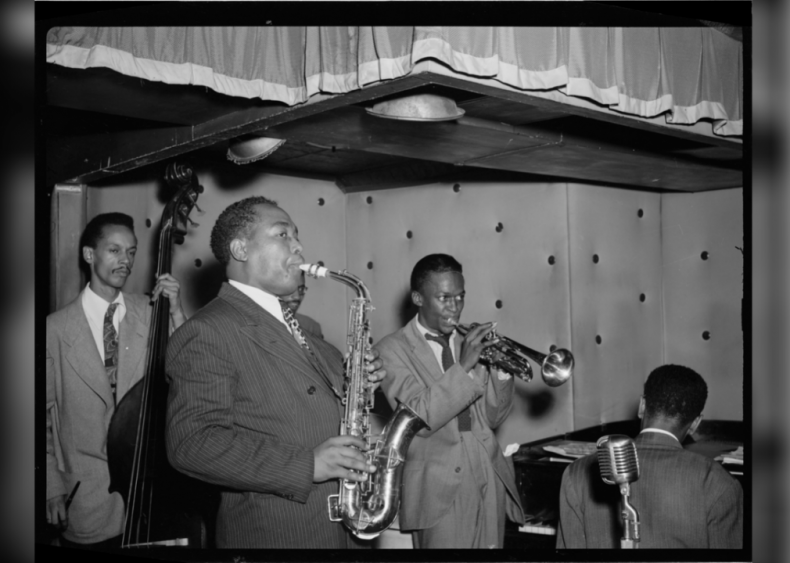 Bird is back
On the occasion of Charlie Parker's 1947 return to 52nd Street, "Bird" performs at the Three Deuces in New York City with Tommy Potter on upright bass, Duke Jordan at the piano, and Miles Davis on trumpet. This gig was a year after Parker's six-month rehab stint in California's Camarillo State Mental Hospital.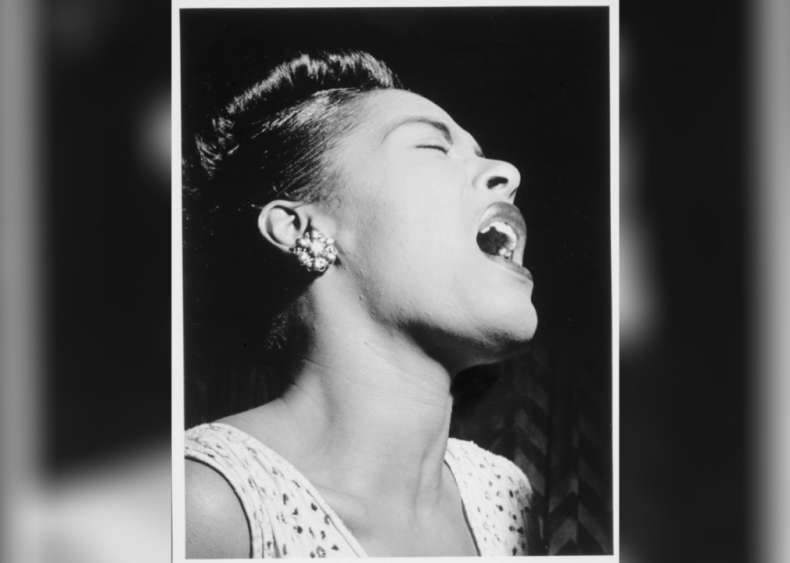 Lady's day
Billie Holiday sings in New York City at Downbeat, circa February 1947. Lady Day's coiff appears shorter in this image, and if she is wearing her trademark gardenia in her hair, it's on the other side.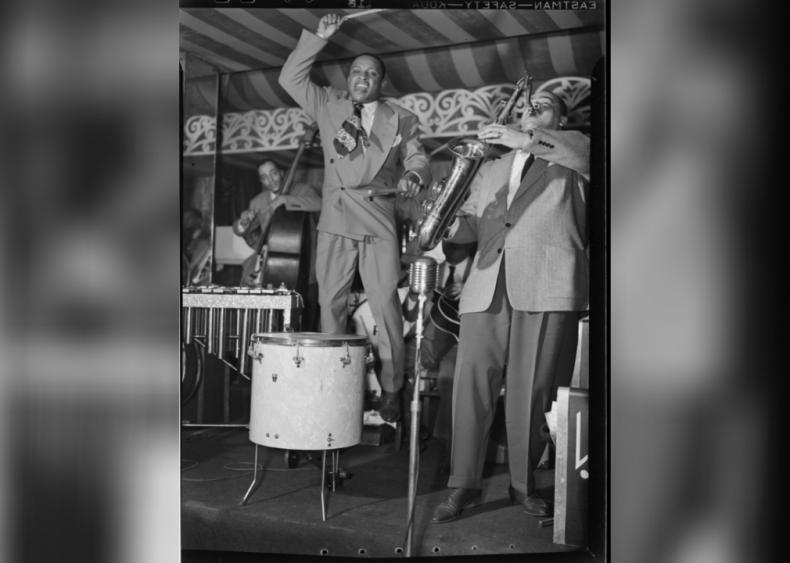 Hamp's stomp
Bandleader and vibraphonist Lionel Hampton and saxophonist Arnett Cobb play at New York City's Aquarium nightclub, circa June 1946. The Aquarium was situated at West 47th Street and Seventh Avenue. In that era, the Aquarium, the Downbeat, The Stork Club, The Three Deuces, and Jimmy Ryan's were prominent midtown venues.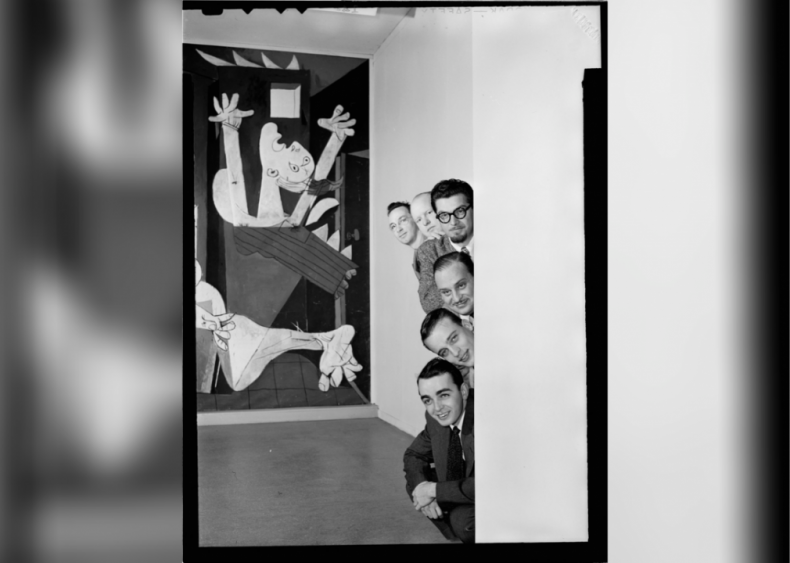 Abstraction distraction
Six "Modern School" arrangers, Neal Hefti, George Handy, Ralph Burns, Johnny Richards, Eddie Sauter and Edwin A. Finckel, pose for a photo at the Museum of Modern Art in New York City, circa March 1947. The works of Pablo Picasso and Henry Moore are on the walls around them.
You may also like: 102 Years of Milestones in Women's History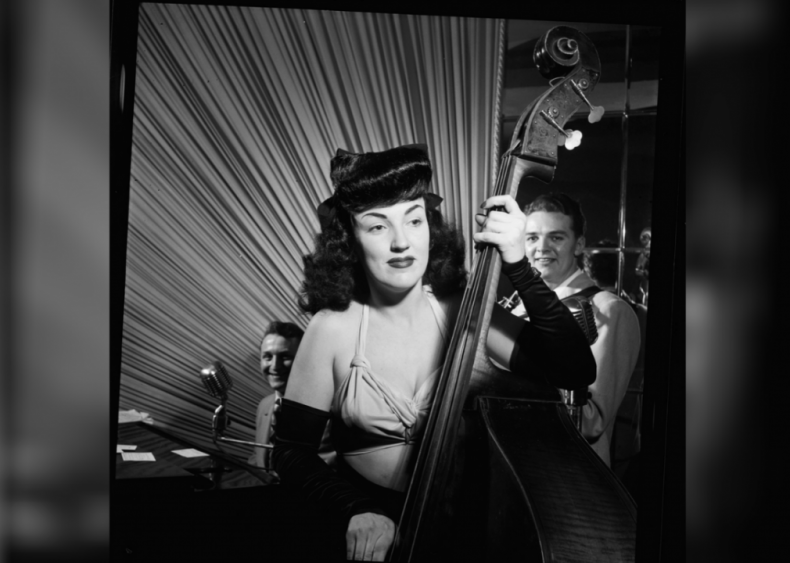 Vamping with Viv
Vivien Garry performs at Dixon's in New York City, circa May 1947, with Teddy Kaye and guitarist Arvin Charles Garrison, Garry's husband. Garry also led the Vivien Garry Quintet, in which she was the bassist.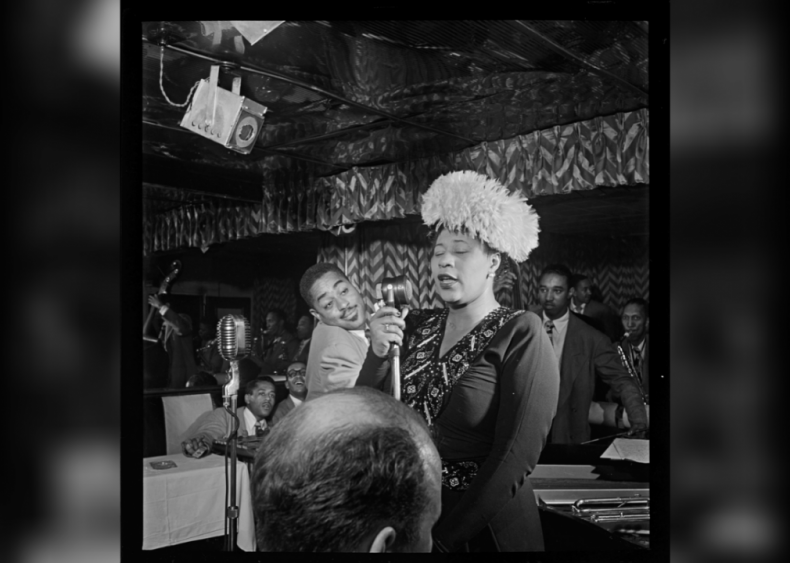 Dizz and Fitz
Ella Fitzgerald, Dizzy Gillespie, Milt "Bags" Jackson, Timmie Rosenkrantz, and Ray Brown gig at the Downbeat in New York City, circa September 1947. It was in Dizzy's band that "The First Lady Of Jazz" truly became a scat singer, influenced by the syncopation of bebop. The 30-year-old Fitzgerald also recorded "Oh, Lady Be Good!" that year.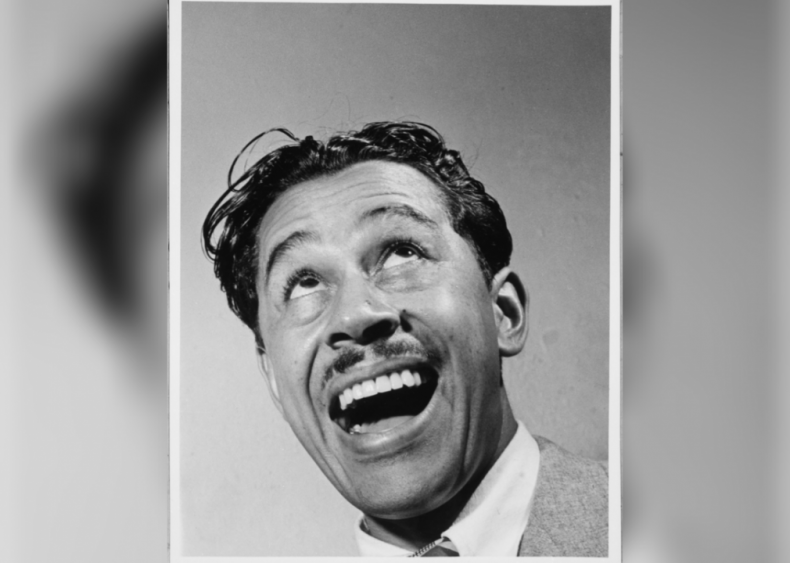 The Hi Dee Ho Man
Bandleader Cabel "Cab" Calloway is pictured in New York City, circa January 1947. Calloway was the flamboyant pioneer of the scat-singing genre, which helped birth hip-hop. He attended Lincoln University with fellow Baltimore native Thurgood Marshall. Calloway also popularized the loose-fitting zoot suit.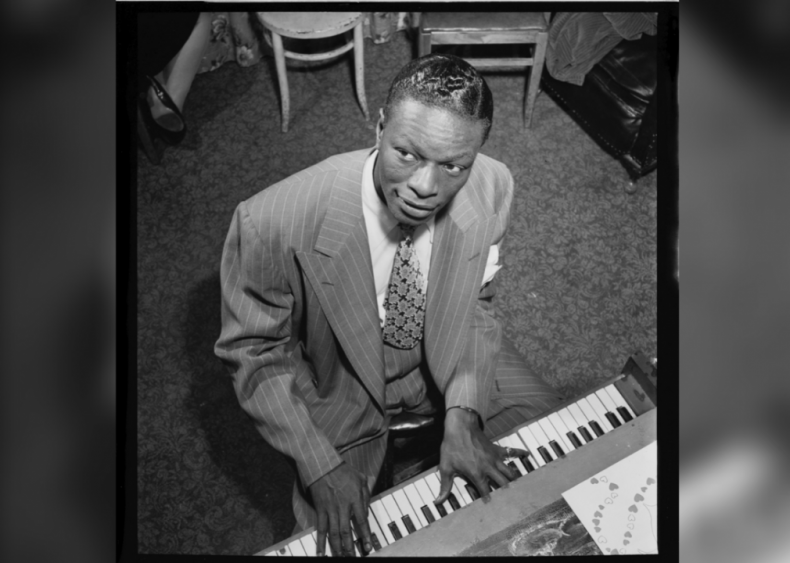 Smooth King
Pianist Nat King Cole is pictured at the piano in New York City, circa June 1947. Before he was a silky solo crooner, Cole was a brilliant slide pianist leading The King Cole Trio. Several years later he became the first Black person to host a national TV show.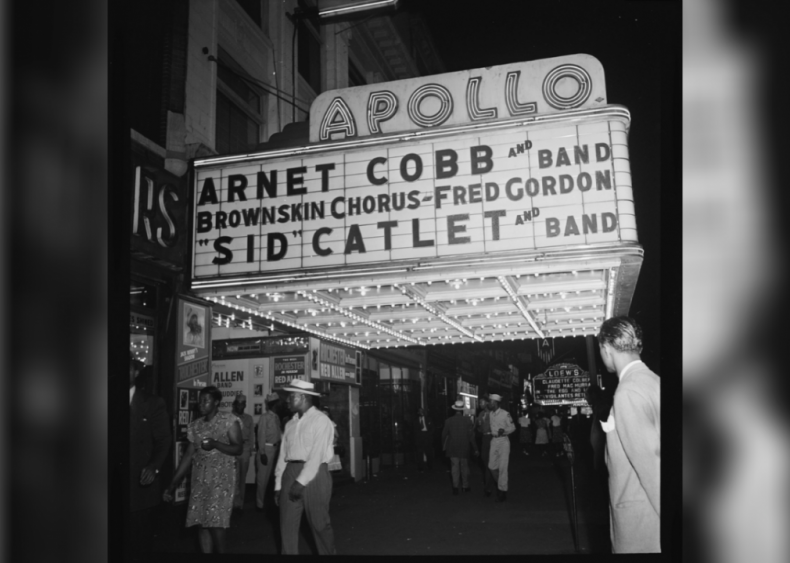 Showtime at the Apollo
Arnett Cobb and his band share the bill with "Big" Sid Catlett and his group at the Apollo Theatre in Harlem, New York City, between 1946 and 1948. Catlett was a legendary drummer, who played in Sarah Vaughan's band. His namesake son Sid Catlett was a basketball star at Notre Dame.
You may also like: 63 Memorable Moments From Every Year in Grammy History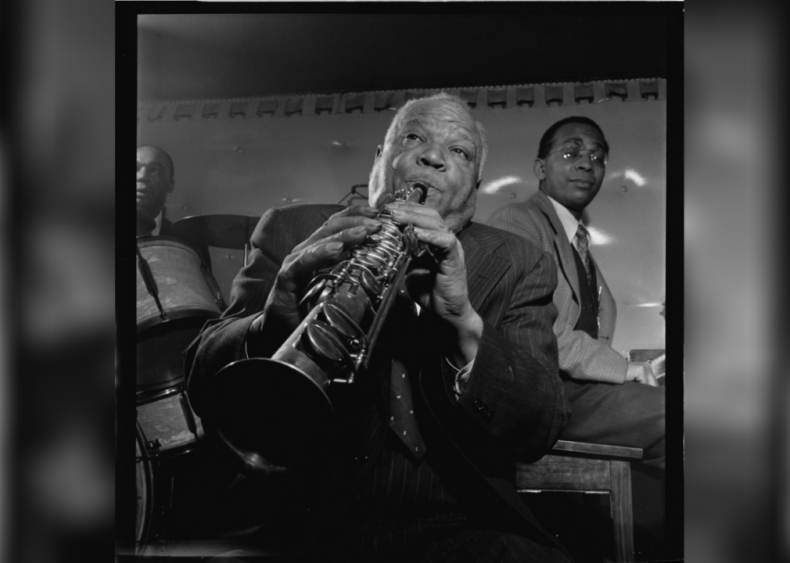 A Symphony With Sidney
This shot of Sidney Bechet, Freddie Moore, and Lloyd Phillips was taken at Jimmy Ryan's club in midtown Manhattan, circa June 1947. Bechet, a clarinetist and sax player with an infamously erratic temperament, is considered a father of jazz and was one of the firsts to record a solo jazz record.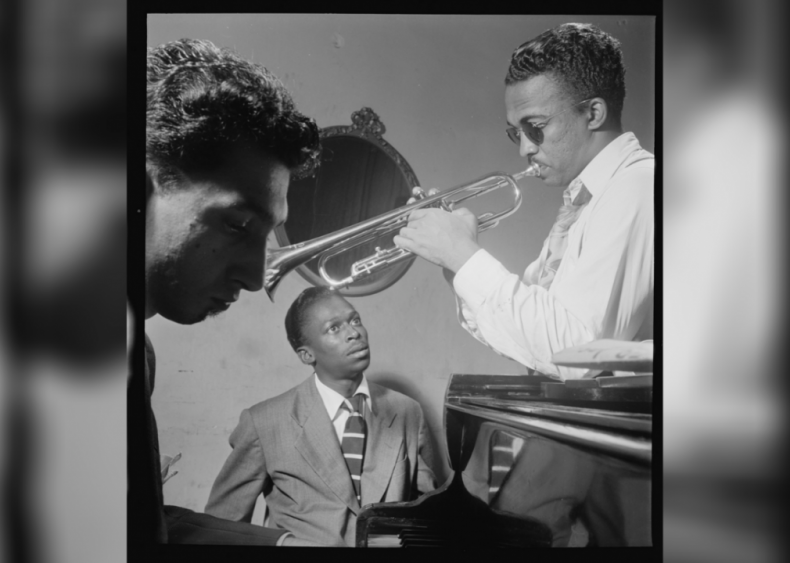 Miles to go
A young Miles Davis is captured observing trumpeter Howard McGhee in New York City, circa September 1947. Davis moved from his native Illinois to attend the Juilliard School but dropped out when he realized he learned more by watching and sitting in with fellow musicians in the city's jazz clubs.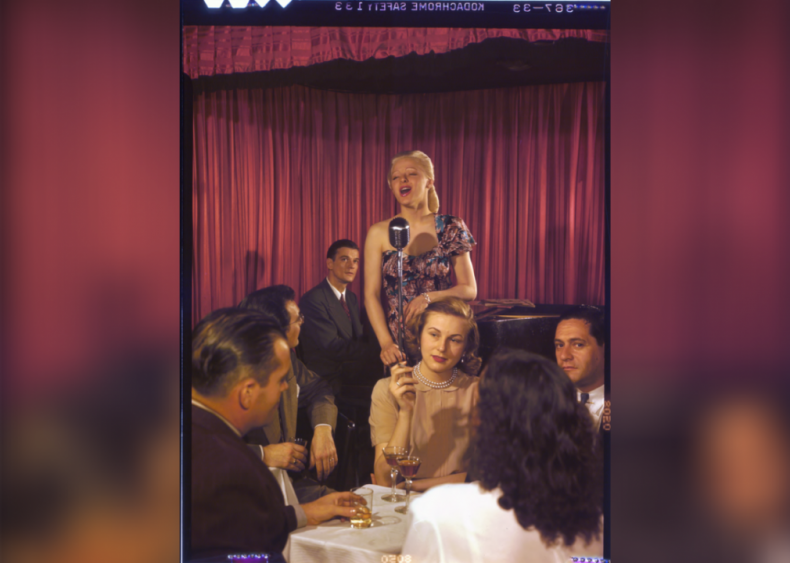 On the town
A nightclub singer performs at a venue on midtown Manhattan's 52nd Street (circa 1948), which was the hub of postwar jazz nightlife, and home to venues such as Birdland, Jimmy Ryan's, Famous Door, The Club Carousel, The Onyx, and Spotlight. It was referred to as "Swing Street," or simply "The Street."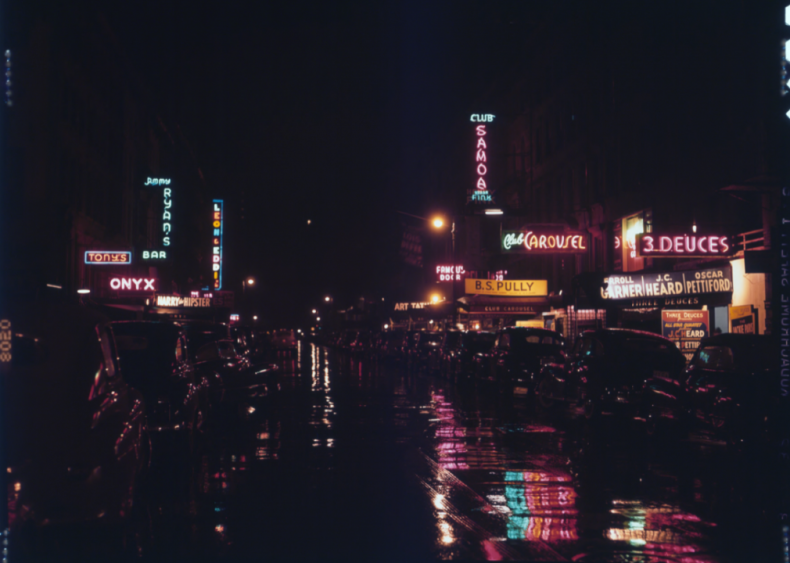 Club collage
The south side of 52nd Street is pictured here, looking west from between Fifth and Sixth avenues. The shot, taken circa July 1948, shows Samoa Club, Jimmy Ryan's, the Onyx, Tony's, the Club Carousel, and The Three Deuces, where Erroll Garner is headlining with Oscar Pettiford and J.C. Heard.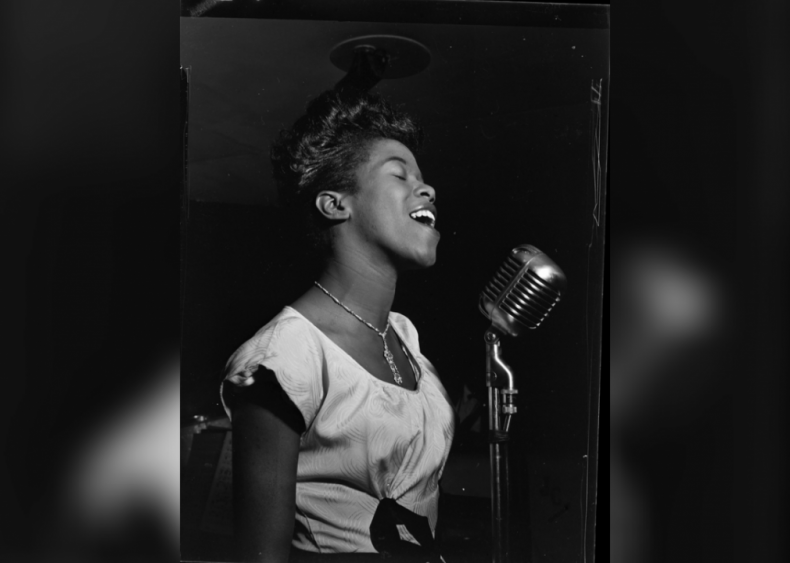 Divine intervention
Sarah Vaughan sings at Cafe Society in New York City, circa August 1946. Nicknamed "Sassy," and "The Divine Sarah Vaughan," the Newark native was 22 when this photo was taken. She was discovered four years earlier by piano legend Earl "Fatha" Hines while she was entering talent contests at Harlem's Apollo Theater. She began her solo career in 1945 on 52nd Street at The Three Deuces, the Famous Door, the Onyx, and the Downbeat.
You may also like: 103 Popular Child Stars From the Last 103 Years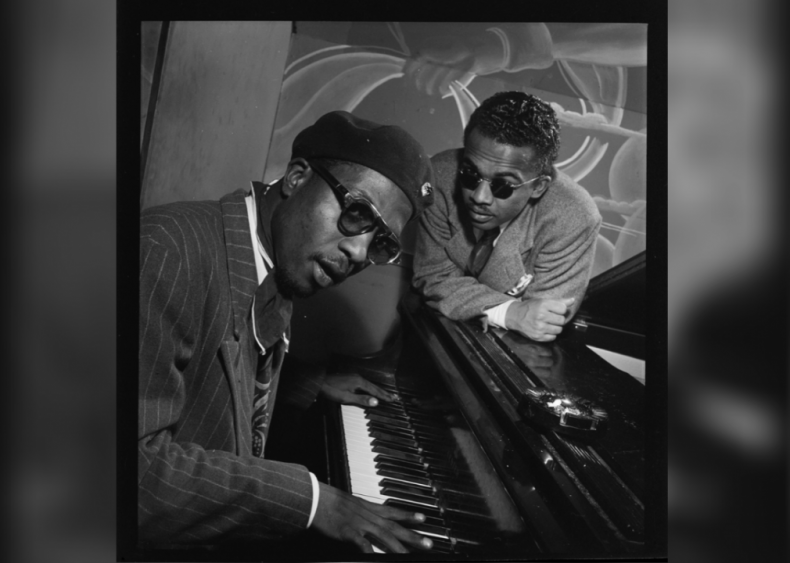 Uptown workshop
Bebop pianist Thelonius Monk and trumpeter Howard McGhee are pictured at Minton's Playhouse in Harlem, New York City, circa September 1947. Minton's was an after-hours restaurant where musicians such as Monk experimented with the rapid, syncopated scales that became bebop, or "bop." The players upped these tempos to prevent other musicians from being able to appropriate their style.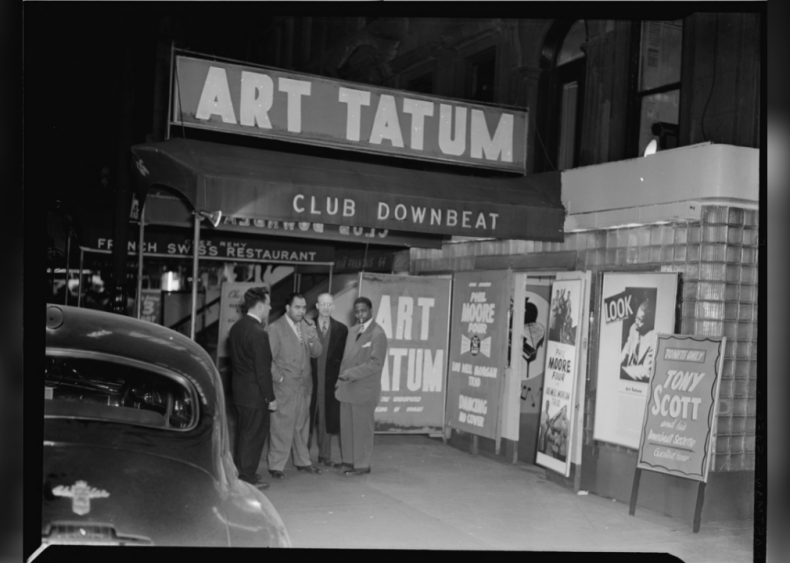 Titans of tempo
Pianist Art Tatum and bandleader and arranger Phil Moore stand outside Downbeat on 52nd Street in New York City, sometime between 1946 and 1948. In the late 1940s, Moore toured with an ensemble called The Phil Moore Four (featuring Milt Hinton on bass). Moore helped jumpstart singer/actress Dorothy Dandridge's career. Tatum influenced everyone from Ray Charles and Bud Powell to Charlie Parker, Mary Lou Williams, and Herbie Hancock.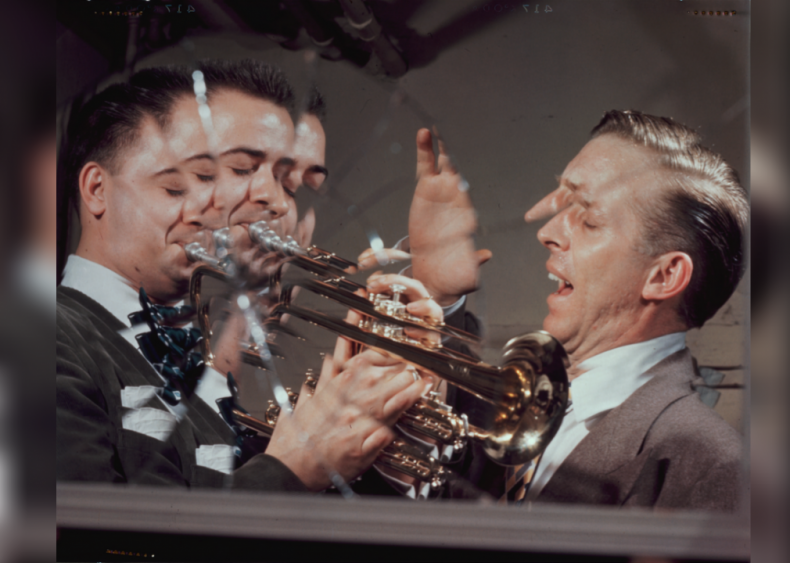 Kenton's Wunderkind
Bandleader Stan Kenton and Buddy Childers are pictured here in Richmond, Virginia, in 1947 or 1948. Childers was a trumpeter and composer, who is only 21 or 22 here. Kenton asked him to join his band at age 16. Kenton's arranger in 1947 and 1948 was future TV and film composer Pete Rugolo.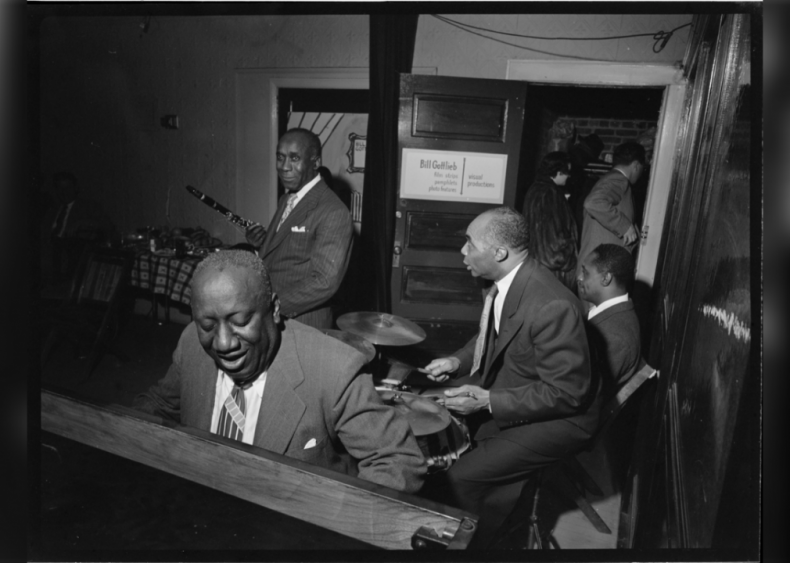 Slide show
Pianist James P. Johnson plays with Freddie Moore at William P. Gottlieb's office party in Jamaica, Queens, New York City, circa 1948. Johnson was an early vanguardist of slide piano. "Slide" was a divergent genre from "rag"(time)—more bluesy and free swinging, with an interplay between the right and left hands.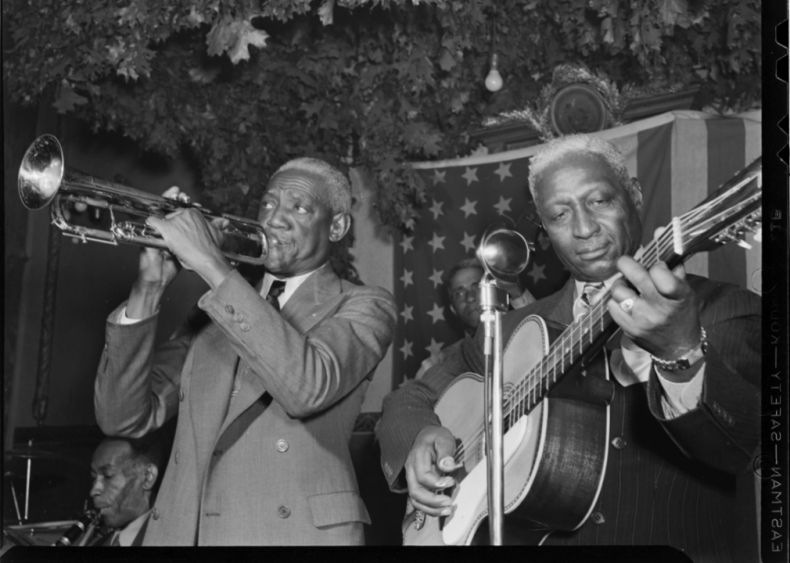 Blue interlude
Trumpeter Bunk Johnson, blues singer Huddie "Leadbelly" Ledbetter, and Alcide Pavageau perform at Stuyvesant Casino in New York City, circa June 1946. Johnson suffered a stroke in 1948, and died the following year. Leadbelly wrote the political anthem "Bourgeois Blues," and popularized the tunes "Goodnight, Irene," "Midnight Special," and "Boll Weevil."
You may also like: 50 Totally Random Facts About the U.S.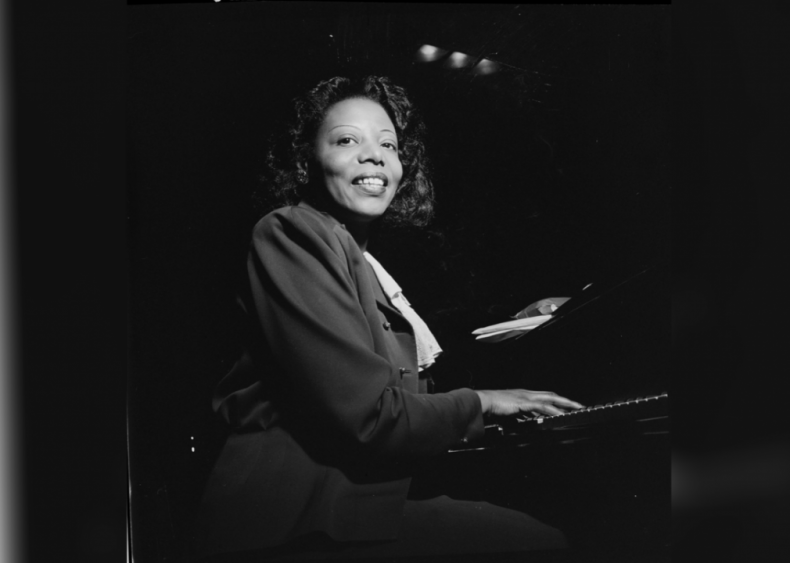 Birth of bebop
Pioneering pianist Mary Lou Williams is pictured at CBS Radio studio in New York City, circa April 1947. Williams, 37 here, hosted a weekly radio show called "Mary Lou Williams' Piano Workshop." She headlined at Cafe Society in Manhattan during this period, and mentored the likes of Thelonious Monk and Dizzy Gillespie in the nuances of early bebop.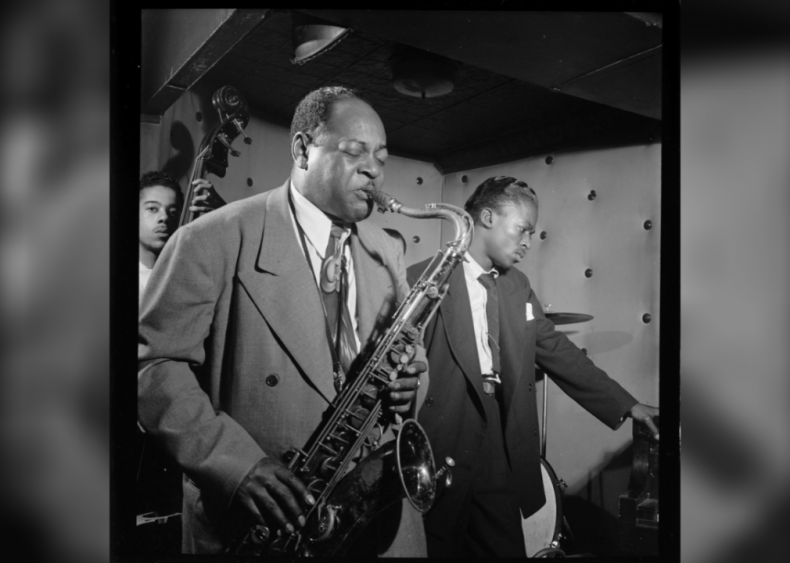 Passing the torch
Tenor sax king Coleman "Bean" Hawkins and Miles Davis are pictured at 52nd Street nightspot the Three Deuces, circa July 1947. Miles had just turned 21 when this photo was taken. He dropped out of Juilliard two years earlier, replacing Dizzy Gillespie in Charlie Parker's quintet. In 1947 he was playing in Billy Eckstine's band. Hawkins was a headliner at Kelly's Stables on 52nd Street.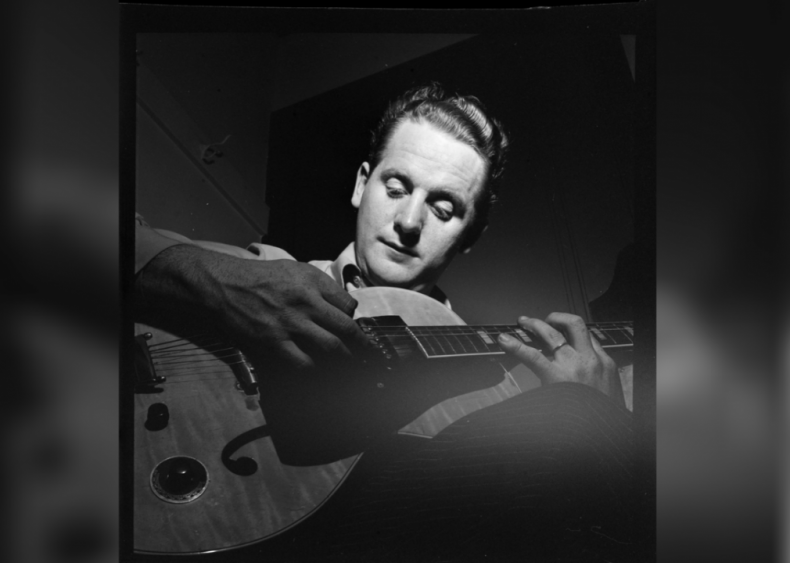 Paul plugs in
Innovative guitarist Les Paul is pictured in New York City, circa January 1947. Paul helped invent and popularize the electric guitar and toured with The Andrews Sisters in 1946. A year after this photo, Paul was in a life-threatening auto accident. Unable to rebuild his injured elbow, doctors fused Paul's elbow at a 90-degree angle to allow him to continue playing guitar—at his request.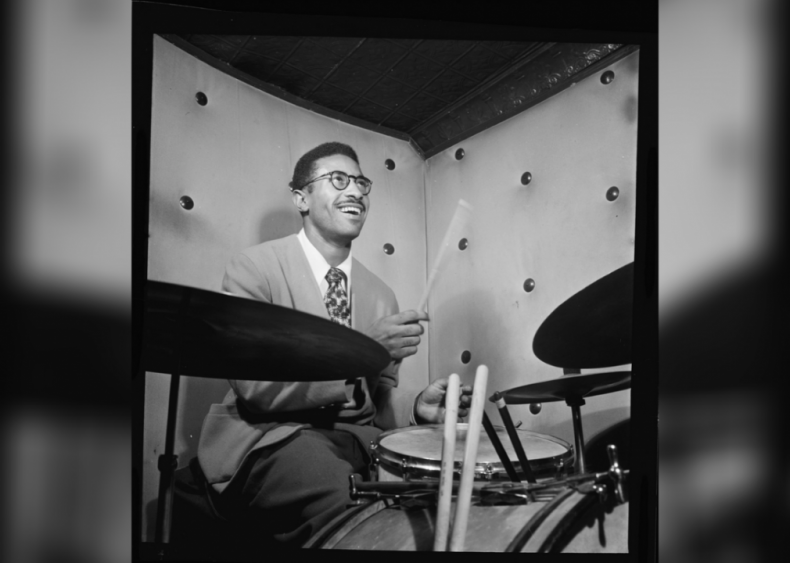 Pacesetter
Bebop percussion ace Max Roach hams it up at 52nd Street's Three Deuces nightclub, circa October 1947. Roach, only 23 here, played in Dizzy Gillespie's band. Five years before this date, he subbed for Sonny Greer in Duke Ellington's band, at Manhattan's Paramount Theater. Roach was one of bebop's first recognized drummers.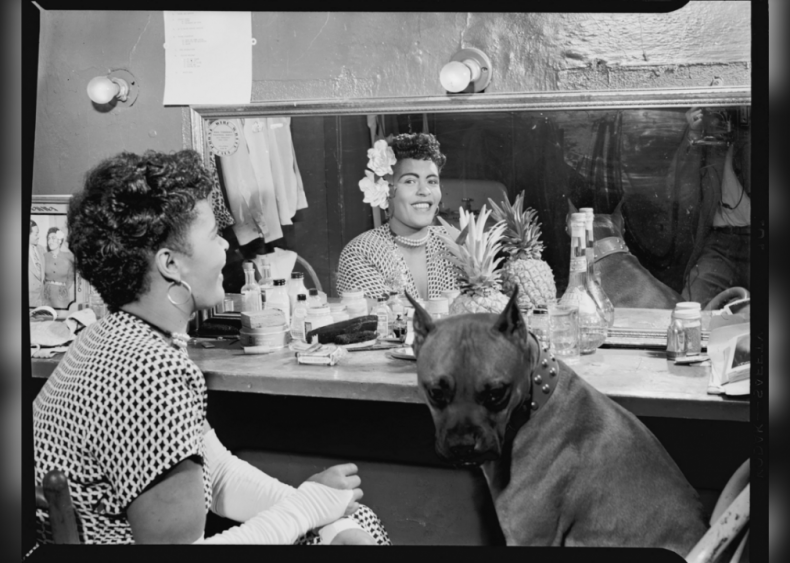 Pet sounds
Billie Holiday is captured backstage with her boxer Mister, at 52nd Street's Downbeat club, circa February 1947. At this time, Mildred Bailey was the feature performer a quarter mile away at The Blue Angel.
You may also like: 50 Famous Songs About Every State