White House Senior Advisor Cedric Richmond said on Sunday that President Joe Biden's administration will continue to push for the $3.5 trillion spending package despite Democratic West Virginia Senator Joe Manchin's concerns.
"Senator Manchin is a valued partner. We're going to continue to work with him. But we're also going to continue to push our agenda," Richmond said on ABC News' This Week. "And part of this is just the sausage-making process at the end. It just happens. And this is happening in public view. But it's not abnormal for this to happen in the legislative process. And we're still full steam ahead on trying to get our legislation passed."
The $3.5 trillion plan includes budgets that will be allocated to improve health and education and combat climate change through clean energy development initiatives.
The budget set for the proposal has sparked concerns from moderate Democratic senators such as Manchin and Kyrsten Sinema who said that they will not support the plan's cost.
"Ignoring the fiscal consequences of our policy choices will create a disastrous future for the next generation of Americans," Manchin wrote in a recent Wall Street Journal op-ed. "I, for one, won't support a $3.5 trillion bill, or anywhere near that level of additional spending, without greater clarity about why Congress chooses to ignore the serious effects inflation and debt have on existing government programs."
On Thursday, Democratic New York Congresswoman Alexandria Ocasio-Cortez, criticized Manchin's op-ed comments on the bill and called out his connections with fuel giants.
"Manchin has weekly huddles w/ Exxon & is one of many senators who gives lobbyists their pen to write so-called 'bipartisan' fossil fuel bills," Ocasio-Cortez said on Thursday on Twitter. "It's killing people. Our people. At least 12 last night. Sick of this 'bipartisan' corruption that masquerades as clear-eyed moderation."
Richmond on Sunday argued that it is important to address climate change and "how important it is to have resiliency and to shore up our electrical grid and invest in our infrastructure."
"These once-in-a-century storms are starting to come almost every other year. They're bigger. They're stronger. They wreak more havoc. And we're going to address that in our legislation. And the president created this legislation over a year ago. So he was ahead of this, and now we just need Congress to come along with us," Richmond added.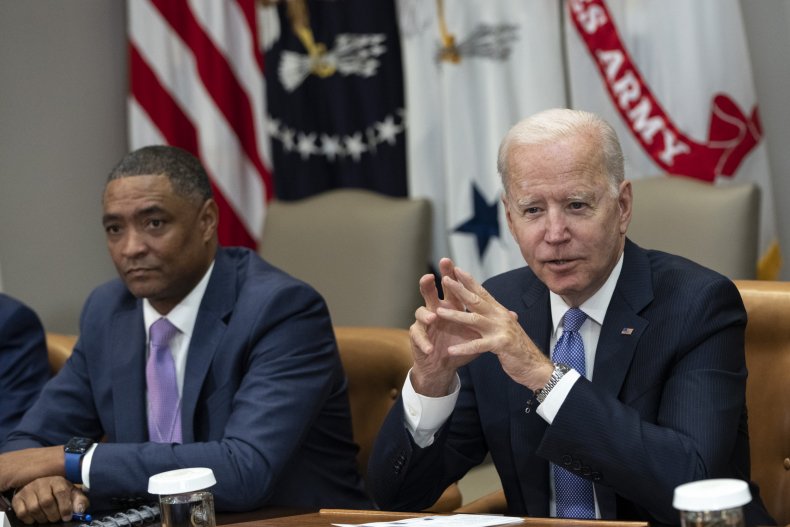 The bill has gained other supporters as some parts of the country continue to reel out of the impact of Hurricane Ida. For instance, Senate Majority Leader Charles Schumer is optimistic about the impact of the proposal on climate change.
"In our analysis of the combined impact of both the Infrastructure Investment and Jobs Act and the Budget Resolution's instructions, we are on track to reduce U.S. emissions to approximately 45 percent beneath 2005 levels by 2030," Schumer wrote in a "Dear Colleague" letter.
Newsweek contacted Manchin's office for comments but didn't immediately receive a response.