Five former Trump administration officials joined over 120 Republican former officials and lawmakers in calling President Donald Trump a "threat" to the U.S. and demanding that he be removed from office.
Calls for Trump to be removed from office, either through invoking the 25th Amendment or by impeachment, have grown swiftly over the past week, after pro-Trump rioters stormed the nation's Capitol in a failed attempt to overturn President-elect Joe Biden's victory. Ahead of the insurrection, Trump spoke at a nearby rally at the Ellipse, urging his supporters to march to the Capitol and to "fight harder" to overturn the election results.
In response to the assault, the Democratic-controlled House of Representatives is expected on Wednesday to impeach Trump for a second time, with some Republican support.
"As Republicans, former Republicans, and former officials of Republican administrations, we believe that President Trump remaining in office is a threat to the United States. He must be removed from office immediately," the statement from the former officials, published Wednesday morning, said.
Former Department of Homeland Security chief of staff Miles Taylor, former DHS Assistant Secretary Elizabeth Neumann, former general counsel of the Peace Corps Robert Shanks, former general counsel of DHS John Mitnick and former Homeland Security and Counterterrorism Adviser to Vice President Mike Pence Olivia Troye signed onto the statement.
Numerous other officials that served under former Republican Presidents George W. Bush, George H.W. Bush, Ronald Reagan and Gerald Ford put their names on the statement, as did a number of former Republican lawmakers.
Other prominent signatories include former National Security Agency and CIA Director Michael Hayden; former Chairman of the Republican National Committee Michael Steele; former Representatives Claudine Schneider of Rhode Island, James Walsh of New York, Alan Steelman of Texas, Jim Greenwood of Pennsylvania, Peter Smith of Vermont and Mickey Edwards of Oklahoma; and former New Jersey Governor Christine Todd Whitman.
The statement was published by the conservative anti-Trump organization Defending Democracy Together, which was launched in 2019 and formed the initiative called Republicans for the Rule of Law. The organization has repeatedly put forward ads and initiatives to challenge Trump and urged voters to reject the president.
At least five Republican members of Congress have announced that they will vote with the Democrats to impeach Trump on Wednesday. The most prominent GOP lawmaker to do so is Representative Liz Cheney of Wyoming, who chairs the House Republican Conference.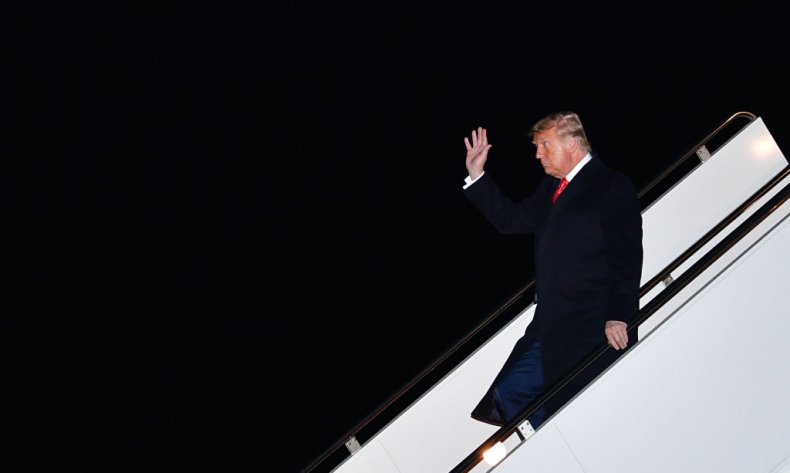 "The President of the United States summoned this mob, assembled the mob, and lit the flame of this attack. Everything that followed was his doing. None of this would have happened without the President. The President could have immediately and forcefully intervened to stop the violence. He did not. There has never been a greater betrayal by a President of the United States of his office and his oath to the Constitution," Cheney said in a Tuesday statement.
Fellow GOP Representatives John Katko of New York, Adam Kinzinger of Illinois, Fred Upton of Michigan and Jaime Herrera Beutler of Washington state also announced Tuesday that they would back impeachment.
Newsweek reached out to the White House for comment but did not hear back before publication.