50 Best Sci-Fi Shows of All Time
The genre of science fiction can use the cover of space, unrealized tech, or the future to tell the stories about ourselves we're afraid to hear. By shielding topics in an otherworldly unreality, sci-fi has the capacity to dig deep into the most difficult, uncomfortable, and even appalling parts of our nature, nations, and selves. To better understand the impacts of sci-fi on our culture, Stacker pulled data on all sci-fi series of all time and ranked them according to IMDb user ratings as of Jan. 13, 2020), with No. 1 being the best. To qualify, the series had to have at least 10,000 votes and be in the English language. Limited series were also considered.
The best sci-fi tells stories with vision, ambition, drama, and even, many times, humor. In the mid-20th century, Rod Serling's TV series The Twilight Zone showed network viewers what could happen to our ability to be civil in the face of nuclear fallout—or how our own prejudices and fears might turn us into the very monsters we seek to avoid. By 1966, Gene Roddenberry was using Star Trek to explore how a nation can be a force for good without becoming imperialist. And in the 1990s, Chris Carter's The X-Files concerned itself with our own government's overreach.
Today, sci-fi confronts us over and over again with a familiar question: How will cultural shifts and advancing technology transform our society?
Incredibly, Roddenberry's Star Trek—along with many others on this list—was unsuccessful at the time it aired, building an army of devoted fans over time. These 50 shows rarely broke rating records; but those who loved them, loved them intensely as is evidenced by cosplay, conventions, letter-writing campaigns, marathon showings, and even mobs hounding McDonald's for Szechuan sauce.
Let's boldly go from No. 50 to No. 1.
You may also like: Longest-running TV series
50. 'Life on Mars' (2006–2007)
- IMDb user rating: 8.3
- Votes: 28,696
This British series tells the story of Manchester police officer Sam Tyler, played by John Simm, who is hit by a car in 2006 and wakes up as a cop in 1973. Throughout the show, we see Tyler trying to grasp his new reality while the series does a great job at keeping its own reality ambiguous. Is Tyler dead, in a coma, or actually a time-traveler? Simm was nominated for a British Academy of Film and Television Arts Awards for his performance. The show was also adapted for American television by ABC but was canceled after one season.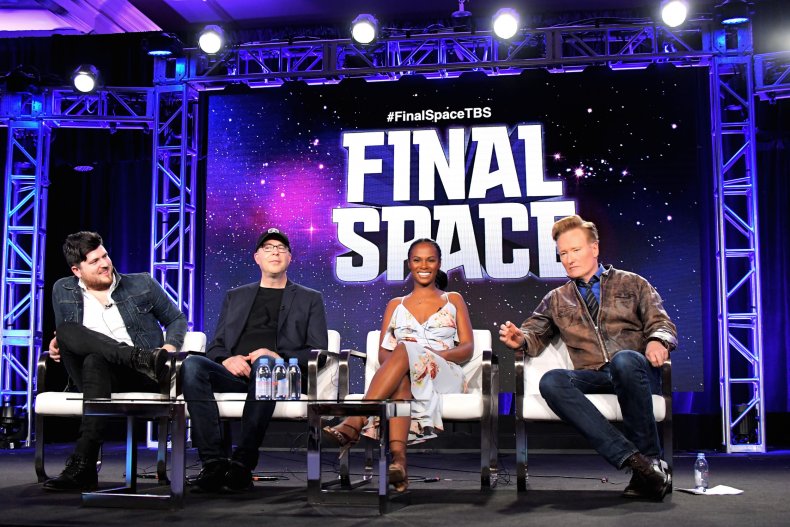 49. 'Final Space' (2018–present)
- IMDb user rating: 8.3
- Votes: 32,266
Conan O'Brien acts as the executive producer of Final Space an animated space opera comedy that originated as a YouTube short. The series, which follows a dim-witted intergalactic prisoner named Gary Goodspeed and his alien friend Mooncake, hasn't garnered a ton of praise from critics—but that has hardly discouraged fans, who love the show's unique sense of humor. Although an official release date for the third season has yet to be announced, the show will debut on Adult Swim in early 2021 before it is released on TBS, Netflix, and HBO Max.
48. 'Dirk Gently's Holistic Detective Agency' (2016–2017)
- IMDb user rating: 8.3
- Votes: 42,479
This BBC America series follows Dirk Gently (Samuel Barnett), a "holistic detective" who looks into strange cases that can be understood through the interconnectivity of the universe. Elijah Wood appears as Dirk Gently's assistant. The show created by Max Landis, the praised director of Chronicle and maligned director of Bright, and based on the novel of the same name by Douglas Adams, who also wrote Hitchhiker's Guide to the Galaxy.
47. 'Forever' (2014–2015)
- IMDb user rating: 8.3
- Votes: 52,819
Canceled after a single season on ABC, Forever followed a 200-year-old medical examiner (Ioan Gruffudd) who uses his years of knowledge to assist the NYPD while desperately searching for a way to end his immortality. Despite the legion of hardcore fans still desperately holding out for a revival, the network failed to renew the show citing low ratings.
46. 'Star Wars: The Clone Wars' (2008–2020)
- IMDb user rating: 8.3
- Votes: 61,264
One of the earliest Star Wars projects to hit the small screen, Star Wars: The Clone Warsbegan as a feature-length, computer-animated film before spinning off into a Cartoon Network series. After five successful seasons on the cable network and a sixth truncated season on Netflix, the show took an extended break before debuting its seventh and final season on Disney+. This long-anticipated revival wrapped up many of the storylines fans had been introduced to way back in 2008 and left them with closure for characters who don't appear in other comics, movies, or currently running series.
45. 'Star Trek: The Original Series' (1966–1969)
- IMDb user rating: 8.3
- Votes: 73,176
Set in the 23rd century, Star Trek: The Original Seriesfollows Captain James T. Kirk and his crew of 430 men and women as they travel around the Milky Way aboard the starship U.S.S. Enterprise seeking out new life and boldly going where no man has gone before. William Shatner, Leonard Nimoy, and DeForest Kelley star in this cult classic show, which, shockingly, was canceled after just three seasons due to low ratings.
44. 'Orphan Black' (2013–2017)
- IMDb user rating: 8.3
- Votes: 100,780
This Canadian series, which ran in the United States on BBC America, opens with a con artist (Tatiana Maslany) witnessing the suicide of her doppelgänger (also Tatiana Maslany). The con artist steals the dead woman's identity, and ultimately comes face to face with many other doppelgängers she begins to understand her dark history. Maslany wasn't nominated for an Emmy for the first two seasons, much to the outspoken chagrin of fans and critics alike. She was nominated for season three—and won—for her many outstanding performances in season four.
43. 'Sense8' (2015–2018)
- IMDb user rating: 8.3
- Votes: 138,425
This Netflix series, made by The Matrix creators Lana and Lilly Wachowski and comic book writer J. Michael Straczynski, follows eight strangers from different parts of the world who are psychically connected. As they work to unscramble their odd supernatural circumstances, the characters are chased by a high-ranking "sensate" in an international group of the psychically interconnected. For all the Splash-heads in the building, Daryl Hannah plays a sensate in the show. The show was canceled after two seasons, but fans rallied; as a result, Netflix released a two-hour finale in June 2018.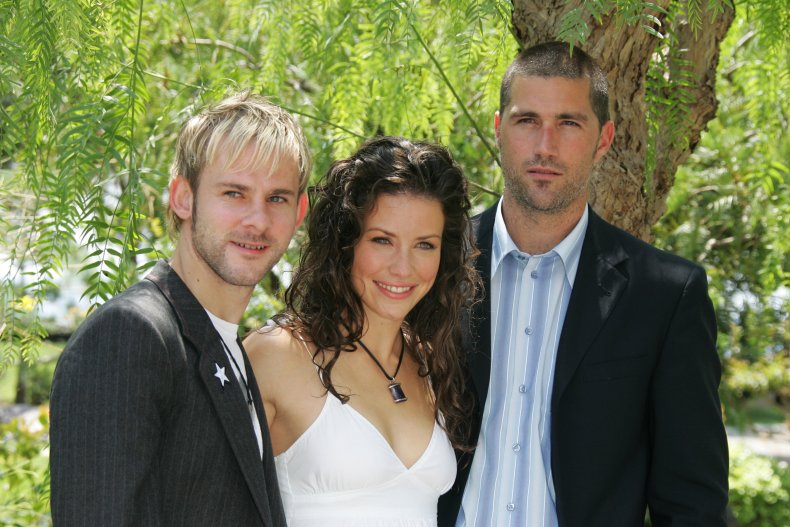 42. 'Lost' (2004–2010)
- IMDb user rating: 8.3
- Votes: 492,652
Opening with an impressively shocking plane crash on a desert island, this classic J.J. Abrams and Damon Lindelof series just gets more bizarre from there. The first few seasons deal with the complications of building a small tribe and discovering more inexplicable things on the island. The show was unfortunately too popular for its own good: The creators seemed to be grasping for straws by the end. Still, the Emmy Award-winning show's ensemble cast overflowed with talent and rightly made a star out of Lindelof while also shooting Abrams to another stratosphere.
41. 'Violet Evergarden' (2018)
- IMDb user rating: 8.4
- Votes: 11,153
Based on a series of anime novels, Violet Evergarden follows a young, female ex-soldier as she readjusts to civilian life and takes a job at a writer's agency in the aftermath of a great war. The series is set in a futuristic world where robots and humans live and work in tandem with each other. The show's heroine Violet is part-robot herself. The series is slow-paced and character-driven but makes for a sweet watch for those with a Netflix account.
You may also like: 50 Famously Misunderstood Songs, Explained
40. 'Spider-Man: The Animated Series' (1994–1998)
- IMDb user rating: 8.4
- Votes: 26,558
For years, Spider-Man: The Animated Series (a '90s reboot of the original) was the longest-running and most critically acclaimed iteration of the superhero cartoon. With excellent animation, darker storylines, and superb character development, the series was a massive hit for the duration of its five seasons.
39. 'Regular Show' (2009–2017)
- IMDb user rating: 8.4
- Votes: 29,524
The Cartoon Network hit Regular Showfollows two friends—a blue jay named Mordecai and a raccoon named Rigby—who work as groundskeepers at a local park and regularly go to great lengths to skirt their responsibilities. As a result, the duo often finds themselves embarking on surreal and supernatural misadventures. The series ran for eight seasons and was nominated for a handful of Emmy and Annie awards.
38. 'Red Dwarf' (1988–present)
- IMDb user rating: 8.4
- Votes: 32,519
This cult-favorite series ran from 1988–1999 on BBC Two and was rebooted in 2008 on the U.K. channel Dave. Centering around the last living human Dave Lister (Craig Charles) and a hologram of his deceased bunkmate (Chris Barrie), the show follows the conventional Odd Couple framing—but in space. An American pilot was filmed, recast, and then re-filmed again, but never aired.
37. 'Doctor Who' (1963–1989)
- IMDb user rating: 8.4
- Votes: 35,263
The original run of Doctor Who lasted 26 seasons on the BBC, making it the longest-running science fiction series in history. The show follows the adventures of a Time Lord (who is capable of regeneration) and his companions as they explore the universe, defeat evil, and help those in need. Doctor Who was eventually canceled due to dipping viewership numbers and new executives who felt the series was outdated. Ever a cult classic, it was renewed in 2005. The rest is, as they say, history.
36. 'X-Men: The Animated Series' (1992–1997)
- IMDb user rating: 8.4
- Votes: 37,519
X-Men: The Animated Series, a regular part of Fox's weekend cartoon lineup in the '90s, was based on the Stan Lee comic books from the 1960s. The show followed a host of mutants with supernatural abilities who lived amongst humans and took down (or became) evil. Although it took more than a decade for the series to move from conception to airwaves, it was a massive hit with audiences of all ages when it finally began broadcasting in 1992.
35. 'Utopia' (2013–2014)
- IMDb user rating: 8.4
- Votes: 41,115
This series, which ran on the U.K.'s Channel 4, follows a group of people who find the unpublished sequel to a graphic novel that successfully predicted the disasters of the last century. The show follows them as they try to unscramble the conspiracies while dodging an evil group called The Network that hopes to kill them and get the manuscript back. The series sparked controversy for a school shooting scene, which ran soon after the Sandy Hook Elementary School massacre.
34. 'Stargate SG-1' (1997–2007)
- IMDb user rating: 8.4
- Votes: 83,149
The 1994 Roland Emmerich film Stargate, starring Kurt Russell and James Spader and and has a Rotten Tomato score of 48 percent, launched a spin-off television series on Showtime. By the time it wrapped—23 years after the film and 214 episodes later—the source material was a distant memory. The story follows an Air Force special ops team that is tasked with traveling through a stargate to alien planets, searching for tech and allies in a battle against a dangerous, extraterrestrial parasite. The show was later rebooted in 2009 as Stargate Universe, and that same year, Emmerich made 2012, which Roger Ebert actually liked.
33. 'The Legend of Korra' (2012–2014)
- IMDb user rating: 8.4
- Votes: 102,108
This Nickelodeon series is a follow-up to Avatar: The Last Airbender, another popular and loved English-language anime-influenced cartoon that was made into a 2010 M. Night Shyamalan film, which was the opposite of popular or loved. The Legend of Korra exists in the same universe where some warriors have learned to bend air. In this series, we follow teenager Korra, who must deal with a modernizing world less in touch with the ancient practice. The cast of voice actors is ridiculously stacked and includes J.K. Simmons, Aubrey Plaza, Steve Yueng, Lisa Edelstein, and Henry Rollins.
32. 'Person of Interest' (2011–2016)
- IMDb user rating: 8.4
- Votes: 162,590
Created by Jonathan Nolan—Christopher Nolan's brother who went on to create Westworld—this CBS show follows a CIA agent and ex-Green Beret (Jim Caviezel) who uses a supercomputer with the power to predict location and suspects of terrorist attacks to solve future crimes. The show began as a somewhat episodic crime-fighting network drama but turned into a deeper serialized piece of sci-fi as the question of the machine's sentience and the implications of tech implicating future wrongdoing was investigated. Taraji P. Henson starred alongside Caviezel.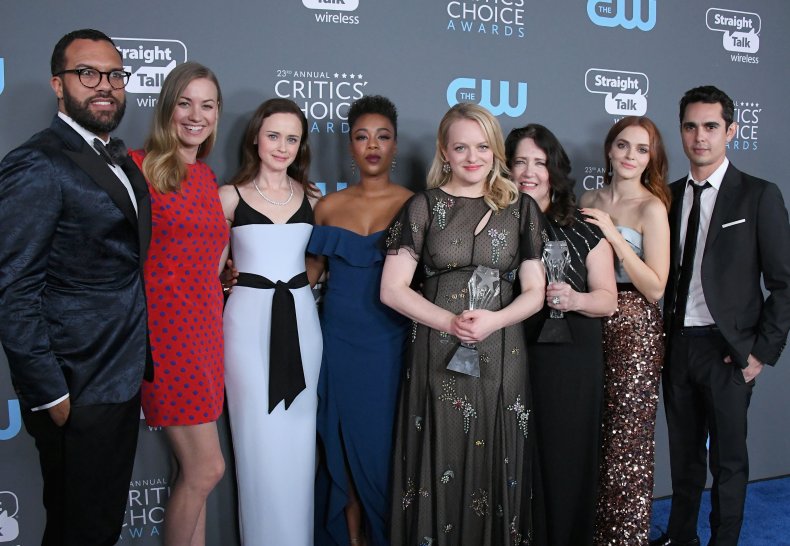 31. 'The Handmaid's Tale' (2017–present)
- IMDb user rating: 8.4
- Votes: 169,287
Hulu's first great series is an adaption of Margaret Atwood's classic dystopian novel The Handmaid's Tale. Starring Elisabeth Moss (Mad Men, The Invisible Man), the show tells the story of America after a second civil war in which the few still-fertile women are treated as sex slaves in a religious and repressive new society. The show's first season won eight Emmys and two Golden Globes—Moss won Best Actress at both award shows. A fourth season was confirmed by Hulu and is set to air sometime in 2021.
You may also like: The 50 Best Movies of the 21st Century and Where to Stream Them
30. 'Futurama' (1999–2013)
- IMDb user rating: 8.4
- Votes: 212,256
From the strange and wonderful mind of Simpsons creator Matt Groening, Futurama follows Fry, a pizza boy who wakes up after being cryogenically frozen for 1,000 years. The world is delightfully bizarre, and Fry is accompanied by a one-eyed captain, a cursing cranky robot named Bender, and a lobster doctor. In the live-action "Futurama" fan film, Bender is played by a puppeteer who also worked with Kim Kardashian and Kanye West on an ill-fated puppet show.
29. 'Fringe' (2008–2013)
- IMDb user rating: 8.4
- Votes: 219,141
This Fox series created in part by J.J. Abrams (Lost, The Force Awakens, Star Trek) follows an elite FBI unit that uses fringe science to solve otherworldly occurrences. The show is a bit like The X-Files meets CSI. Dawson Creek's Joshua Jackson stars alongside Anna Torv, and Lance Reddick, who played Lt. Daniels in The Wire, reprises his role as a supervisor of a ragtag, if effective, unit.
28. 'Mystery Science Theater 3000' (1988–1999)
- IMDb user rating: 8.5
- Votes: 22,920
Any short summary of this groundbreaking show will not do it justice. Created by Joel Hodgson, MST3K featured alien puppets that sat in silhouette in the front row of a theater and riffed over terrible B-movies that played on the silver screen. This bizarro comedy was revolutionary in its snide and weird humor, and the show won a Peabody Award. When Hodgson started a Kickstarter to revive the show, it raised more than $5.7 million; but the revival on Netflix was canceled after two seasons.
27. 'The Venture Bros.' (2003–2018)
- IMDb user rating: 8.5
- Votes: 23,432
Creator Christopher McCulloch tried to place this animated show at a few networks, but only Cartoon Network's Adult Swim would let him tell the story without toning it down. The Venture Bros. follows fraternal twin teenage brothers, their scientist father, and their family bodyguards as they battle The Monarch. The show borrows heavily from the 1960s cartoon Jonny Quest.
26. 'Samurai Jack' (2001–2017)
- IMDb user rating: 8.5
- Votes: 45,495
This Cartoon Network series tells the story of a young samurai prince from feudal Japan who is sent to the distant future by an evil demon. Throughout the series, Jack must find his way back to his homeland and home-time to defeat the demon and restore his reality. Showrunner Genndy Tartakovsky also created the much-loved Star Wars: Clone Wars animated series, and Samurai Jack won multiple Emmy awards.
25. 'Neon Genesis Evangelion' (1995–1996)
- IMDb user rating: 8.5
- Votes: 49,785
Neon Genesis Evangelion was a mammoth success in Japan, reigniting anime in the country—and turning the term otaku from an insult for obsessive fans into a badge of honor for super fandom. The story follows a boy brought into an organization to control a giant robot machine built to kill aliens. During the course of the series, the boy learns that he may not be on the right side of the conflict. Even decades after the show aired, Evangelions continue to be hugely popular memorabilia, as costumes for cosplay, and in media.
24. 'Dragon Ball' (1995–2003)
- IMDb user rating: 8.5
- Votes: 52,958
The Japanese anime series, which ran from 1986–1989, was based on the megahit manga comic about a Goku, a strong boy in search of seven magic dragon balls. The series was brought to the United States and dubbed into English in 1995, but initially failed to catch on. Finally, it was picked up by Cartoon Network in 2001 and ran successfully for two years—some credit a better dub and respect for the original music for the newfound fandom.
23. 'Love, Death & Robots' (2019)
- IMDb user rating: 8.5
- Votes: 94,977
A loose adaptation of the 1981 animated sci-fi film Heavy Metal, Love, Death & Robots is an animated anthology show composed of 18 unrelated episodes. Each chapter of the Netflix series is created by a completely different cast and crew, which leads to the series feeling like a very mixed-bag of animation styles, stories, and quality. Despite this randomness, the show has won five Emmy Awards, and has been renewed for a second season that will be released sometime in 2021.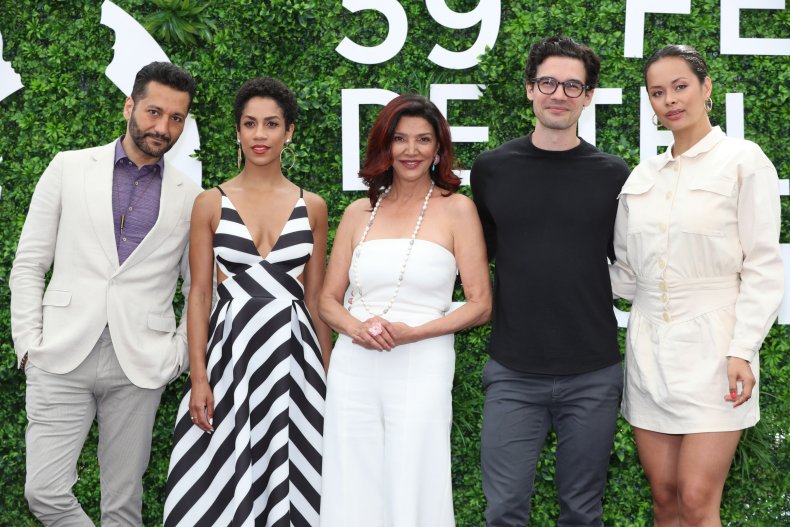 22. 'The Expanse' (2015–present)
- IMDb user rating: 8.5
- Votes: 104,123
Based on the books by James S.A. Corey—the pen name for the writing duo Daniel Abraham and Ty Franck—The Expanse tells the story of a future in which dueling factions of humans on Earth and Mars battle for the rights to an evermore-limited resource: water. The first three seasons of the series played on Syfy with Thomas Jane (Boogie Nights, The Punisher) plays a noirish, hard-nosed detective looking into a missing girl and a vast conspiracy. Amazon stepped in to revive the series for a fourth season and released it in late 2019. In November 2020 Amazon announced "The Expanse" would come back for a sixth and final season.
21. 'Young Justice' (2010–present)
- IMDb user rating: 8.6
- Votes: 31,450
Young Justice tells the story of the Justice League's young sidekicks who set out to be superheroes of their own. The animated Cartoon Network series set in the DC Universe follows Aqualad, Kid Flash, Robin, Speedy, and Superboy as they come up as their own, slightly younger, slightly angstier Justice League. The fourth season, titled Young Justice: Phantoms, is expected to be released on HBO Max, though a date has not been announced.
You may also like: These Are the 50 Most Covered Songs of All Time
20. 'Adventure Time' (2010–2018)
- IMDb user rating: 8.6
- Votes: 76,126
This Cartoon Network animated series follows best friend Finn (Jeremy Shada) and Jake, played by John DiMaggio, who also voiced Bender in Futurama. Finn is a brave boy, and Jake is a wise and loyal dog with the power to change shapes and sizes. The two explore a post-nuclear apocalyptic planet called the Land of Ooo. The show is goofy and aggressively loved by kids and adults—it's won Emmys, it's a favorite for cosplay, and it even got reviewed by the New Yorker.
19. 'Star Trek: The Next Generation' (1987–1994)
- IMDb user rating: 8.6
- Votes: 100,550
Though a reboot, many Trekkies swear by The Next Generation as the best of Star Trek. William Shatner's Capt. Kirk is replaced by Patrick Stewart's Jean-Luc Picard, who now captains the starship Enterprise. Unlike the original Star Trek series, TNGwas a huge hit, reaching 30 million viewers for its finale. The series led to multiple spinoffs and reboots, and five feature films. It also starred Donald Glover's favorite person: LeVar Burton.
18. 'The X-Files' (1993–2018)
- IMDb user rating: 8.6
- Votes: 197,985
Showrunner Chris Carter's The X-Files went from a cult favorite to a true megahit for Fox. The series follows Mulder (David Duchovny) and Scully (Gillian Anderson), two hugely different-yet-perfectly matched FBI special agents who investigate paranormal and inexplicable cases. The show was a blend of a serialized mystery and what has been dubbed their standalone Monster of the Week episodes. Throughout the series, there was also a will-they-or-won't-they chemistry between Mulder and Scully. Breaking Bad creator Vince Gilligan credits his time in The X-Files writing room for birthing his own groundbreaking show.
17. 'Doctor Who' (2005–present)
- IMDb user rating: 8.6
- Votes: 199,021
After a 16-year hiatus, the BBC rebooted Doctor Who for episodic TV in 2005. Picking up where the former adventures of the Time Lord left off, the new iteration introduced its fandom to the first female doctor, played by Jodie Whittaker, in 2019. The 13th season, still starring Whittaker as the doctor, is in production but there is no release date yet.
16. 'Daredevil' (2015–2018)
- IMDb user rating: 8.6
- Votes: 360,311
The first of the Netflix/Marvel shows, Daredevil tells the story of Matt Murdock (Charlie Cox), a blind lawyer who moonlights as a crime-fighting vigilante. The standout in the series, as usual in comic book stories, is the villain: Vincent D'Onofrio's Kingpin. The show was loved by fans and critics, giving momentum to a flood of Netflix/Marvel collaborations: Jessica Jones, Luke Cage, Iron Fist, The Defenders, and The Punisher.
15. 'Justice League Unlimited' (2004–2006)
- IMDb user rating: 8.7
- Votes: 10,576
A direct sequel to the original Justice League show, which first aired in 2001, Justice League Unlimited picks up right where its predecessor left off. The animated Cartoon Network series follows the "galaxy's most powerful superheroes" as they wage war against the world's allied villains. Throughout the show's run, almost 100 different DC characters appeared, making it one of the most expansive shows in the DC comics universe.
14. 'Dragon Ball Z' (1996–2003)
- IMDb user rating: 8.7
- Votes: 112,286
The sequel to Dragon Ball, this anime series is perhaps the biggest and most internationally recognized of them all. The series first aired in Japan before it was dubbed and shipped to countries around the world and follows a slightly older, still spiky-haired Goku after he learns he is a descendant of a dying breed of extraterrestrial. Dragon Ball Z is aggressively loved by many, including rappers, NFL players, and Sacramento Kings PG De'Aaron Fox.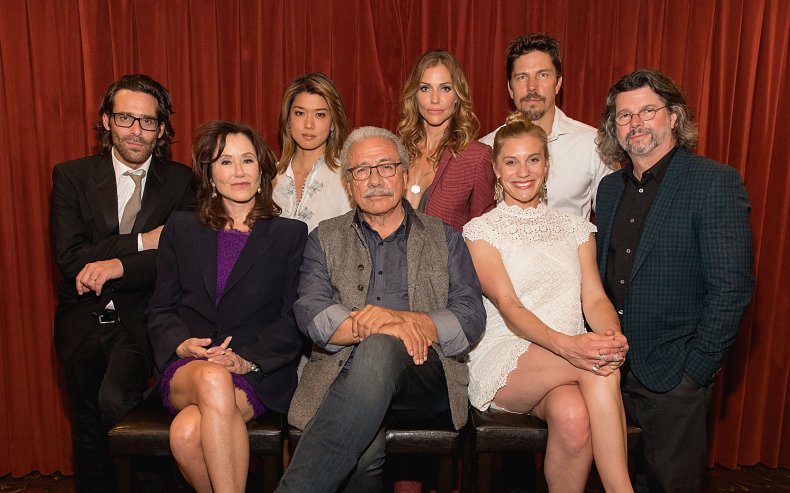 13. 'Battlestar Galactica' (2004–2009)
- IMDb user rating: 8.7
- Votes: 152,237
When one of humanity's oldest enemies, the Cylons, reappear and wipe out almost all the humans in the universe, the crew of an aged starship, the Galactica, sets out with a small fleet of civilian ships in search of a fabled colony called Earth where they hope to find refuge. The military sci-fi series Battlestar Galactica, which ran on the NBC-owned Sci-Fi Channel, collected dozens of awards during its five-season run and inspired two spin-off series (Caprica and Battlestar Galactica: Blood & Chrome).
12. 'The Boys' (2019–present)
- IMDb user rating: 8.7
- Votes: 236,090
Amazon Prime's The Boys is based on a comic book series by Garth Ennis and Darick Robertson of the same name. The anti-superhero show follows a group of vigilantes who set out to take down a beloved group of deeply corrupt super-powered individuals. There are two seasons of the critically acclaimed show out thus far, with the third season expected to hit the streaming service sometime in 2022.
11. 'Westworld' (2016–present)
- IMDb user rating: 8.7
- Votes: 424,364
Based on the 1973 film directed by the novelist Michael Crichton, Westworld tells the story of a futuristic theme park for the uber-wealthy populated by ultra-intelligent, human-like AI "hosts." For the first season, the action is contained within Westworld, a Wild West-themed park in which guests can ride with bandits, frequent the brothel, or fall in love with the sweet and innocent Dolores (Evan Rachel Wood). The second season of Jonathan Nolan and Lisa Joy's creation follows the hosts as they revolt, and takes us to other themed worlds while explaining the history of the technology. Westworld was renewed in 2020 for a fourth season, though it will not likely air until 2022 because of the pandemic.
You may also like: Major TV Debuts From the Year You Were Born
10. 'Stranger Things' (2016–present)
- IMDb user rating: 8.7
- Votes: 809,835
This Netflix show is the best kind of nostalgia entertainment: self-aware, transportive, and interested in fun above all else. Set in the 1980s in Hawkins, Indiana, the show follows a group of kids who meet a strange, supernatural friend and have to unscramble a conspiracy going on beneath the Department of Energy's research center. Showrunners Matt and Ross Duffer assembled a dynamic cast of adults—Winona Ryder, David Harbour, and Matthew Modine—but the real highlight is the magnetic kid actors. Production on season four has begun but a release date hasn't yet been announced.
9. 'Steins;Gate' (2011–2015)
- IMDb user rating: 8.8
- Votes: 43,548
This anime series tells the story of university students who create a time-traveling machine and use it to try to defeat an evil organization. The story may sound relatively rote, but the execution is expert in this series, which a Kotaku writer said, "might be the single best anime I've ever seen." The show is based on a video game of the same name.
8. 'One Punch Man' (2015)
- IMDb user rating: 8.8
- Votes: 113,425
This anime series follows Saitama, a super-strong superhero who can defeat any enemy with just one punch. In a world overrun with monsters and villains, where all the planet's superheroes have banded together to fight evil, Saitama wrestles with the one demon he can't effortlessly destroy: malaise. When one has worked so hard to become the best, what do they do when it becomes easy and boring? The English version of the show is available on Netflix, and new issues of the best-selling comic book have even made the New York Times' best-sellers list for the manga category.
7. 'The Mandalorian' (2019–present)
- IMDb user rating: 8.8
- Votes: 270,224
The latest installation in the Star Wars franchise, The Mandalorian—originally conceived by George Lucas himself—is set in the time period between the fall of the Empire and the emergence of the First Order. The Disney+ space western hit follows a lone bounty hunter who's on the run after being hired to retrieve "the child" (baby Yoda). With two Emmy Award-winning seasons under its belt, production on a third has already begun, as has development on three spin-off series: The Book of Boba Fett, Rangers of the New Republic, and Ahsoka.
6. 'Black Mirror' (2011–present)
- IMDb user rating: 8.8
- Votes: 438,777
From the mind of Charlie Brooker, Black Mirror is an anthology series that posits a different technology-based dystopia in each hour-long episode. Beginning on the UK's Channel 4 and then moving to Netflix, the series opens with a bang: The Prime Minister must sleep with a pig to save the princess—and gets more thought-provoking, disturbing, and nightmare-inducing from there. Brooker is a genius who creates self-contained worlds with believable tech and takes each scenario to its worst possible outcome. Netflix has yet to confirm whether there will be a sixth season.
#5. 'Gravity Falls' (2012–2016)
- IMDb user rating: 8.9
- Votes: 72,301
This Disney Channel animated show tells the story of twins Dipper (Jason Ritter) and Mabel Pines (Kristen Schaal) who spend the summer with their great uncle in a weird, otherworldly, supernatural town. The critically acclaimed show featured guest appearances from T.J. Miller and Will Forte and won the 2015 Critics' Choice Awards for Outstanding Individual Achievement in Animation.
4. 'Cowboy Bebop' (1998–1999)
- IMDb user rating: 8.9
- Votes: 88,404
Aside from having one of the silliest-ever titles, this anime series also has a badass story to tell. Cowboy Bebop tells the tale of a group of futuristic bounty hunters—Spike Spiegel, Jet Black, Faye Valentine, Edward Wong, and a hyper-intelligent corgi—fighting crime from their spaceship, Bebop. This was the first anime series on Cartoon Network's Adult Swim and became a gateway of sorts for Westerners to catch an addiction to the genre.
3. 'Batman: The Animated Series' (1992–1995)
- IMDb user rating: 9.0
- Votes: 86,640
Another fixture of the Fox Kids cartoon lineup, Batman: The Animated Series is considered by many the best Batman adaption. Riding the success of Tim Burton's two frenetic, inventive Batman films, the series tells a dark, noirish version of Bruce Wayne's rise in Gotham City. Batman: The Animated Series won four Emmys during its run and featured an unexpectedly great performance by Mark Hamill as the voice of The Joker.
2. 'Firefly' (2002–2003)
- IMDb user rating: 9.0
- Votes: 242,817
For those on the fence about checking out Firefly, here's an elevator pitch: It's a space western by the guy who brought you The Avengers and Buffy the Vampire Slayer. Joss Whedon's Firefly takes place in 2517 in a future where China and the United States have made tenuous peace and the solar system is run by their combined alliance—with the fusion of culture evident on the distant planets. The show has a great ensemble cast that includes Nathan Fillion, Gina Torres, and the versatile Alan Tudyk and delivers a space story that is less intergalactic blasting and more about surviving a new Wild West. Firefly was canceled by Fox after only two seasons, but lives on due to critical adoration and a devoted cult fanbase.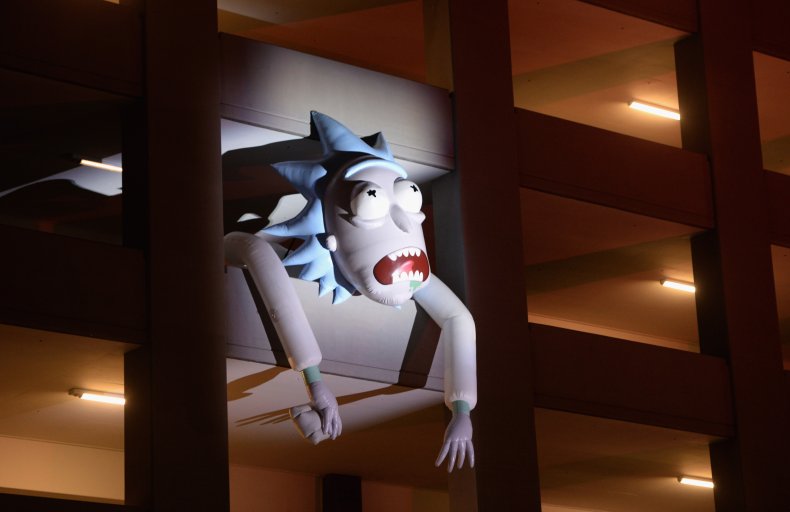 1. 'Rick and Morty' (2013–present)
- IMDb user rating: 9.2
- Votes: 370,428
Birthed from the wonderful, weird mind of Dan Harmon—who also created Community—this Cartoon Network series follows the interdimensional adventures and home life mundanity of elderly mad scientist Rick Sanchez and his sweet, nervous grandson, Morty Smith. Sadly, Rick and Morty has become defined by its most toxic, misogynistic fans, who harassed the show's female writers online, mobbed McDonald's locations looking for Szechuan sauce, and were just generally troll-like online. But don't let a few bad apples ruin a hilarious, inventive, mind-blowing piece of comedy sci-fi.
A fifth season is in the works, and though there is not an official release date, Harmon says the gap between the fourth and fifth season will not be as long as the one between season three and four, which was more than two years.
You may also like: Take a Look at These Mistakes From the Best Movies of 2020