56 Florida ICU Beds Are Full With Dozens More Over 90 Percent Capacity
As novel coronavirus cases in Florida soar past 213,000, 56 hospitals are reported to have no intensive care unit (ICU) beds available, with dozens more reporting over 90 percent of ICU beds are full, according to the latest report Tuesday from Florida's Agency for Health Care Administration.
At least 56 hospitals across 25 Florida counties were reported to have reached full bed capacity in their ICUs, including eight in Miami-Dade County, the most populous county in Florida whose county seat is Miami.
Five hospitals in both Orange and Pinellas counties, four in Hillsborough County, as well as one each in the counties of Palm Beach and Sarasota were also reported to have hit full ICU bed capacity.
The percentage of positive tests in the state has been increasing from the week starting June 7, when it was reported to be at 4.34 percent, before it more than doubled to 11.98 percent in the week starting June 28, according to data compiled by the Florida Department of Health.
Daily new cases in Florida have been mostly increasing from around May 27, three weeks since most Florida counties entered phase one of reopening on May 4. The daily case count saw sharper rises from around June 8, just days after phase two of reopening began on June 5.
Several reopened bars in Florida were closed again around mid-June after customers tested positive for the virus.
Florida Gov. Ron DeSantis claimed that the recent spike in cases was because of higher degrees of testing, not because the virus was spreading. "I think we've stabilized where we're at," DeSantis said at a press conference Monday.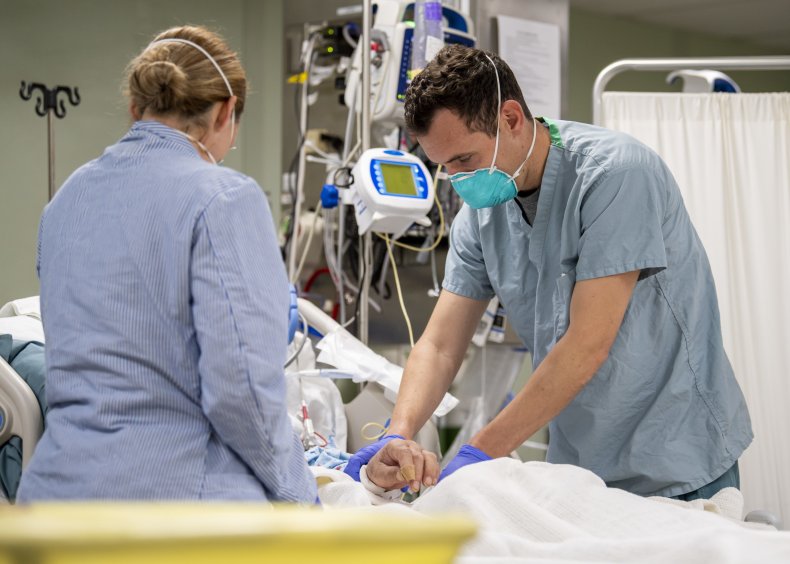 Florida hospitals with no ICU beds available
(as of July 7)
Source: The Agency for Health Care Administration
Miami-Dade County
Doctors Hospital
North Shore Medical Center
Larkin Community Hospital (South Miami)
Larkin Community Hospital (Palm Springs)
Homestead Hospital
Westchester General Hospital
Select Specialty Hospital
West Kendall Baptist Hospital
Pinellas County
AdventHealth North Pinellas
Palms of Pasadena Hospital
St. Petersburg General Hospital
Northside Hospital
Mease Countryside Hospital
Orange County
Orlando Health
Orlando Health Medical Group
Orlando Health Physician Associates
AdventHealth Orlando
AdventHealth East Orlando
Hillsborough
Kindred Hospital Central Tampa
Kindred Hospital Bay Area Tampa
AdventHealth Tampa
Memorial Hospital of Tampa
Other counties
Lakeside Medical Center (Palm Beach County)
Doctors Hospital of Sarasota (Sarasota County)
Ascension Sacred Heart (Bay County)
Gulf Coast Regional Medical Center (Bay County)
Plantation General Hospital (Broward County)
University Hospital & Medical Center (Broward County)
Memorial Healthcare System (Broward County)
Fawcett Memorial Hospital (Charlotte County)
Bayfront Health Seven River (Citrus County)
Kindred Hospital North Florida (Clay County)
Ascension St. Vincent's Hospital (Clay County)
Lake City Medical Center (Columbia County)
Select Specialty Hospital Pensacola (Escambia County)
AdventHealth Sebring (Highlands County)
Lehigh Regional Medical Center (Lee County)
Cape Coral Hospital (Lee County)
Select Specialty Hospital Tallahassee (Leon County)
AdventHealth Ocala (Marion County)
West Marion Community Hospital (Marion County)
Twin Cities Hospital (Okaloosa County)
Fort Walton Beach Medical Center (Okaloosa County)
AdventHealth Kissimmee (Osceola County)
Poinciana Medical Center (Osceola County)
AdventHealth Wesley Chapel (Pasco County)
Medical Center of Trinity (Pasco County)
Regional Medical Center Bayonet Point (Pasco County)
Lakeland Regional Health (Polk County)
Putnam Community Medical Center (Putnam County)
Central Florida Regional Hospital (Seminole County)
Orlando Health South Seminole Hospital (Seminole County)
AdventHealth Altamonte Springs (Seminole County)
Select Specialty Hospital The Villages (Sumter County)
2 AdventHealth hospitals in Volusia County
The novel coronavirus, first reported in Wuhan, China, has spread to more than 11.6 million people across the globe, including over 2.9 million in the U.S. Over 6.3 million globally have reportedly recovered from infection, while over 539,700 have died, as of Tuesday, according to the latest figures from Johns Hopkins University.
The graphic below, provided by Statista, illustrates the spread of COVID-19 in the U.S.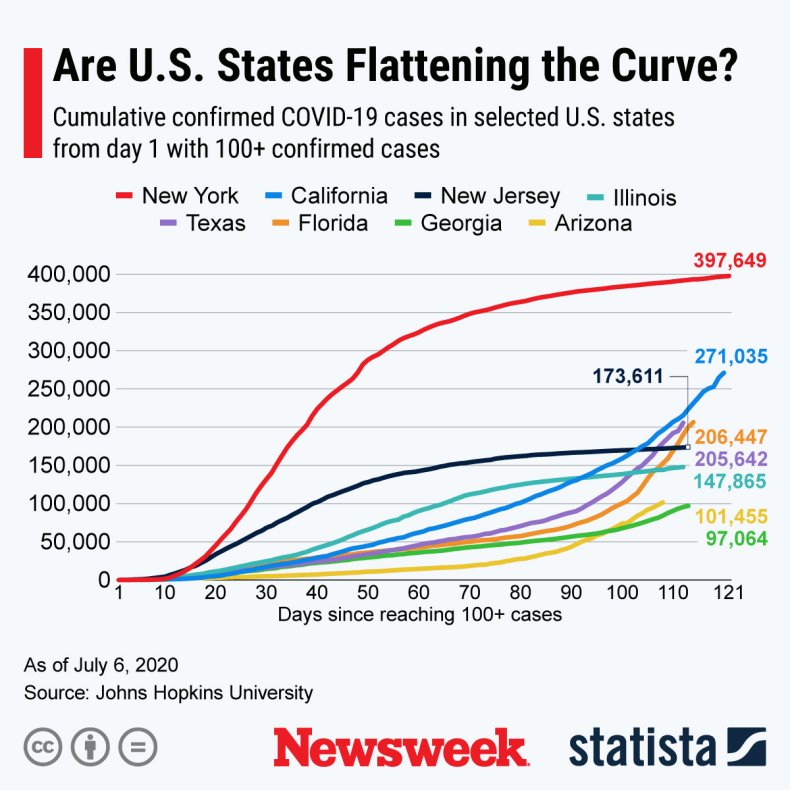 The graphic below, provided by Statista, illustrates the portion of people who wore a mask in April and May amid the ongoing pandemic.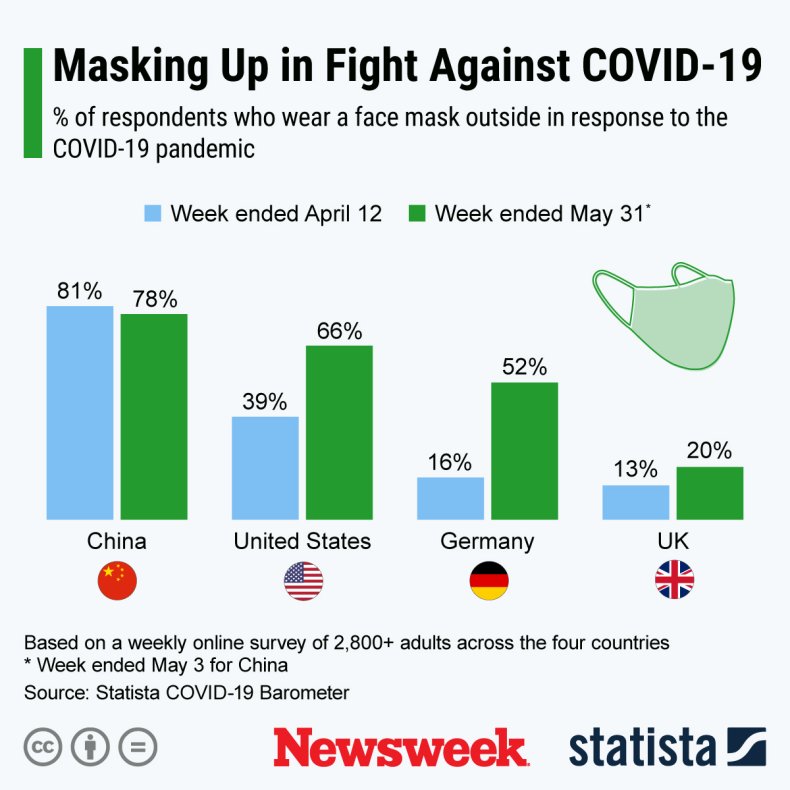 The graphic below, provided by Statista, illustrates the seven-day rolling average of new COVID-19 cases in the U.S. and European Union.