60th Victim of Las Vegas Mass Shooting Dies From Wounds After Nearly 3 Years
A 49-year-old woman named Samanta Arjune has become the 60th victim of the October 2017 Route 91 Harvest festival shooting. Her death came due to complications with a gunshot wound to her left leg, ending her life three years after the deadly mass shooting.
Arjune initially survived the shooting at the three-day Las Vegas country music festival that she attended with her brother. But the bullet that entered her calf, shattering the bones just below her knee, became entwined with nearby nerves and couldn't be removed without risking "extreme" damage, according to the Las Vegas Review-Journal.
Arjune underwent extensive reconstructive surgery on her leg and continued to experience extreme pain throughout the following years. She was repeatedly hospitalized in the years after the shooting.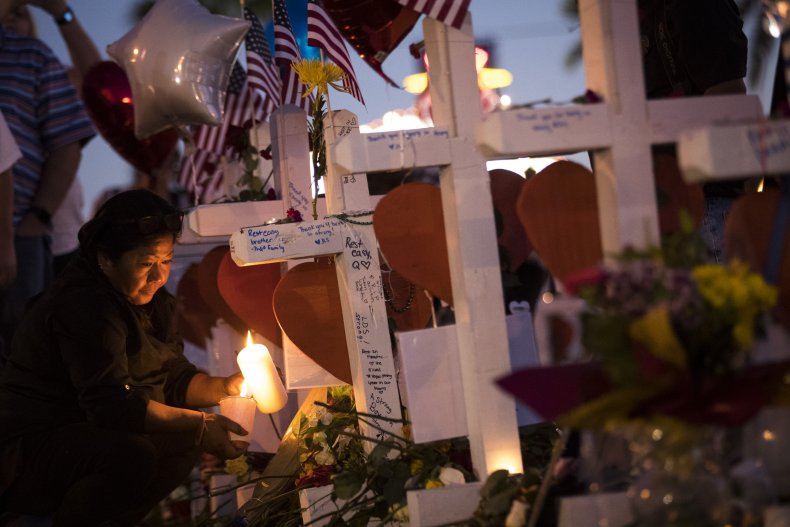 She worked as the office manager for the Las Vegas business magazine Exhibit City News and had attended the music festival with her brother Malcolm Bissember. When the gunfire first rang out at 10:30 p.m., the sibling couple began running until a bullet struck her leg.
A stranger eventually helped deliver her to safety by putting her injured body in a rolling garbage can that was pushed towards a car that took her to the hospital. Although Arjune died on May 26, 2020, media hadn't mentioned her death until this week.
Arjune was the second victim to die of gun injuries in the years after the initial shooting. The 59th shooting victim, Kimberly Gervais, died about six months before Arjune due to complications with her spinal cord which was damaged by the shooting.
Overall, the shooting killed 58 other people, including the gunman, and injured 412 people.
Police believe the shooting was carried out by a single man who sniped his victims from the window of a suite at the nearby Mandalay Bay hotel. The attack was the deadliest mass shooting in modern United States history. Police never determined the shooter's motive.
Police found 23 assault-style rifles, one handgun and thousands of rounds of ammunition in the hotel room where the gunman committed the crime and subsequently killed himself. Over half of the rifles in the room had been modified with a bump stock, making them capable of firing up to 800 rounds per minute.
The festival where the shooting occurred showcased country and western musical talents such as Eric Church, Sam Hunt and Jason Aldean as well as up-and-comers in the musical scene. More than 40,000 fans were expected to attend the event which was held in the hotel and outside in its nearby lot.
Newsweek contacted Exhibit City News for comment.