The number of voters who see Joe Biden's policies as benefiting the middle class has surged by double digits since June, suggesting that the president's economic plans are resonating with a broad swath of the electorate.
In June, polling by Monmouth University found that a narrow majority—just 51 percent of voters—saw Biden's policies as helping the middle class. Now, in July, the university's polling revealed that the number jumped by 11 points. The survey showed that 62 percent of voters believe Biden's administration has benefited the middle class, while two-thirds (66 percent) say the president's policies have improved the lives of poor families.
Examined closer, the results show that 21 percent say Biden has benefited the middle class "a lot," while 41 percent say the president's policies have improved things "a little." Also, 31 percent of voters say the president has benefited poor families "a lot," and 35 percent said "a little."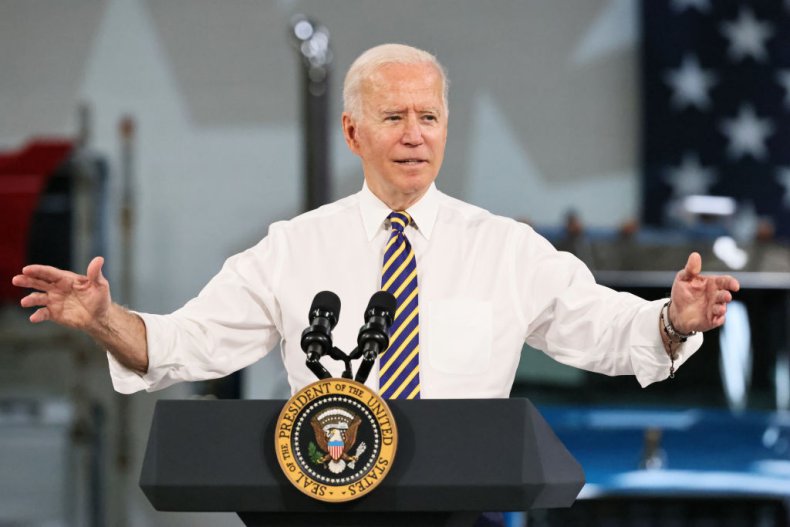 The survey results showed broad support for Biden's major legislative proposals as well. Sixty-two percent of voters said they support the American Rescue Plan, which was passed by Congress in March without any Republican support. That legislation, which cost about $1.9 trillion, provided $1,400 stimulus checks for most Americans, implemented a new Child Tax Credit and shored up federal unemployment benefits for jobless workers.
Biden's two current proposals appear to have substantial support from voters as well. The bipartisan American Jobs Plan, which appears likely to pass in the Senate next week, was backed by 70 percent of voters. Meanwhile, the American Families Plan, which is not backed by Republican lawmakers, has the support of 63 percent of voters.
The Monmouth poll was conducted from July 21 to 26 and has a margin of error of plus or minus 3.5 percentage points.
The $1,400 stimulus checks approved as part of Biden's American Rescue Plan were widely popular and have been credited with substantially reducing poverty across the country. Meanwhile, Child Tax Credit payments passed as part of that legislation kicked in earlier in July. Under the policy, parents receive up to $300 a month for each child under 6 and up to $250 a month for every child aged 6 through 17.
An analysis published by the Urban Institute this week found that the coronavirus aid passed by Congress under former President Donald Trump and the additional aid approved after Biden took office have reduced poverty by nearly 45 percent. That research found that the federal stimulus checks had "a larger antipoverty impact than any of the other programs."