68% of Americans Support Biden's Pandemic Response, Most Say Lifting Restrictions Too Fast: Poll
More than two-thirds of Americans approve of President Joe Biden's response to the coronavirus pandemic, according to an ABC News/Ipsos poll released Sunday.
The survey found that 68 percent of Americans support Biden's COVID-19 response, including 98 percent of Democrats, 35 percent of Republicans, and 67 percent of independents.
Biden's approval rating regarding his management of the COVID-19 pandemic has been consistent since he took office in January. According to an ABC News/ Ipsos poll conducted from January 22 to January 23, 69 percent of Americans back Biden's COVID-19 response, including 97 percent of Democrats, 40 percent of Republicans, and 70 percent of independents.
In comparison, the highest approval rating former President Donald Trump received for his handling of the pandemic was in mid-March of 2020, when 55 percent of Americans approved of his response.
The new poll was conducted from March 5 to March 6 and randomly sampled 521 adults. The results have a margin of error of 4.8 points.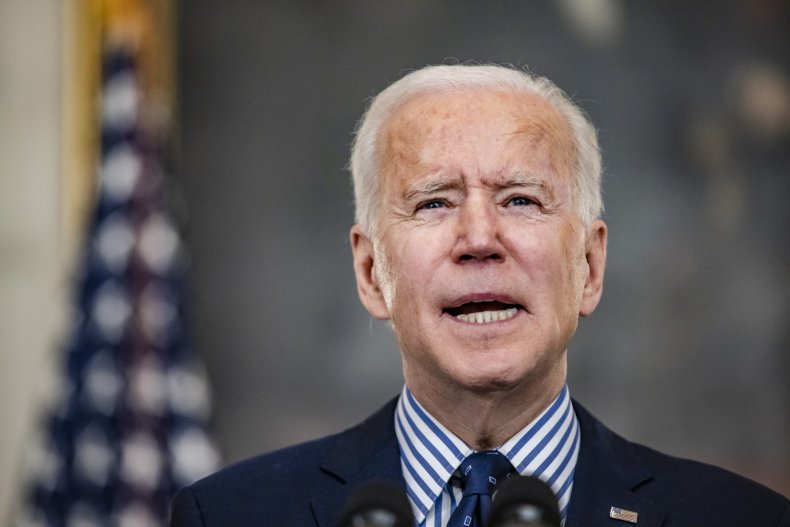 Biden has pledged to make tackling the pandemic a focus of his presidency. During his first day in office on January 20, he signed an executive order that enacted a face mask mandate and social distancing requirements in federal buildings and on federal land.
Biden's administration also hopes to work with Congress to pass his $1.9 trillion stimulus plan. The plan was passed by the Senate on Saturday and now moves to the House of Representatives for approval.
The legislation included $1,400 stimulus payments for individuals making less than $75,000 a year, an increase in the child tax credit and direct funding to state and local governments, as well as hundreds of billions of dollars for school reopenings, aid to small businesses, and coronavirus vaccine rollouts.
As Biden works to boost the federal response to COVID-19, some states, including Texas and Mississippi, have rolled back coronavirus restrictions, such as removing mask mandates and reducing capacity limits for businesses.
Health experts, including Dr. Anthony Fauci, have warned against reopening too soon.
"I would advise the people of Texas and Mississippi to just abide by the public health measures that we talk about all the time: Uniform wearing of masks, physical distancing, avoiding congregate settings, particularly indoors, washing your hands frequently, we just have to keep doing that because we know it works," Fauci said during a Thursday appearance on MSNBC.
According to Sunday's ABC News/Ipsos poll, the majority of Americans think that loosening mask mandates and COVID-19 restrictions on public gatherings are happening too fast, 56 percent and 50 percent respectively.
Newsweek reached out to the White House, but didn't hear back in time for publication.