7-Time Olympic Gold Medal Winner Caleb Dressel's Tattoos Inspire Custom Toyota Supra Design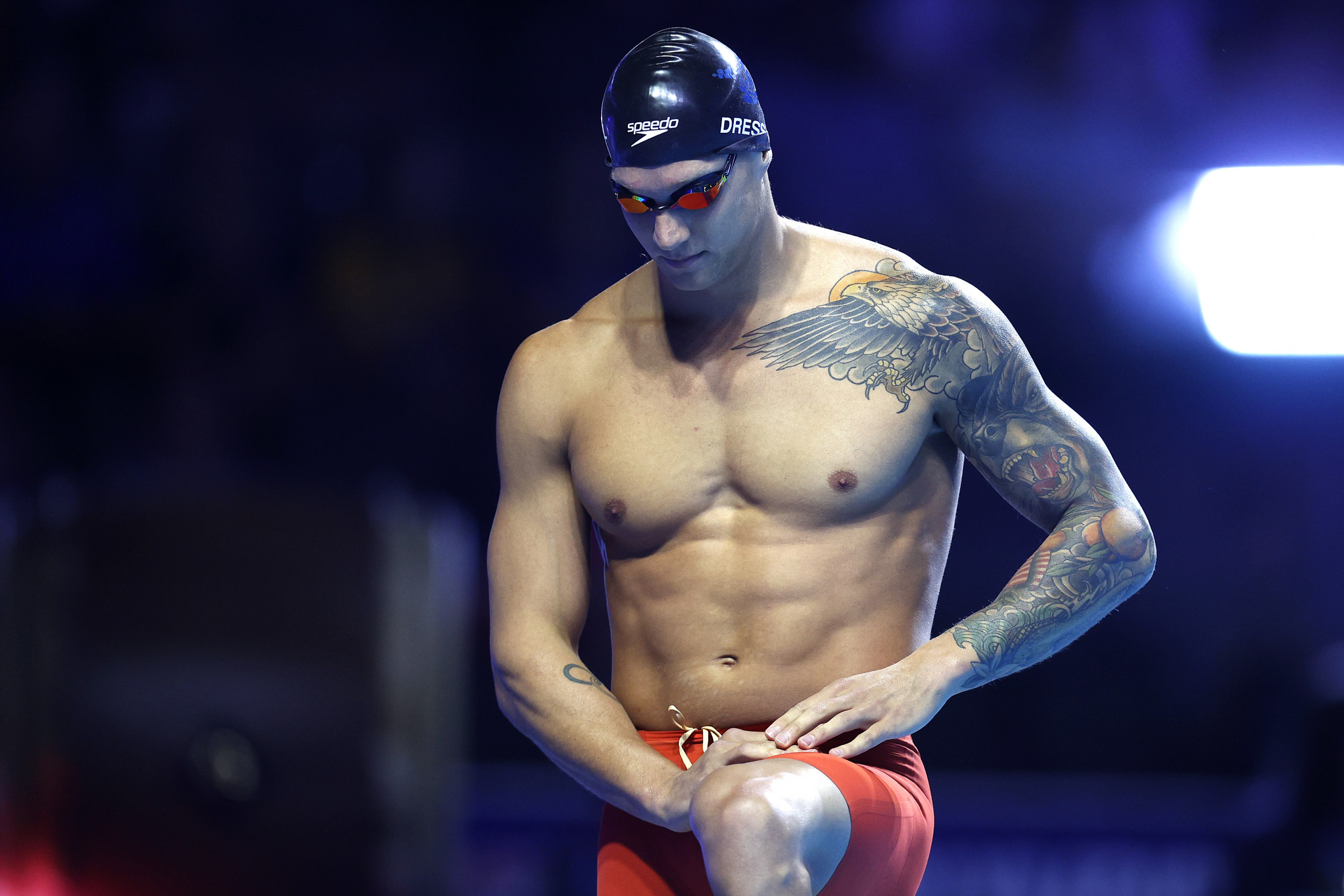 To honor the USA Olympic team and contribute to the future of USA Swimming, Toyota has unveiled a custom GR Supra that the company has been displaying at Olympic team trials and at Olympics watch parties. This unique car was inspired by Olympic gold medal-winning swimmer Caeleb Dressel's tattoos.
Toyota sponsors 32 athletes under the Team Toyota program for the Summer and Winter Olympics, including Dressel. The program is a partnership between Toyota and the United States Olympic & Paralympic Committee (USOPC).
Dressel won five gold medals at the Tokyo Olympics, including wins for the 50 meter freestyle, 100 meter freestyle and 100 meter butterfly. He also won two gold medals at the 2016 Rio De Janeiro games.
Toyota plans to auction off the GR Supra for the benefit of the USA Swimming Foundation.
Taking inspiration from Dressel's tattoos, the custom paint job was done by Austin, Texas muralist Brittany Johnson.
The spray paint job was done in real time, taking place outside of the CHI Health Center Omaha during Wave 1 of the U.S. Olympic Team Trials in Omaha, Nebraska.
A black, growling bear adorns the hood, an alligator marks the driver's side and a bald eagle is depicted soaring along the passenger side. On top of the car is a flying U.S. flag. Also featured on the hood are a few oranges, representing Dressel's home state of Florida.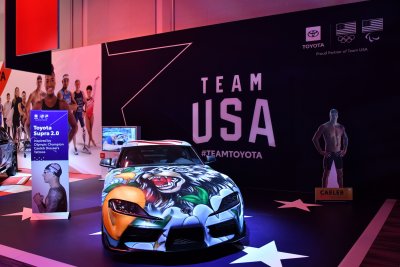 In 2019, he told Swimming World that Florida is well represented on his body.
"The whole [left] sleeve is Florida-themed essentially," he said. "I've got an oranges, orange blossom. I've got the gator on my elbow."
After the job was completed, the car went on display at the Toyota Aqua Lounge in the CHI Health Center Omaha during the second wave of the U.S. Olympic swimming trials. Later on, the car was moved to the Toyota space at the Loews Sapphire Falls Resort at Universal Orlando throughout the Olympic Games at the Team USA and NBCUniversal watch party.
The 2021 GT Supra hit dealerships in June. The 2.0 model comes with a twin-turbocharged 2.0-liter, inline four-cylinder engine. The upgraded 3.0 version of the model has a 3.0-liter inline six-cylinder engine that gets 382 horsepower and 368 pound-feet of torque.
Both models are outfitted with adaptive cruise control, blind spot monitoring, and rear cross traffic alert technology.
Toyota will auction off the custom-painted car at the 2021 Golden Goggles event on November 22, 2021.