The results of a new poll do not bode well for former President Donald Trump's chances to return to the White House.
The poll, conducted by Marquette University Law School of 1,000 adults nationwide and released on Thursday, found that more than 70 percent of respondents don't want to see Trump mount another run for the White House.
The poll also took a look at potential 2024 presidential matchups. The former president also didn't fare much better in that area either, according to The Hill. In a look at a possible rematch of the 2020 election, the poll had President Joe Biden besting Trump by 10, 43-33. Nearly 70 percent of people who responded to the poll also have an unfavorable opinion of the former president.
For months, the former president has teased the possibility of his launching a 2024 presidential campaign but has yet to say definitely one way or another. However, on Wednesday, a video surfaced on Instagram, in which Trump, while playing golf with several other people, referred to himself as the "45th and 47th [president]' before teeing off. In the video, Trump's comment was met with applause and excitement with one person saying, "I love it."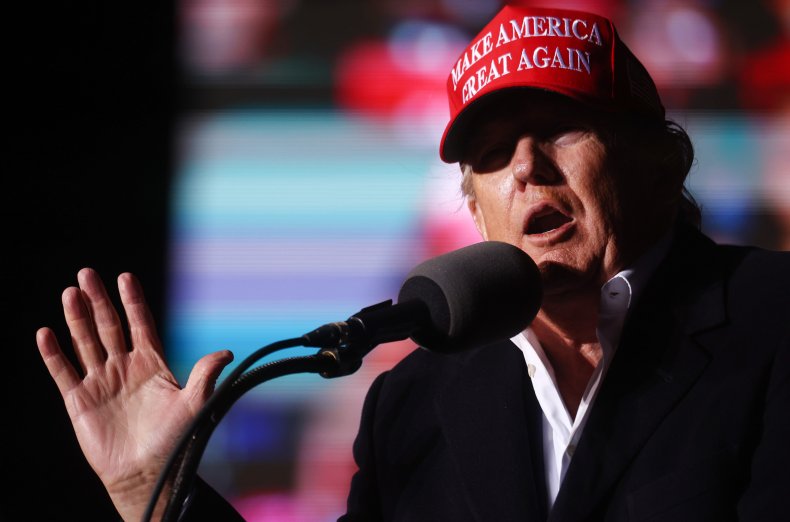 Despite the results from the Marquette poll, most polls show Trump remains popular among Republicans. Trump routinely comes out on top as the party's strongest candidate in 2024. According to a Harvard CAPS/Harris poll released on Monday, Trump received nearly 60 percent of Republican support when respondents were asked for their choice of candidate in 2024.
While Trump has not yet provided an answer to the question of if he will run again in 2024, he has stayed busy endorsing candidates and holding rallies. The former president has endorsed a number of candidates running for the House and Senate. He's thrown his support behind candidates across the country, including Iowa Senator Chuck Grassley, Wisconsin Senator Ron Johnson and Harriet Hageman, who is running to unseat Trump foe Representative Liz Cheney of Wyoming. Trump has also endorsed Alabama Representative Mo Brooks, who is running for Senate in 2022.
In a hypothetical race against Florida Governor Ron DeSantis, the poll found Biden also in the lead, but by a slightly smaller margin, 41-33.
The poll also looked at the favorable rating of others, including Biden Vice President Kamala Harris and former Vice President Mike Pence. Both Biden and Harris are hovering around a 50 percent unfavorable rating. Fifty-one percent have a negative opinion of Biden while 49 percent have an unfavorable opinion of Harris. Pence came in with a 55 percent unfavorable rating.
Newsweek reached out to the White House, Trump's spokesperson and the Florida governor's office for comment but did not hear back before publication.